Who is 'The Rock' Dwayne Johnson doppelganger Eric Fields?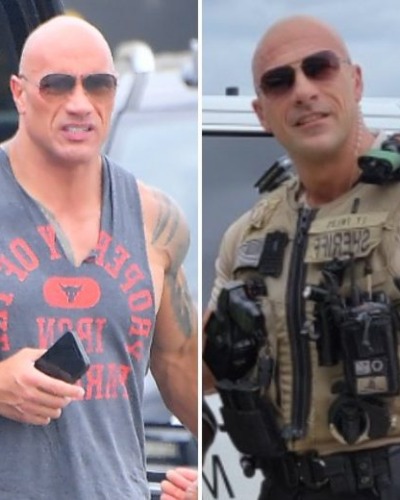 Dwayne Johnson has a doppelganger named Eric Fields
Eric is a Patrol Lieutenant of the Morgan County Sherriff's Office
Fields is a veteran for 17 years in the Sheriff's office and looks just like 'The Rock'
---
Dwayne Johnson has a doppelganger in Alabama and it is scary how similar they look! Johnson revealed that he is impressed by how close the doppelganger looks to him. Also, he posted a photo of himself and Patrol Lieutenant Eric Fields of the Morgan County Sheriff's Office and wrote,
"Oh shit! Wow. Guy on the left is way cooler. Stay safe brother and thank you for your service. One day we'll drink @Teremana and I need to hear all your "Rock stories" because I KNOW you got 'em"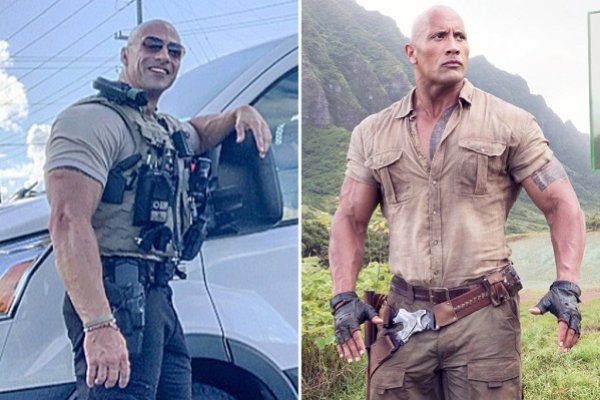 More on the doppelganger
The picture of his lookalike went viral two weeks ago on Facebook when a local man asked another law enforcement officer to meet the deputy who looked like Dwayne.
Eric who is the lookalike was touched by the request and stopped by the Hartselle Walmart for the meet and greet. Eric is one of the hardworking men and MCSO revealed that it was great to meet him. He posted the picture of Fields with the fan.
Similarly, Fields is a veteran for 17 years in the Sheriff's office and has been told multiple times that he looks like 'The Rock'. Eric disclosed,
"I've been called The Rock and Vin Diesel's love child. I go along with it. It's humorous. It's flattering. It could be worse people, I guess."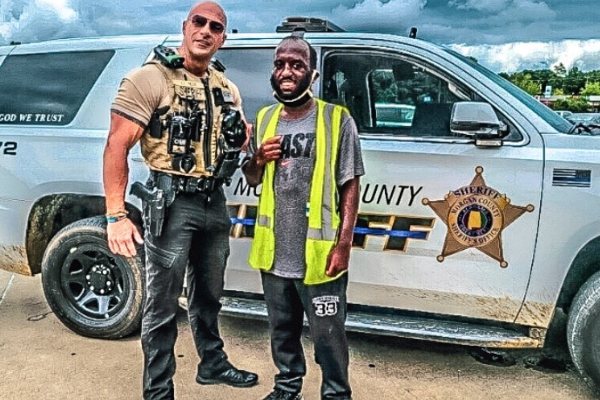 Fields previously worked at the jail, in investigations, in the special victims unit, and with drug-endangered children.
Also read The heart of gold! Dwayne Johnson surprises his stunt double and cousin Tanoai Reed with a brand new pickup truck!
Short bio on Dwayne Johnson
Dwayne Johnson is an American actor, producer, singer, and professional wrestler. Also, he is very famous for his nickname The Rock. Dwayne has mainstream fame in the world of wrestling.
Likewise, he was the major figure in the company's Attitude Era, Dwayne was the first third-generation wrestler in the company's history. He has been listed as one of the all-time greatest professional wrestlers. Read more bio…