The Royal family annual moment: Parade and Fly-past and Prince George and Princess Charlotte's exciting day! Read about this event here!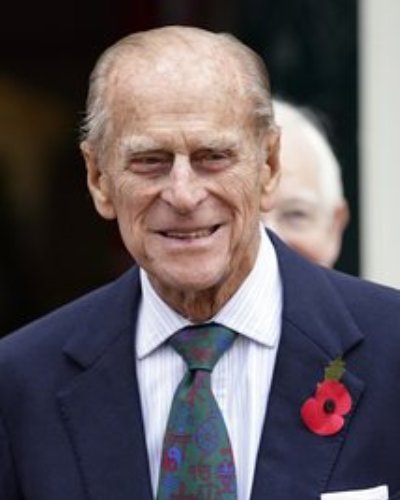 The Royal moment-Prince George and all
It was a great moment for the Royal family! They were watching the Royal Air Force fly over from the balcony of Buckingham Palace, London. Princess Kate's 2 cute children; daughter Princess Charlotte and son Prince George were not to be left behind. The royal siblings were seen alongside the rest of the royal family witnessing the spectacle.
They had all gathered at the balcony for the annual 'Trooping the Colour' celebration on 16th June 2017. The little Princess Charlotte, 2 had made her debut on the balcony the last year. She very well knows how to impress her well-wishers below. She was seen in her mother's arms and was smiling and waving at everyone. Little Charlotte looked pretty in her pink dress.
The beautiful family scene
Prince George, 4 was in his adorable suspender outfit and was also quite exciting at all the happenings. He seemed to love the roaring fly-past of the Royal Air Force planes.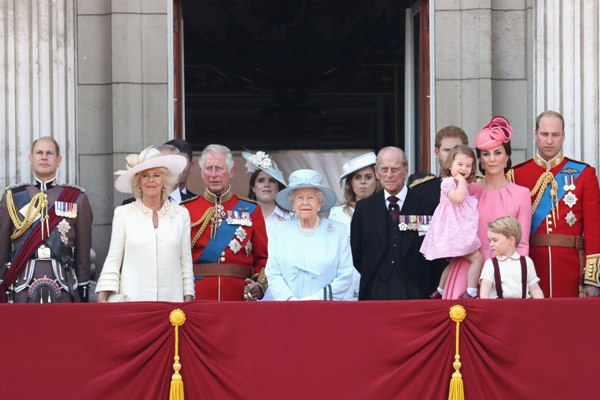 The Royal group made a picture-perfect family. Before the fly-past, there was a parade session that Prince George and Princess Charlotte had witnessed from their palace window. Both the kids appeared fascinated by the parade.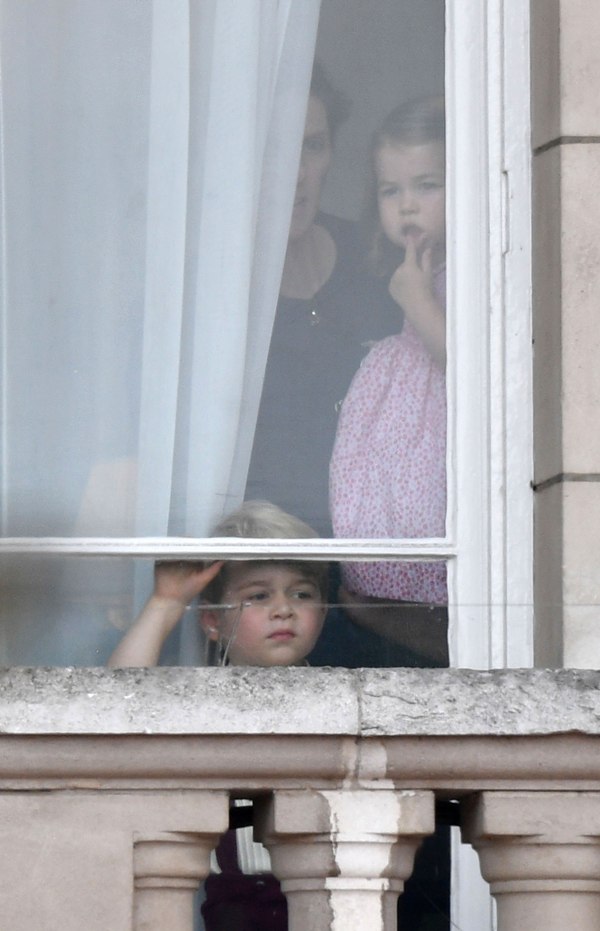 While on the balcony, the children were very animated and Charlotte could be seen pointing at the crowd and looking around attentively. Prince George also was popping a lot of questions to his father Prince William and was excitingly turning his head to and fro towards his father and the crowd.
Prince George also could be seen joining the fun and was waving his hands around like an orchestra conductor. He later looked at his father and smiled. They were particularly amazed when a 'Chinook' twin-engine helicopter flew over them.
In between, Princess Kate had put Princess Charlotte down and allowed her to stand beside her brother. It is a tradition that the whole of the royal clan is present on the balcony for this show.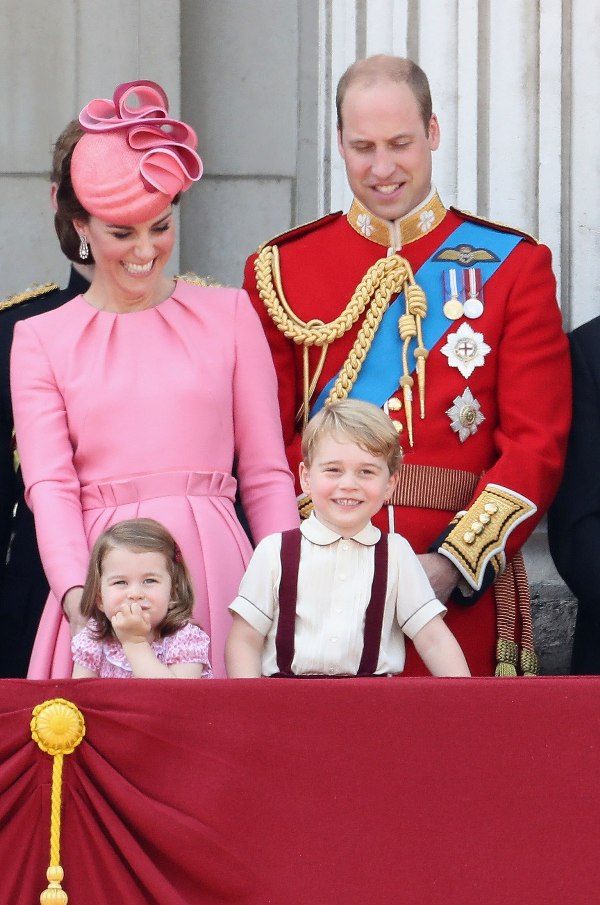 Prince George and all at the annual event
This grand military parade is an annual event in June and it is done in hopes of favorable weather. Often due to the heat, some of the unlucky bear-fur-garbed guards suffer from fainting spells. It is a national statement of pageantry to celebrate each British monarch's official birthday, although Her Majesty's actual birth date is 21st April.
The Queen is paraded in a royal carriage from her Palace to Horse Guards Parade through St. James's Park with more than 1400 officers, 400 musicians, and 200 horses surrounding her.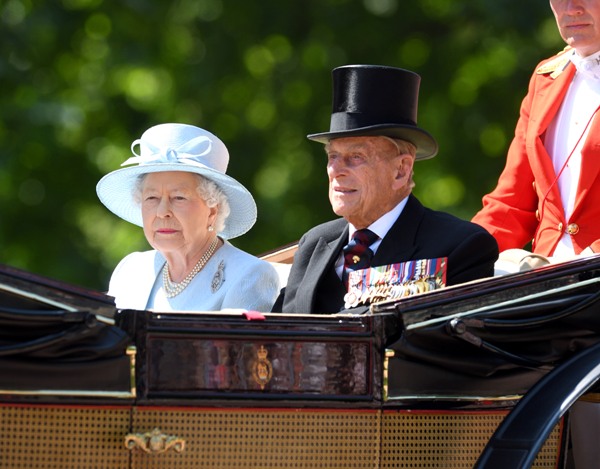 She inspects the troops, receives a royal salute from them, and takes a salute of her own. This year the Queen was seen in a powder blue Stewart Parvin attire with the same color matching Philip Somerville-designed hat. She had also adorned her Brigade of Guards badge which she has to put on every year on this day.
Her husband Prince Philip was in a morning dress with a Household Division tie, Garter Star, and Medals. During the procession, Prince Harry, Princess Kate, and Camilla (Prince Charles' wife) also were in a carriage while Prince William, Princess Anne, and Prince Charles rode on horseback.
All three were in their special Guard of Honor uniforms and had also adorned their medals.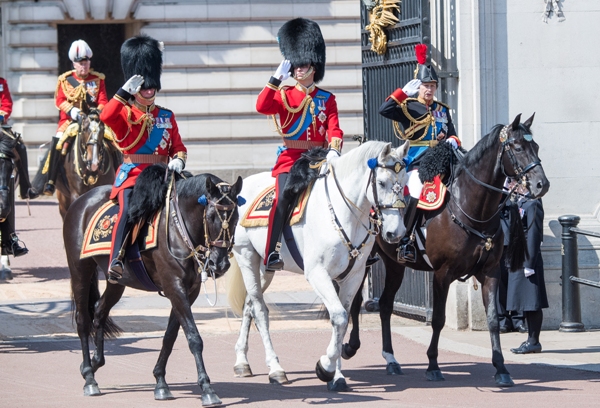 The Queen's message
Before the event was commemorated, The Queen and her husband Prince Philip observed a minute of silence in honor of those killed in the recent terrorist attacks in the UK. The Queen also gave a solemn and uplifting message to the people of Great Britain about the month of tragedies which included the two deadly terrorist attacks and the most recent tower fire. Speaking on the occasion, she said:
"Today is traditionally a day of celebration. This year, however, it is difficult to escape a very' sombre national mood. In recent months, the country has witnessed a succession of terrible tragedies," 
She continued:
"As a nation, we continue to reflect and pray for all those who have been directly affected by these events. During recent visits in Manchester and London, I have been profoundly struck by the immediate inclination of people throughout the country to offer comfort and support to those in desperate need."
She added:
"Put to the test, the United Kingdom has been resolute in the face of adversity. United in our sadness, we are equally determined, without fear or favor, to support all those rebuilding lives so horribly affected by injury and loss."
Short Bio on Prince Philip
Prince Philip, Duke of Edinburgh, is best known as the husband of Queen Elizabeth II, the father of Prince Charles, and the grandfather of Prince Harry and Prince William. More Bio…