Viral Post of Mother's Perfect response to her children calling her 'Fat' and it's the lesson we all need to learn!!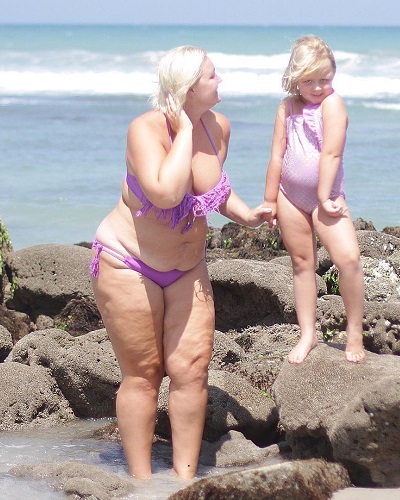 Another Day with an important lesson!
The inspirational speaker Allison Kimmey Instagram post was viral when she taught her children a lesson about the 'Fat'.
It was a mother's perfect response.
---
Let's Check out the special post!
View this post on Instagram
Mother's Perfect response on Fat to Children
Allison Kimmey posted a photo to Instagram of a mother's perfect response after her daughter, who was angry when she and her brother needed to get out of the pool and called their mom Kimmey fat.
"My daughter called me fat today."
That is the first line of an Instagram post written by self-help author Allison Kimmey.
"She was upset that I made them get out of the pool and she told her brother that mama is fat,"
wrote the Cocoa Beach, Florida-based mom.
Without getting angry Kimmey, 32, took the situation to the lesson and instructed Cambelle, 6, and Graham, 8, to meet her upstairs for a chat. The body-positive health coach recounted their conversation in a lengthy post that has since gone viral.
She told them,
"The truth is, I am not fat. No one IS fat. It's not something you can BE. But I do HAVE fat. We ALL have fat. It protects our muscles and our bones and keeps our bodies going by providing us energy."
More about Allison's response and explanation
In explaining to her children that fat is a normal part of the body, instead of a body type to feel ashamed of, she taught them a powerful lesson about society's perception of weight – and how to treat others with kindness and respect.
She explained in her viral Instagram post,
"Fat is not a bad word in our house. If I shame my children for saying it then I am proving that it is an insulting word and I continue the stigma that being fat is unworthy, gross, comical and undesirable. Our children are fed ideas from every angle, you have to understand that that WILL happen: at a friends house whose parents have different values, watching a tv show or movie, overhearing someone at school- ideas about body image are already filtering through their minds. It is our job to continue to be the loudest, most accepting, positive and CONSISTENT voice they hear. So that it can rise above the rest."
Allison's inspirational lesson
Kimmey who also has the upcoming children's book Glitter Stripes has also the inspirational lesson on them. Being a person with lots of fats she had her own struggle before she started accepting her. She struggled with restrictive eating and consumed under 1000 calories a day.
She added to Us. After the birth of Campbell in 2012, Kimmey hit rock bottom,
"Even as a size 2/4 on my wedding and honeymoon, I could only see my perceived flaws. I had visions of her growing up and looking exactly like me," she recalls. "I verbally said that I wished that she wouldn't look like me. And at that moment I realized that I needed to change . . . not only for myself but for my entire family — especially my children."
Now a size 16/18, Kimmey has never been happier and uses social media as a platform to inspire others. In March, she shared a photo of herself beaming in a bikini.
"Who decided that I should be ashamed of my cellulite, my size, my rolls, my stripes? Who decided that I shouldn't feel encouraged to take up space and be seen? I don't know who decided that, but I do know that I choose each day to not heed the expectations of society's standards. I do know that I deserve to exist. And I do know that I am worthy of happiness and love. And I know you are too."
We appreciate the positive vibe she creates and the powerful message!