Tia Mowry after struggles of pregnancy did not give up and now she gave birth to her second child, and says, 'We are in heaven'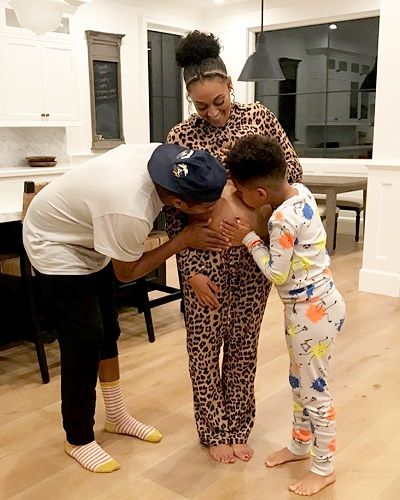 Tia Mowry is an American actress. She is renowned for her role in the American sitcom Sister, Sister. On the 6th of May 2018, Sunday, she shared delightful news on her social media handle, Instagram that she gave birth to her second baby.
She said,
"Feeling grateful and blessed as we welcome our little baby girl into the world!". We are in heaven ????????."
This time it's a baby girl and she is feeling like she is in heaven. She gave birth to the baby on 5th May 2018, at 10:29 a.m. The baby was healthy 19.8 inches long and weighed 6 lbs., 4 oz.
Announcement of pregnancy
She revealed her pregnancy in November 2017, via her social media handle. She shared a picture of her showing off the baby bump where her husband, Cory Hardrict, and their first child, Cree Taylor Hardrict(2011) were seen kissing her baby bump.
Update: Tia's daughter Cairo Tiahna Hardrict was born on 5th May 2018.
The picture was so cute and it completed their family that looking at the picture, no words were required. She also captioned it with the red heat emojis.
Tia revealed the gender of her new baby in the baking-tutorial video. She said,
"We're having a girl!. Cree is going to have a baby sister. We are so excited."
You may like to read What happened between Tamera Mowry and Tia Mowry? Know about Tamera's husband, children, net worth
Struggles of her second pregnancy
The 39-year-old actress, Tia had a hard time conceiving her second child because of her health issues. She thought that she would not be able to have a baby again.
"I didn't think I'd be able to have a second child, and it's been over seven years since my first pregnancy. I put it off, but I did want to have another child."
For a very long time the couple, Mowry-Hardrict was trying to conceive but the results were not coming, however, they did not give up.
Sister, Sister actress, Mia says,
"I didn't let my infertility issues define me or define what my goals were and what I wanted out of life. We did try for a long time. It was hard. But I didn't give up."
After trying for a very long time, the couple became pregnant and were very happy with the news,
"That said, I just feel so much joy with [this pregnancy]. Also, who knows if I'll ever be able to get pregnant again? So I am embracing and enjoying every moment."
Tia's first baby Cree is also very delighted to be a big brother. Tia shared with us that,
"My son is so funny. He said a few days ago, 'Okay Mom, now that I have a sister, next time I want a brother.' "
Name of their new baby?
The couple has not yet revealed the name of their baby but they have given us hints. They want the baby's name to be unisex.
Hardrict says,
"Names that show some strength and some power behind it. It has a great meaning. I'll give you the initial: It's a C. So that's what it's going to be."
Mowry-Hardrict added,
"And the middle name will be a T for my name, Tia. So it's C.T.H."
Also, read Trevor Lawrence and Marissa Layne Mowry are engaged last weekend!
Short bio on Tia Mowry
Tia Mowry is an actress. Her full name is Tia Dashon Mowry. She is famous for her teen role as Tia Landry in the sitcom Sister, Sister.
She had even appeared as medical student Melanie Barnett in the comedy-drama series The Game and the television movie Twitches and its sequel Twitches Too. Mowry has voiced Sasha in Bratz. More bio…