Who Is TikTok's Famous Twins? Sisters Launch A GOFUNDME After Their Father Died!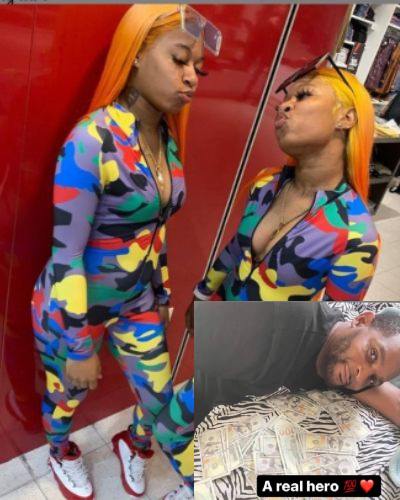 Famous Twins of TikTok is currently making headlines but not for a good reason. 
Two famous sisters from Alabama witnessed someone shooting their father and losing his life.
The sisters started GOFUNDME to collect funds for their father's funeral. 
---
Famous Twins sisters who go by the name Sway Bentley and Allie Monay Jones witnessed their father getting shot. The sisters are trending on social media after their father sadly passed away in a tragic shooting.
The sisters went live on social media while someone shot their father outside their house. They quickly blew up on the Internet after the unfortunate event. They have started the GOFUNDME page to get help at the funeral of their father.
Famous Twins lost their father in a tragic shooting
The two sisters from Alabama went viral on social media after their father tragically died. A video of someone tragically shooting their father in front of them is getting viral on Twitter. However, at the time, the motive and reason for the shooting are unclear.
As many rumors are suggesting it can be because of money, the twin claimed it is not. Meanwhile, one of the twins made an Instagram post claiming "it's supposed to be me".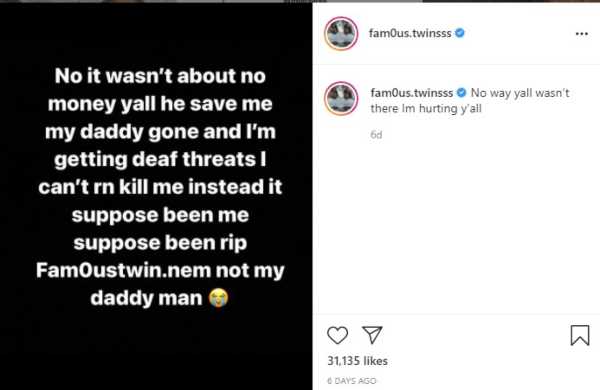 In her story, she mentioned their dad died while trying to save her writing:
"My daddy die trying save me cause I would have been dead."
The viral video shows their father lying down on the ground after the shooting. Meanwhile, the second shooting was what took away the twins' father's life.
They set up a GOFUNDME for the funeral
The twins who have more than one million followers on TikTok started a GOFUNDME page. They mentioned they want money for the funeral of their father. The Twins also posted a video on Tiktok with the caption which says "Please help me, I can't think right."
The video shows the page that one of the twins Allie created. The page said 'Help buried daddy" with the goal of $20,000. As per the recent Instagram post of the twins, people have reported the page they started for the funeral funding.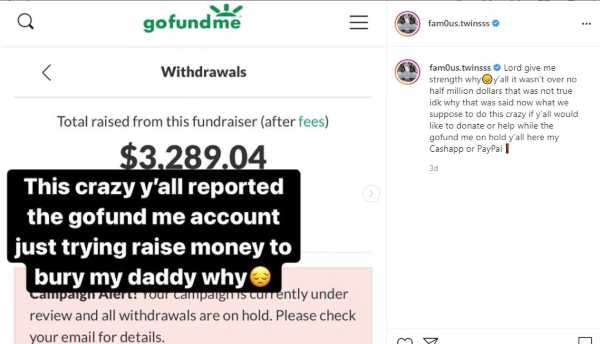 As per the reports, someone shot and killed the twin's father on a deadly night that involved two shootings. The report also mentioned the first shooting occurred in the 500 block of Williams Street in Mobile.
The shooter shot Mr.Walters and an unidentified woman at the time. The woman is recently in the hospital and Mr.Walters, unfortunately, lost his life.
Detectives have identified all of the people who they believe are involved in the crime. One of the twin sister's boyfriends shot Walters while they allegedly aimed at another twin sister.