Pre-Valentine Shopping?! TJ Holmes Goes Ring Shopping ahead of Girlfriend Amy Robach's 50th Birthday!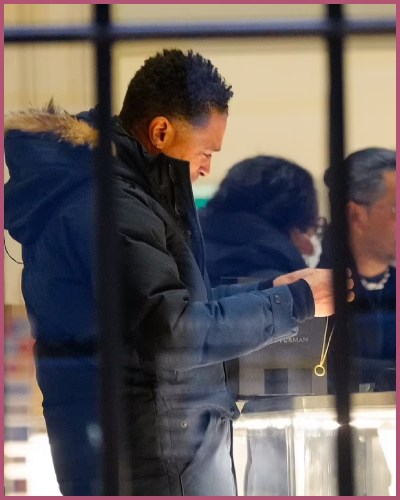 TJ Holmes went shopping at David Yurman and Tiffany & Co. on Saturday ahead of his girlfriend Amy Robach's birthday.
He bought a gold chain and a promise ring for Robach.
Sources claim that the couple's relationship is getting stronger every day.
---
TJ Holmes goes shopping for Amy Robach before her birthday
TJ Holmes promises to love Amy Robach forever, it seems.
The former news presenter is taking his love for his ladylove in a new direction ahead of her 50th birthday.
The 45-year-old is now out of work but he still managed to shop for a surprise gift for his girlfriend. The former Good Morning America anchor was visiting stores to buy a gold promise ring and a chain to hang it on as his sweetheart reached the half-century mark on Monday.
Firstly, Holmes entered David Yurman's downtown Manhattan store where he bought an 18-karat gold Unity Cable ring worth $650. It was a part of the bridal/wedding collection.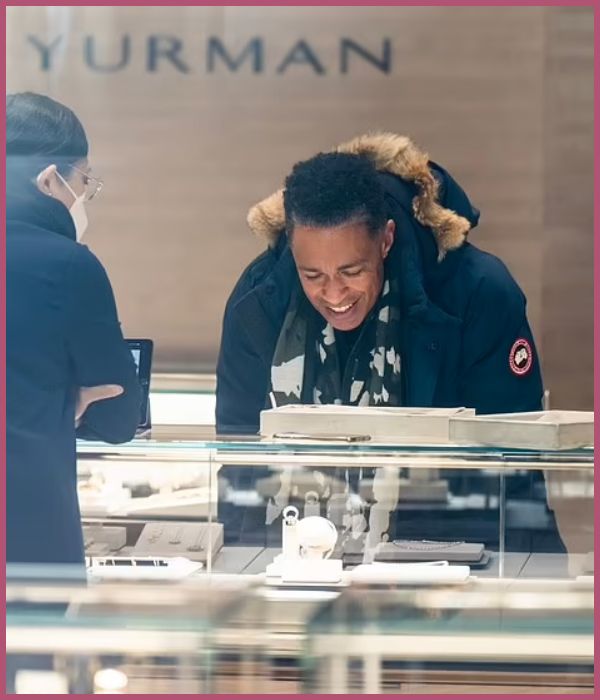 After purchasing the jewelry, he went inside a nearby Tiffany & Co. where he took a gold chain. He quickly looped in the ring to see how it goes with it.
He then walked away happily with the store's classic robin's egg blue bag.
Fans believe that the gift which seemed very thoughtful means that Amy is getting them as a sign of commitment until both of their divorces are finalized.
A source close to the couple said that 'T.J. and Amy are more in love than ever.'
While trying to find a meaningful gift for his dear love, Robach was taking the help of sales associates.
Also, Read TJ Holmes Files for Divorce from his Wife Marilee Fiebig amid his Affair with Good Morning America 3 Co-host Amy Robach!
Holmes and Robach express their love publicly for each other
While Holmes was out shopping for his girlfriend, Amy was busy grocery shopping in Manhattan.
The former TV host strolled through the city carrying three big grocery bags as she was casually dressed down in jeans, boots, and a sweater. She went makeup-free and tied her hair in a bun.
A close friend of the couple said that the two are going through a very hard time as both of them are now jobless and have divorces ahead of them.
They said,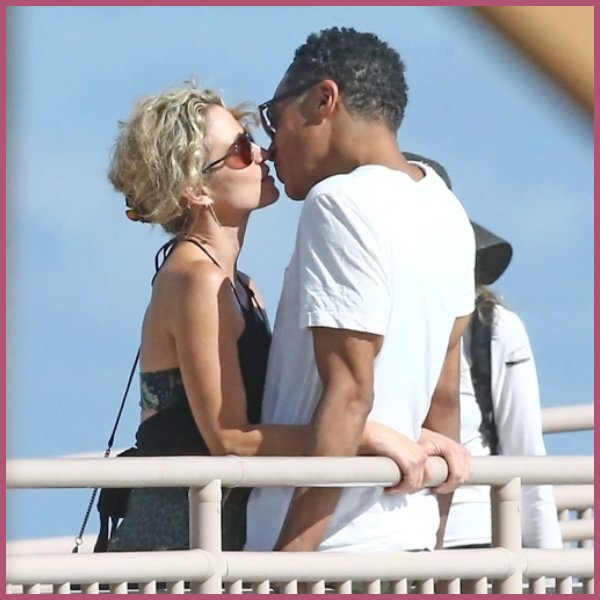 "It's kind of proof of how committed they are to each other that they've weathered this sh**storm after their secret love affair was exposed, they were suspended from GMA3 and then waited for agonizing weeks as ABC kept them in limbo about their future."
They continued,
"But don't forget that T.J. and Amy were friends long before they were lovers. Their relationship began with an awfully strong bond that – to this point – has only become, well, more."
Just a few days ago, the couple was seen showing PDA in Southern California, just two months after their affair was made public.
At a point, Amy even wrapped her hands and legs around her lover.
Also, Read Not Afraid to Show some PDA! Amy Robach and T.J. Holmes Make Out Like Nobody's Watching on Their Miami Vacation!