Tobey Maguire and his girlfriend Tatiana Dieteman spotted at farmer's market in LA! Is he returning to Spider-Man franchise?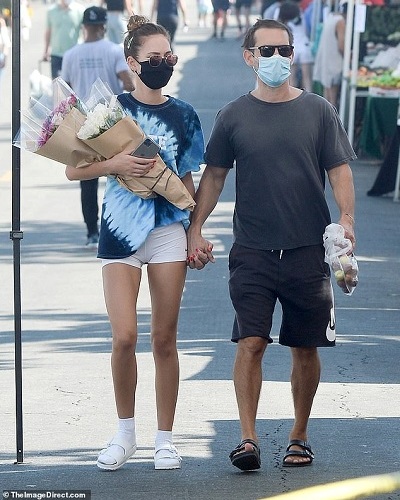 There are some wild rumors afloat that Tobey Maguire, 45 is returning to the Spider-Man franchise. But he is having a great time on the personal front.
Because he and his younger girlfriend, Tatiana Dieteman, 27 were spotted at a farmer's market in Los Angeles last weekend. They were hand-in-hand and seems to be taking a small stroll there. Additionally, they were all loved-up and cozy.
Tobey Maguire and Tatiana Dieteman at farmer's market in LA
The famous actor of the USA, Tobey Maguire, and his younger girlfriend Tatiana Dieteman was at a farmer's market in their neighborhood in Los Angeles on Saturday 17 October 2020.
The two were holding hands and were taking a small stroll in the marketplace. And it was a loved-up stroll. The two picked up bouquets. And they also purchased some mature pumpkins for the festive season and Halloween.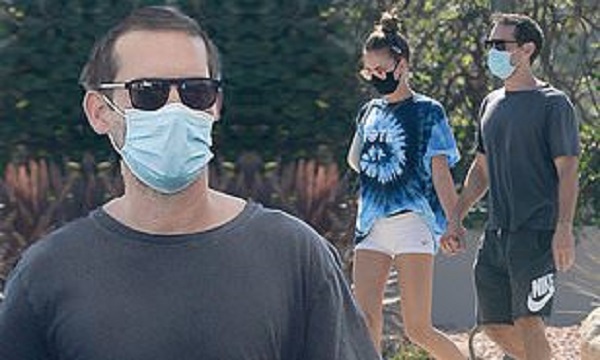 For this outing, Tobey was wearing a light blue-colored surgical mask. He was in a black T-shirt that he had matched with Nike sweatshirts and Birkenstock sandals.
Tatiana was in a blue tie-dyed shirt and on it was the word 'Vote'. Moreover, she wore a pair of tiny white clinging Nike shorts along with matching socks and Birkenstock sandals. She had put her brunette hair into a bun style and on her face was a face mask and a pair of sunglasses. 
The relationship timeline of the couple
Tobey, 45, and Tatiana, 27 started dating in 2018. He is a close friend of actor Leonardo DiCaprio. The couple, Tobey and Tatiana have been seen on several occasions on outings. In March 2020, a source told US Weekly:
"Tobey and Tatiana live together and they're really happy,"
Tobey was married to Jennifer Meyer before but now they have divorced. He has two kids with her: daughter Ruby who is 13 now and son Otis who is 10. The source disclosed that Tobey has introduced his new girlfriend to his kids. And they are also happy and approved of the new female in his life.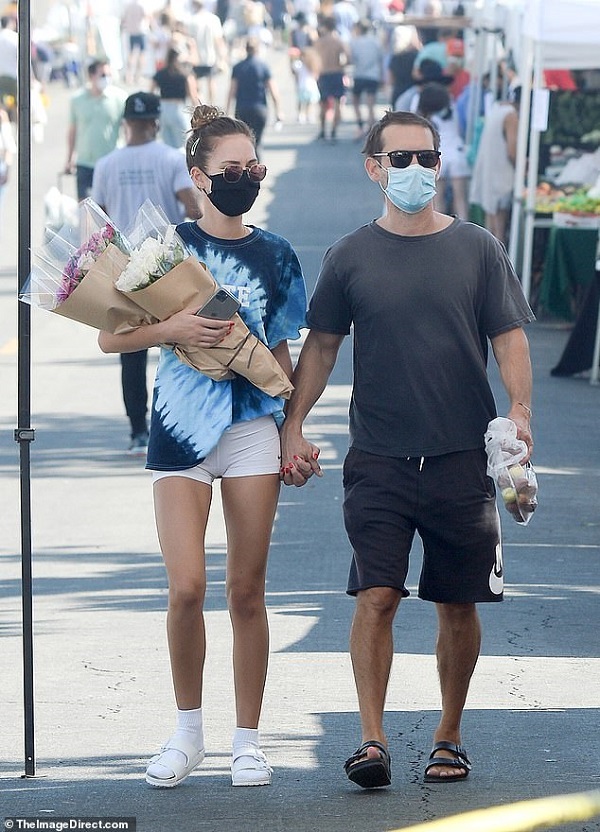 The source said:
"Tobey's kids love her. She's great with them."

"Tatiana and Tobey's ex-wife Jen get along well too."
Is Tobey returning to the Spider-Man franchise?
Some rumors are circulating that Tobey will return to the Spider-Man franchise. Andrew Garfield and Tom Holland along with Tobey would star in Spider-Man 3. But Sony said:
'Those rumoured castings are not confirmed.'
But it did not deny that they are not returning. The two may be settling on the terms of the contract. The 2019's Spider-Man: Far from Home did state that there exists a multi-verse in the Marvel Cinematic Universe.
Just one week back, it was confirmed that Jamie Foxx would do a comeback as Electro, the villain in 2014's Spider-Man film. Moreover, it was reported that Benedict Cumberbatch would be Doctor Strange in Spider-Man 3. FandomWire has broken the news first that Andrew and Tobey will return in Spider-Man 3.
The outlet added that this sequel will be the first live-action Spider-Verse. The two will be in the final act to help Tom Holland kill all the enemies. Hence it is highly likely that other villains like Green Goblin (Willam Dafoe), Hobgoblin (James Franco), Doctor Octopus (Alfred Molina), Sandman (Thomas Haden Church), Venom (Topher Grace), and The Lizard (Rhys Ifans) from previous Spider-Man movies would also be in the Spider-Man 3 film.
And there would be Zendaya as MJ, Marisa Tomei as Aunt May, Jacob Batalon as Ned Leeds, and Tony Revolori as Flash Thompson. 
Read the complete bio of Tobey Maguire here