Todrick Hall Something From His Inner Circle After His LA Home Got Burglarized!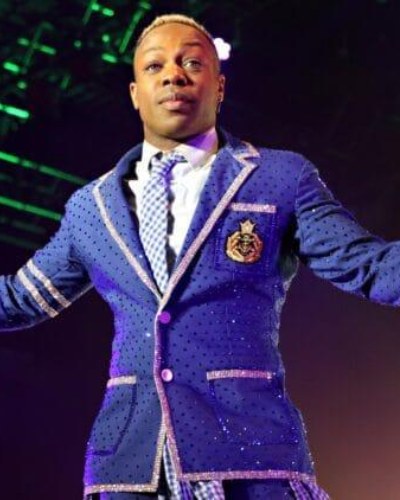 Todrick Hall was in London when someone burglarized his LA Home. 
As per the report, they stole $50K worth of handbags and his personal items. 
In his recent statement, he revealed someone he knows and trusts committed the crime. 
---
There is much news of celebrities' homes getting burglarized. With the fame, they also have the risk of crimes likes this surrounding them. The American rapper was in the UK while someone burglarized his LA Home. He released a statement on his Twitter after landing in America after his trip.
Todrick's home got burglarized
The rapper recently revealed someone burglarized his LA home while he was in the UK. On Sunday, he went to Instagram to talk about the recent incident. He started his post by saying he landed in America with thousands of messages and calls. The rapper added he is ok and is unharmed. He added he is devastated that someone did this to him. Moreover, he is more disturbed to see people laugh and celebrate his unfortunate incident. The rapper added:
"Be careful who you let in your close circle. They really will put your life and their life on the line just to steal a Louis/Gucci bag. Sad."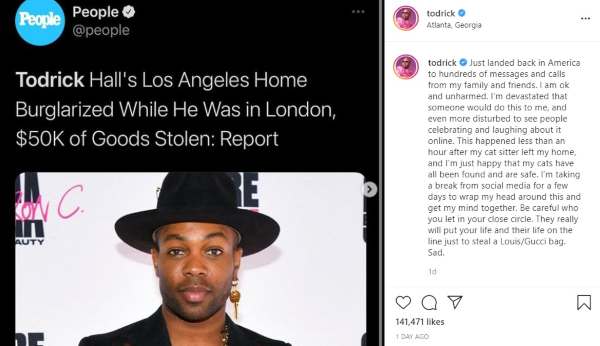 On his police report, he mentioned someone stole at least $61,000 ($50K) worth of personal stuff and handbags. The reports also mentioned thieves allegedly broke the window and took entry to the artist's house. He has still to account for everything that is missing from his place and loss could turn out more damaging. According to the reports, his friend was the first to find out about the break-in. Hall himself confirmed the robbery himself on social media on Sunday which happened after his cat-sitter left for the night. The rapper added he is extremely saddened it is most likely someone who he knows and trusts did it. Hall also confirmed his cats are safe and that is only what matters to him.
Todrick Hall was busy with his projects
Prior to the incident, the entertainer was busy with her projects and promotions. At the recent time, he was promoting his fourth studio album Femuline. Last month he dropped the album collaborating with Chaka Khan, Brandy, Nicole Scherzinger, Tyra Banks, and TS Madison. The rapper also made the announcement of his international tour which will start on March 12, 2022. Back in 2016, he talked about his dream saying:
"I just want to do things that inspire people. And I would love to get an Emmy, Grammy, Oscar and Tony. I want to break boundaries, to play roles that I would normally not be able to play."
Hall is the most popular for his appearance as a choreographer and recent guest judge on RuPaul's Drag Race. The rapper is a close friend of famous singers like Taylor Swift.
More About Todrick Hall
Todrick Hall is an American actor and a director. Besides, acting, he is one of the multi-talented people. He is also a rapper, singer, actor, choreographer, and YouTuber.He has got different sorts of skills in different fields. He is also known for Straight Outta Oz in 2016, Todrick Hall: Freaks Like Me in 2014, and Todrick & Aubrey Peeples: 'Youngblood' in 2015. See more bio…