Tom Cruise, Vanessa Kirby Dating relationship affair Stories Are Fake News
Tom Cruise is an American actor and producer. His started his career in acting at the age of 19 and has acted in varieties of films. Tom Cruise started his career at the age of 19 in the film Endless Love in 1981. Observing the history of Tom Cruise, he had a number of affairs in his life and currently he is rumored to have a dating relationship with Vanessa Kirby.
Tom has been spotted dating with many women on his life. So, let's take a deep look in Cruise and find a lot more information about his life, marriage, and affairs. Let's check it out…..
Relationship of Tom Cruise
Cruise had married and divorced three times and has got three children, two adopted and one biological. He had relationships with older women, including  Rebecca De Mornay, Patti Scialfa, and Cher. While Cher was living with Cruise, her daughter Chastity Bono was also living with them.
Tom Cruise's Affairs
Tom Cruise had affair with many women in his life. He has dated many women in his life and was spotted dating women in past several years. Tom Cruise is said to have relationship with Yonlanda Pecoraro(2012), Cynthia Jorge(2012), Sofia Vergara(2005), Nazanin Boniadi(2004-2005), Penelope Cruz(2001-2004), Cher(1984-1986), Patti Scialfa(1985), Rebecca De Mornay(1983-1985), Heather Locklear(1982), Melissa Gilbert(1982) and Diane Cox(1980-1981). Tom Cruise was  rumored to have hooked up with Laura Prepon(2013) and Olga Kurylenko(2013)
Marriage life of Tom Cruise
Talking about Tom Cruise's married life he has been married for three times. He had been married to Mimi Rogers on May 9, 1987, married Nicole Kidman on December 24, 1990, and married Katie Holmes on November 18, 2006. Split from Holmes for more than four years the source says, Cruise is eager to make his romance last.
"He's serious about his relationship and wants to make it work",
a source stated.
 Dating Rumor of Tom Cruise and Vanessa Kirby
Vanessa Kirby is an English stage, TV, and actress. She is mostly known for the great stage work and has worked in various films. Also, she has been nominated in various awards show and also has won the awards.
There was dating rumor of Tom Cruise and Vanessa Kirby but after various information and reports, it is said that the rumor is false.  The Hollywood hunk is pretending Vanessa Kirby to be his fourth wife. According to RadarOnline Cruise is supposedly "head-over-heels" for his co-star, and he was spotted "locking lips" with Kirby on the set movie. Also, a so-called "source" tells the webloid, "He's blown away by her endless charm and energy," adding this he made sure to cast the actress in the franchise's sixth installment.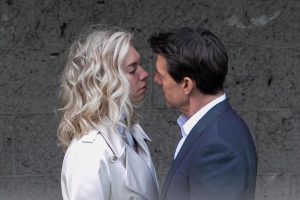 The couple was waiting on the set to film their new scene. Star Vanessa was seen giggling with her co-star Cruise and the pair was seen sharing a kiss underneath the bridge. Tom's character Ethan Hunt has always been one best character to the ladies. Now it is seen that he has eyes on of the lady who is 24 years age difference with Cruise. in The rumor about dating was not just spread by them. The Independent, for instance, received "Top Stories" status on Google by falsely introducing to the blonde actress as Cruise's rumored girlfriend. People are receiving wrong information about the dating of Tom Cruise and Vanessa Kirby. The entire rumor of Tom Cruise and Vanessa Kirby is claimed untrue after various researches. Tom Cruise and Vanessa Kirby are 100 percent not dating.
It is confirmed now Kirby is not Cruise's new girlfriend. People are gossiping the pair have fallen in love on the set while filming Mission Impossible 6. But now it is declared that the pair is not in any kind of relationship, they are not dating. Due to some wrong information, there were some misunderstanding but now it has has been solved. There are several photos of kissing scene of the co-stars in upcoming movie mission impossible. So, people are suspecting they are having a relationship off camera. Now it's no more true that the co-stars are dating.
Short bio on Tom Cruise
Thomas Cruise Mapother IV, professionally known as Tom Cruise is an American actor and Producer and son of Mary and Thomas Mapother. Cruise was born on July 3, 1962, in Syracuse, New York. He started his acting career and involved in the film industry at the age of 19. He has been nominated for three Academy  Awards and has won three Golden Globe Awards. More bio…