Top 5 Scrumptious food recepies by model, Chrissy Teigen!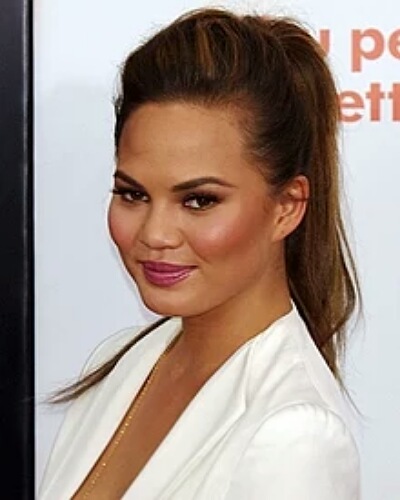 Chrissy Teigen is an American model who is a great chef. She is the author of her best-selling cookbooks. She shares every step of the recipes and shares the testing on Instagram stories.
Some of her mouth-water recipes which everybody can try are as follows:
1.Yum Nua (Thai Beef Salad)
Chrissy shared that her mom used to make the dish for her while growing up. Check out the ingredients and directions to prepare it.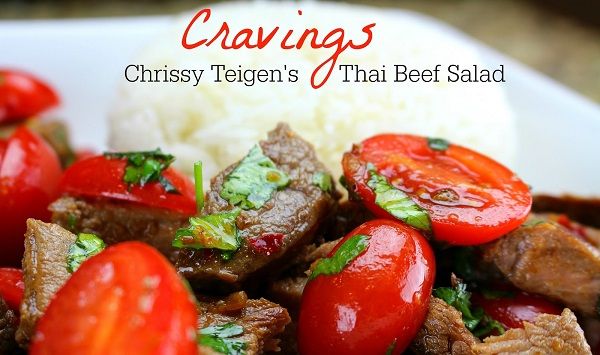 Ingredients:
Well-marbled New York steak, grilled to your liking, preferably no more than medium-rare
2 limes, juiced
1 1/2 tablespoons fish sauce
1 tablespoon palm sugar (Note: Brown sugar may be substituted, but you may need to add more since it's not as sweet.)
1 small red onion, sliced into thin wedges
1 bunch cilantro, coarsely chopped, stems removed
Large handful cherry tomatoes, sliced in half (or 1 to 2 vine-ripened tomatoes cut into wedges)
Thai chili powder to taste
Directions:
For the recipe, the steak should be grilled as mentioned above. After that, it should be sliced into thin strips after allowing them to rest for 15 to 20 minutes.
We should keep the steak in a large mixing bowl and put the palm sugar in a small bowl. After that, we should mush it into a thick liquid form.
After that, we should add all the non-vegetable ingredients like lime juice, fish sauce, and palm sugar.
We should toss all the ingredients with our hand to incorporate all over the steak.
After that, we should add more fish sauce and salt and sugar as per need.
To make it fancy we can mound into a shallow bowl or platter on a bed of frilly lettuce and garnish with lime wedges, additional cilantro, and a chili pepper flower.
Also read Pastry Chef Anna Olson rise to fame with her cookbooks, endorsements, and TV shows on Food Network Canada!
2. Tom Yum Noodles
This is one of the important recipes of Chrissy. The ingredient and direction to prepare are given below: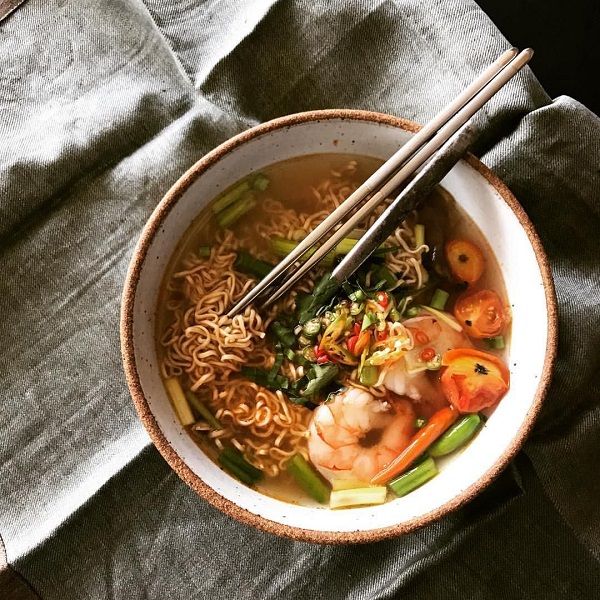 Ingredients:
2 chicken bouillon cubes
8 fresh Thai bird chiles or to taste
4 cloves garlic, halved 1 shallot, cut into ½-inch pieces
1 tablespoon fish sauce, plus more to taste
1 stalk fresh lemongrass, cut into 2-inch pieces and lightly smashed
3 kaffir lime leaves,** central vein removed
1-inch piece fresh galangal (or ginger), cut into ¼-inch-thick coins
1 (15-ounce) can straw mushrooms, drained and rinsed
12 cherry tomatoes, lightly smashed
2 (3-ounce) packets or 3 (2.2-ounce) packets instant ramen noodles***
4 scallions, whites cut into 2-inch pieces, greens thinly sliced
1 pound peeled and deveined jumbo shrimp
Kosher salt
Chopped fresh cilantro, for garnish
Lime wedges, for serving
Directions:
For the dish, we should bring 8 cups of water in a 4-quart saucepan. When the water starts boiling we should add 5 chilies in a mortar with garlic and shallot and mash it.
After that, we should add the chili paste to the boiling liquid along with the fish sauce, lemongrass, kaffir lime leaves, galangal, mushroom, and tomatoes.
We should bring it to boil and reduce the heat, cover and simmer for 20 minutes to let the flavor infuse.
After that, we should add ramen noodles and scallions and simmer until the noodle is hydrated. We should add shrimp and simmer until it is just cooked through.
We should season the soup with salt and fish sauce as per taste.
Finally, we should discard the lime leaves and lemongrass stalks. Serve the noodle and broth with fresh chilies and cilantro.
3. Prosciutto-Wrapped Boursin Cheese and Bacon-Stuffed Chicken Breast
The ingredient and direction of the recipe are given below: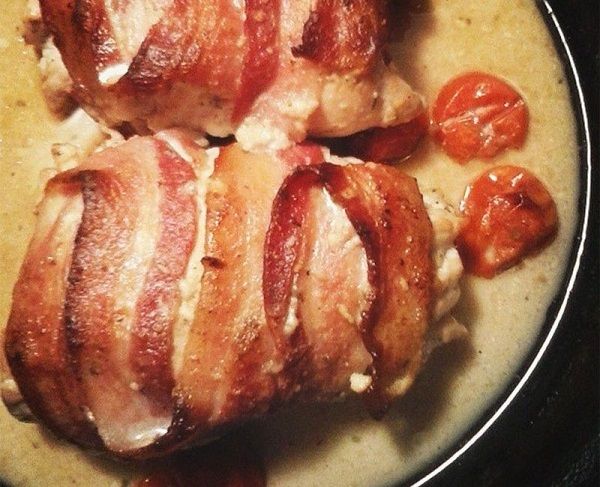 Ingredient:
2 large boneless, skinless chicken breasts
1 package Boursin cheese (Note: I used the herb and garlic flavor. You can also use a packed herb goat cheese.)
4 slices thickly cut bacon
4 slices prosciutto
1/2 lemon, juiced
Salt and pepper
1 cup chicken stock
10 to 12 cherry tomatoes
Directions:
For the dish, we should preheat the oven to 375°F. We should lightly oil the bottom of a deep oven pan like a rectangular or square cake pan.
We should place one piece of the chicken breast on top of a piece of Saran wrap.
After that, we should cover another piece and gently beat it with the rounded end of a metal ladle or just a meat tenderizer.
That step is repeated until the chicken breast is large and fairly thin.
After that, we should generously spread Boursin cheese onto each chicken breast.
We should lay 2 slices of bacon across each and cut it if necessary. After that, we should roll it from the short side.
We should wrap two pieces of prosciutto around each chicken roll without overlapping too much.
After that, we should place into lightly greased pan and season with lemon, salt, and pepper.
We should add chicken stock in the bottom of the pan and toss in cherry tomatoes.
After that, we should bake on the middle rack for 55 minutes. We should make sure to spoon juice onto tops of chicken every 15 minutes or so.
Also read It's Holiday Season; Here Are Some Of The Best And Easy Recipies For Christmas Dessert And Baking
4. Grilled Portobello with Arugula and Tomato
The recipe for Grilled portobello with ingredients is given below: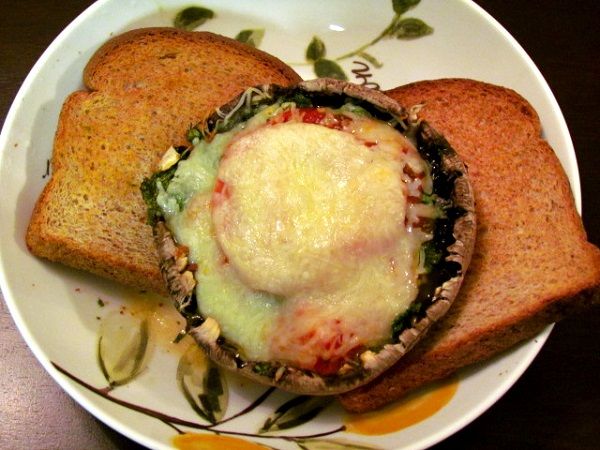 Ingredients:
4 portobello mushroom caps
1/2 bunch arugula
2 cloves garlic
4 tablespoons butter
1/2 lemon, juiced
Salt and pepper
1 tablespoon olive oil
1 slice tomato
1 cup shredded Parmesan
1/2 cup marinara sauce
Directions:
We should remove the stems and insides of the mushroom caps with a spoon. After that, we should add arugula and garlic in a food processor.
We should add the butter, lemon juice, dashes of salt and pepper, and olive oil. Purée.
After that, we should generously spread the arugula butter onto the inside of the mushroom cap. We should add a small spoonful of marinara sauce and then slice a tomato.
Finally, we should sprinkle top with Parmesan and bake at 400°F for 10 to 12 minutes.
5. Jalapeno Parmesan-Crusted Grilled Cheese
The recipe for Jalapeno Parmesan with ingredients and directions are listed below: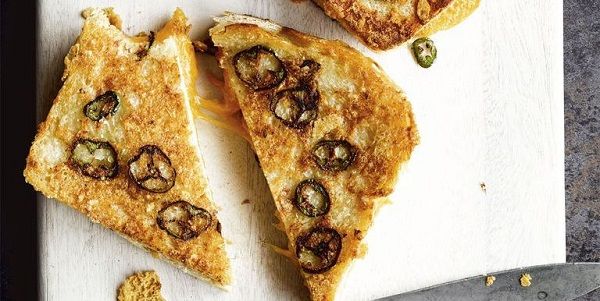 Ingredients:
3 tablespoons butter, at room temperature
4 slices soft sourdough bread
1 small jalapeno, sliced into thin rings
1 cup finely grated Parmigiano-Reggiano cheese
1 cup shredded extra-sharp cheddar cheese
Directions:
We should spread one side of each slice of bread with about 2 teaspoons of softened butter. After that, arrange 4 to 5 jalapeno rings over the butter on each side.
After that, we should place the Parm in a shallow dish and press the buttered, jalapeno side of each slice of bream into the Parm.
We should scatter ½ cup cheddar on the unbuttered side of each of 2 slices, then close the sandwiches.
We should heat a nonstick skillet over medium-low heat and add the sandwiches and cook it.
After that, we should cook it until the underside is golden and flip it and cook.
Short bio on Chrissy Teigen
Chrissy Teigen is an American model. She appeared in the Sports Illustrated swimsuit issue in 2010 and was named Rookie of the Year. She is the wife of famous American singer John Legend. Read more bio…
Source: Shape, Insider, Refinery29