Tori Spelling Opens Up About The Hard Time Of Her Children Getting Bullied!
Tori Spelling, an American actress is the mother of five children with her husband Dean McDermott. Recently, she opened up about her kid's bully on an emotional post.
No doubt, getting to know about your own kid's bullying is very hard to time to cope with for any parents. And it is not any different for the actress to deal with. Bullying is a form of aggressive behavior giving threats of people.
Many people from all over the world are fighting for it. The mom of five made an emotional post on her official Instagram account where she addressed the bullying period of her kids.
Tori opens up about her kids who faced bullying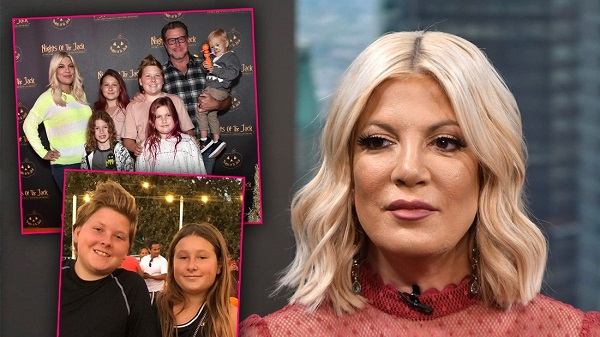 The American actress posted a picture of her two eldest children, Liam and Stella from their childhood with a long emotional post. Meanwhile, in the post, she explained to Stella who is 11-years-old was just one on the pic.
She further went to write the girl who only knew unconditional love, honesty, exploration, and kindness has endured bullying in her elementary school or the 1st year at her middle school.
The mom of five further explained:
"Her old school in Encino, we were told she is acting like "Patient zero" and "she's playing the victim" & " we are talking to the parents of that said bully" and "he is trying to change". He never did! Never any consequences for his actions towards my daughter and other kids. This child's parents are on the board of the school. They give a lot of money to this school. Financially, we aren't able too. So, they won. We then moved kiddos to another school."
In addition, the actress also mentioned that her daughter got bullied so badly at the time including comments about her weight and sexual things he said that my daughter didn't even know about. Furthermore, she went to write that the school did the right thing expelling her.
However, it has done damage to the life of such a young girl. She also revealed she now associates her education with boys that have been so horrific to her.
In addition, the girl who wanted to empower other girls and be a business leader now has a panic attack and doesn't want to go the school. Moreover, in the post, she also explained her som saying: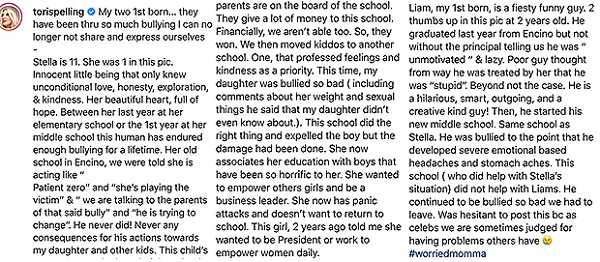 "Liam, my 1st born, is a fiesty funny guy. 2 thumbs up in this pic at 2 years old. He graduated last year from Encino but not without the principal telling us he was " unmotivated " & lazy. Poor guy thought from way he was treated by her that he was "stupid".
Moreover, the worried mom about her two kids who got bullied on the school further went to write:
"He is a hilarious, smart, outgoing, and a creative kind guy! Then, he started his new middle school. Same school as Stella. He was bullied to the point that he developed severe emotional based headaches and stomach aches. This school ( who did help with Stella's situation) did not help with Liams. He continued to be bullied so bad we had to leave. Was hesitant to post this bc as celebs we are sometimes judged for having problems others have."
Bullying is a serious crime and it should never be promoted in any way. We hope the kids will get over it and never have to face such a thing ever.
You may also read- Conor McGregor Disneyland pictures with his girlfriend and children!
More About Tori Spelling
Tori Spelling is a famous American actress, television personality, socialite and author. She is well known from her first major role, Donna Martin, on Beverly Hills, 90210. She appeared in a string of made-for-television movies including A Friend to Die For, A Carol Christmas, The Mistle-Tones and both versions of Mother, May I Sleep with Danger?. See more bio…
You may also read- Ariana Grande: Some interesting cool facts about her childhood, lifestyle, and career start!
Source: CNN, USA Today, Page Six