Trace Adkins and Victoria Pratt exchange their "I dos" in New Orleans ceremony with Blake Shelton officiating!!
Congratulations to Trace Adkins and girlfriend Victoria Pratt for their wedding! The country singer,57 and actress 43 officially tied knots in New Orleans and the couple had none other than Adkins's pal Blake Shelton to officiate the ceremony.
Also, read about Vogue Williams and Spencer Matthews have a lavish second wedding for friends who could not make it to their first wedding!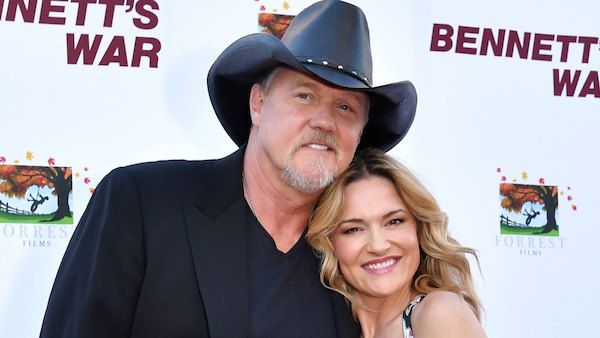 Trace Adkins and Victoria Pratt tie knots with Blake Shelton officiating
According to Taste of Country, Adkins and Pratt both met each other while working on the 2014 film The Virginian and since then have been dating for several years before finally tying knots. The couple exchanged their "I dos" in a quiet ceremony accompanied by their close ones. The wedding ceremony took place at the Maison Montegut, located in the city's French Quarter on Sunday.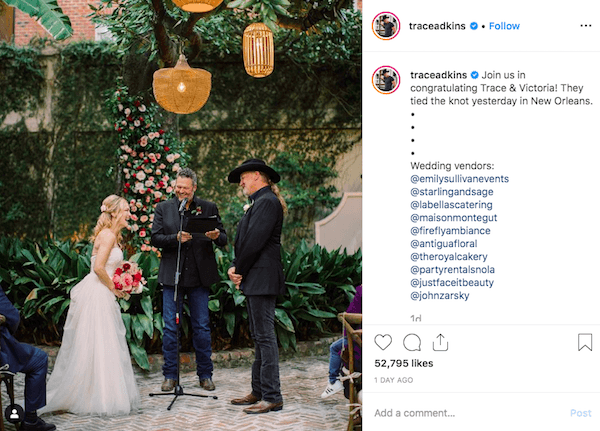 Trace Adkins' official Instagram gave us a peek into their big day ceremony.  The 57-year-old country singer's Instagram post read,
"Join us in congratulating Trace & Victoria!"
The picture captured a beautiful moment of the happy couple standing in front of each other accompanied by their loved ones while best pal Blake Shelton officiates the ceremony with a big smile on his face. The Canadian actress looked gorgeous in a strapless white gown. Adkins wore a pair of dark jeans with a jacket and a cowboy hat, (just what we expect from a country musician) and he looked quite dashing himself.
While there are not many details about the country singer and Canadian actress's wedding ceremony, the photo shared by Adkins does highlight a very important guest, Blake Shelton. In the photo, we can see Shelton standing between the couple in front of a microphone looking very gleeful.
Also, read about Justin Bieber and Hailey Bieber officially tie knots for the second time in extravagant wedding ceremony!!
Adkins and Shelton friendship
It is not surprising to see Shelton's involvement in the couple's wedding ceremony. The two country artists have collaborated numerous times over the years and have remained good friends for a long time. Their most recent collaboration was on "Hell Right" which was released by Shelton as a single in August.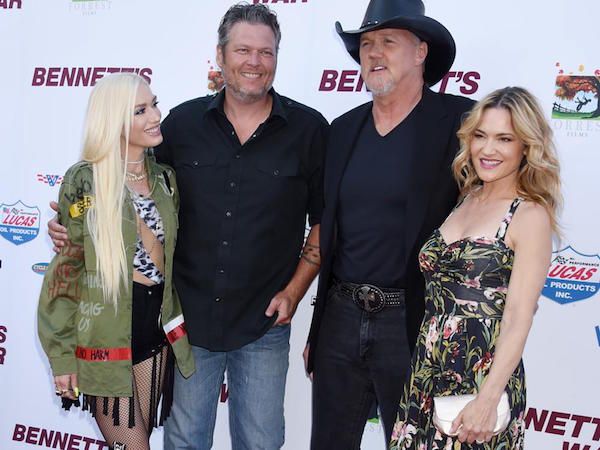 According to the taste of the country, Shelton told reporters,
"He just brings a certain quality to any recording that nobody else can touch, The guy's got so much personality in his voice and the way he sings, and I still think that he's one of the most underrated  country artists out there."
Like true friends, Adkins likes to playfully tease Shelton. In 2017, PEOPLE crowned Blake Shelton as the sexiest man alive to which Adkins playfully teased Shelton. He unearthed a very old and not so hunky picture of his mate, Shelton with a caption that read,
"So apparently Blake Shelton (@blakeshelton) is the world's sexiest man? Well, I suppose. Never did pay much attention, but then again this picture was taken before he learned how to be sexy from me" 
This is the fourth marriage for Adkins and second for Pratt. The pair who both starred in Bennett's War which was released in August, recently hit the red carpet together alongside pals Blake Shelton and girlfriend Gwen Stefani. Best wishes for Adkins and Pratt on their future together.
Also, read about Gavin Rossdale happy but also concerned that his children with his ex-wife Gwen Stefani are more time with her boyfriend Blake Shelton!
A short bio on Trace Adkins
Trace Adkins is an American country singer and actor. He made his debut with the album Dreamin' Out Loud and since then has released ten more studio albums and two greatest hits compilations.  He has charted more than 20 singles on the billboard country music charts. His number one hits include (This ain't) No Thinkin thing", "Ladies Love Country Boys", and "you're gonna miss this".
A short bio on Victoria Pratt
Victoria Pratt is a Canadian actress, author, fitness model, and a trained bounty hunter.
Source: people