'It was very traumatic. [I saw] her shaking, and she's got blood everywhere.' Tyler Baltierra on his wife Catelynn Lowell's miscarriage. Celebrated Lowell's birthday
Tyler Baltierra's wife Catelynn Lowell celebrates her 26th birthday. Catelyn had just come back home a few days ago after her mental treatment. Her birthday was a sweet escape from her daily routine. She was very happy to share her happiness with her fans and followers via her Instagram account. She shared,
"I am full of sparkle & compassion. I genuinely want to make the world a better place. I love hard. I practice kindness. I'm not afraid of the truth. I make mistakes, but I own them and learn from them. Sometimes I make a lot of mistakes."
She also shared her birthday celebration moments and birthday cake. It was a simple yet sweet cake.
What was the mental illness for?
Catelynn was pregnant with Tyler's third baby in January 2018. But due to some health issues, she had a miscarriage. When Tyler came to know that he lost her baby, he was in deep shock and scared as he was witnessing everything. He said,
"It was very traumatic. [I saw] her shaking, and she's got blood everywhere. She kinda, like, cleaned herself up and we figured what was going on… We just sat on the bed and cried. We just held another. There's nothing you can really do."
The couple could not stop themselves from crying in front of each other. Aftermath, she could not bear the pain and she had her family's full support during the process. She said,
"If they weren't around, I probably would've offed myself. Seriously, I'm sure a lot of people can relate. It's like, I don't want to live another day like this."
But it was not helping her. She started to realize that she really needs help mentally. That is when she decided to go for mental treatment. Tyler is one husband who supported and helped his wife in every possible way he could while she was in a rehab center. He said
"Catelynn was there and is doing so much better. Treatment benefitted her tremendously."
He shared on Twitter,
That baby may have not been fully grown in the womb…but it was fully grown in our hearts. For every parent out there who has lost a baby…it is not your fault & it is more than acceptable & understandable to mourn the loss of that baby & take your time to grieve #ParentStrong

— Tyler Baltierra (@TylerBaltierra) February 27, 2018
However, now she is recovering and getting better day by day. Go Girl! More Power to you.
Tyler and Catelynn's children
The couple, Tyler and Catelynn are the biological parents of two children before the miscarriage. Both their children are daughters named Carly Baltierra and Novalee Reign Baltierra born on 1st January 2015. The couple gave up their first daughter Carly for adoption. After the loss of her third baby, she also spoke about her first daughter's adoption. She said,
"Carly is a little different because we get to see her every year. But it's a loss, and you feel it, like, you process it as a loss. I guess it's something I didn't really understand before. It's crazy."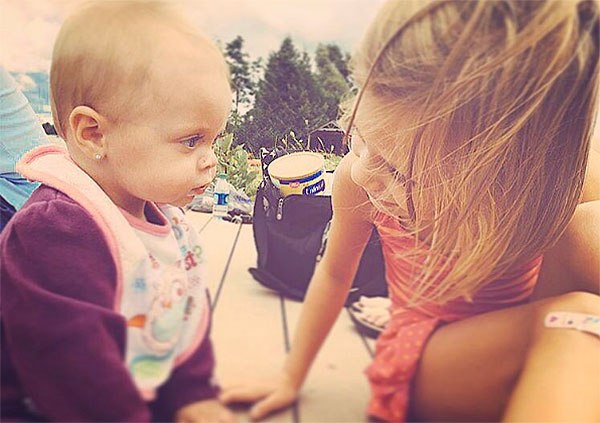 Source: Hollywood Life(Tyler Baltierra and Catelynn Lowell's Daughters)
Short Bio on Tyler Baltierra
Tyler Baltierra is an American MTV personality, model, author, and social media star. He first appeared on the show Teen Mom alongside his pregnant girlfriend, Catelynn Lowell. More Bio…
Short Bio on Catelynn Lowell
Catelynn Lowell is an American TV personality and an author. She is famous for her TV Show, Teen Mom. She gathered more attention after marrying longtime boyfriend Tyler Baltierra. He is an American MTV personality, model, author, and social media star. More Bio…