Travis Barker Honors his Late French Bulldog, Blue with an Emotional Tattoo!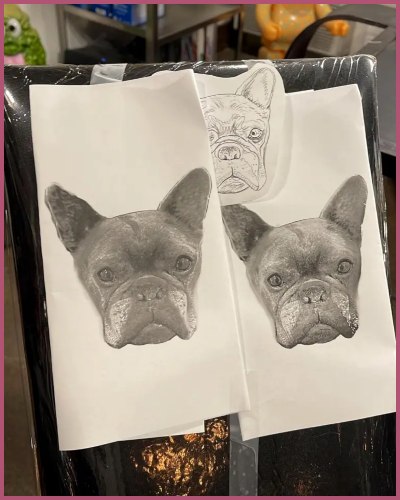 Travis Barker got a tattoo in remembrance of his late bulldog, Blue.
The pooch who died earlier this week was very close to the Barker family.
Barker posted images and videos of Blue with a tribute caption.
---
Travis Barker will never forget his French bulldog, Blue
Travis Barker is mourning the death of his beloved French bulldog, Blue who died earlier this week in California.
Now, Barker is honoring his best friend with a new tattoo. The Blink 182 drummer posted a slideshow on Instagram on Friday where he showed his fans the tattoo process.
He captioned them:
"Grateful for this tattoo @dr_woo honoring my boy Blue 🙏🏼,"
The images and video that the musician posted showed the tattoo design which was an exact illustration of his late pup's face.
Dr. Woo, the LA-based tattoo artist, who has worked with many A-listers like Miley Cyrus, Emilia Clarke, and Blake Griffin was the tattoo artist. Barker did not forget to mention him in the post.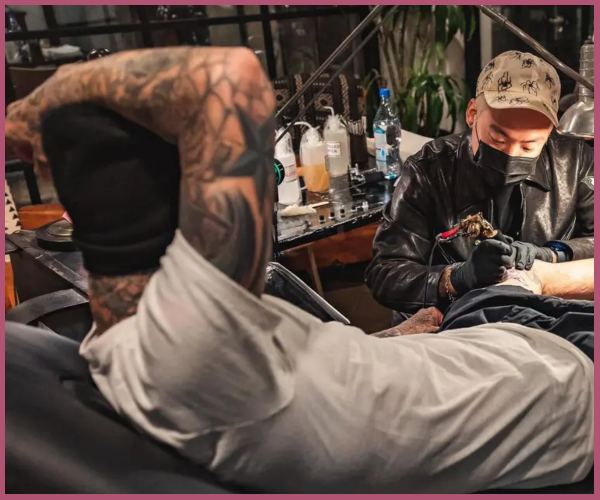 Many of Barker's followers flocked to the comment section to pay their condolences. Also, there were many who were shocked that the drummer whose body was full of tattoos had a space left for another tattoo as well.
One fan wrote:
 "Just shocked you have any real estate left on you."
Another person joked:
"How did you find a spot bro? 😂"
A third one added:
"Love that you're still getting inked when it matters. Gotta use the rest of the real estate on babies and dope s–t."
Also, Read Travis and Alabama Barker are Mourning the Death of Their Beloved French Bulldog, Blue!
Blue always slept next to Alabama
On Wednesday, Travis and his 15-year-old daughter Alabama were pictured making their way to a veterinarian with Blue. But Blue was not with them when they returned.
The father-daughter duo who were dressed in black looked visibly upset as they walked the streets.
Alabama was seen crying as she held her pup's toys while her dad embraced and consoled her.
Hours later, the What's My Age Again musician shared a clip of Blue on his Insta Stories, confirming their beloved pooch was no more.
The rocker shared a video of him and Alabama gently petting the bulldog and captioned it:
"I'll miss you Blue," the "All the Small Things"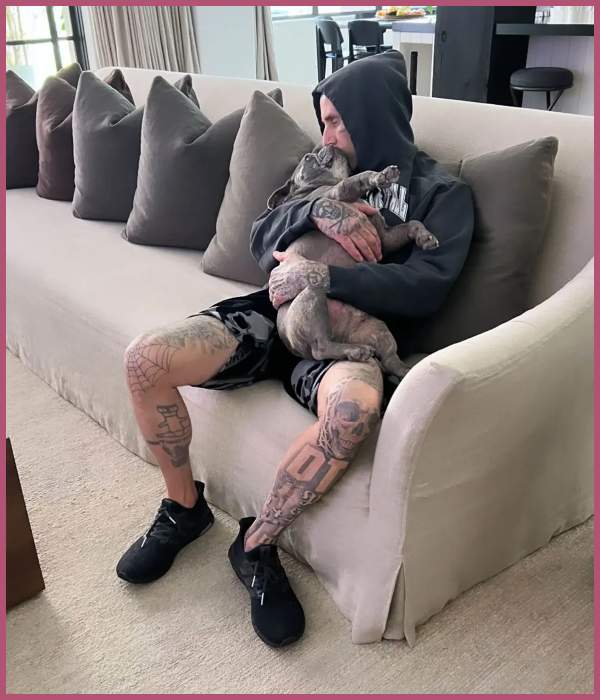 "You were the best dog. I was always waiting for you to say something."
Alabama, who was affected the most by Blue's death also paid tribute to her dearest canine via Instagram.
She shared on her IG stories pictures and clips of Blue, who would always sleep next to her.
Over a video  of her petting the dog, Alabama wrote:
"I love you blue, you will never understand how much you helped me on my darkest days,"

"I'll never forget you my baby, I know you'll have the most amazing time up in doggy heaven, until we meet again my love ♥️."
It is not clear how old Blue was when he died.
Also, Read See inside Kourtney Kardashian and Travis Barker's new beach house in Santa Barbara, Calif.