Who is Travis Scott's New Beau Rojean Kar? Did He Cheat On Kylie Jenner?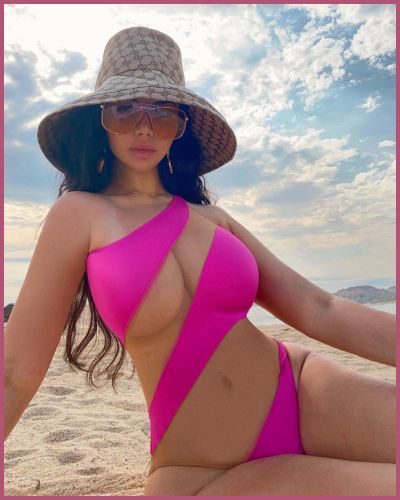 Rojean Kar, an Instagram model has claimed that Travis Scott cheated on Kylie Jenner with her.
Scott has denied all cheating allegations.
Kar and the rapper have a history since 2013 before Scott and Jenner were even a thing.
---
Who is Rojean Kar?
Rojean Kar is an Instagram model who has over 300k followers. She is very popular on Instagram where she uses the username '@Yungsweetro'. She is often seen posting revealing pictures of herself in bikinis.
She was linked to Travis from 2013 – way before he started dating Kylie. Moreover, she was also rumored to be the girl behind the brief split between Travis and Kylie in 2019. However, she denied those rumors back then.
How did the cheating rumors first start?
In 2013, four years before he started dating Kylie Jenner, Rojean Kar and the rapper were supposedly romantically involved.
The songwriter and Kar were both seen uploading pictures from comparable locations after Scott and Jenner made their relationship official in 2017, which is when the infidelity suspicions started to circulate.
Two days apart in March 2018, Kar and Scott took solo pictures at a ski resort. The next year, they both shared pictures they'd taken in a casino the same week in late July and early August.
In 2019, Kar claimed via Instagram Stories that Jenner had blocked her on the app.
Rojean Kar recently accused Travis of cheating on Kylie frequently
Three years after the rumors of her relationship first came, Kar added fuel to the fire when she posted a video that appears to have been taken on a set of a music video shoot with Travis.
She captioned the clip:
"I'm directing obvi ;)" 
Travis Scott denied her claims. In a series of Instagram story videos, Kar said:
"What we're not gonna do is we're not gonna lie on me. … I pretended I didn't know you, went along with whatever f–king narrative … no matter how much bulls–t I got from it."
She added:
"But to say you don't know me and you've never been with me when you've definitely been with me, when everybody's seen you with me, when I have pictures and videos of you with me?"
she continued.
"Come on. Come on, sir."
She also claimed:
"You cheat on that bitch every single f–king night. The whole f–king city sees it! Don't do this."
Moreover, she also alleged that she spent Valentine's Day with Scott.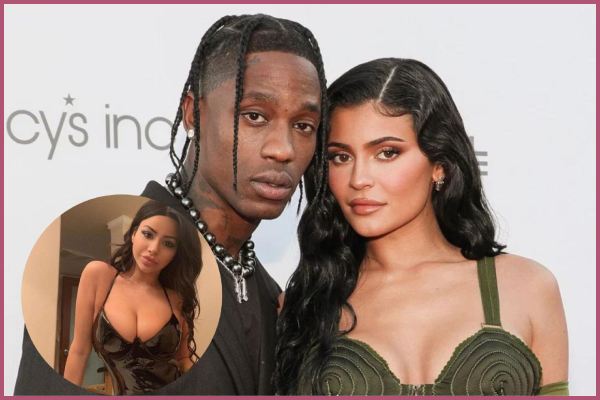 Also read Kylie Jenner and Travis Scott Secret Engagement Rumors! Wedding Bells Anytime Soon?
Did Travis Scott cheat on Kylie Jenner? Here's how he responded to the claims made by Rojean Kar
Travis Scott first responded against Kar's claims in an Instagram Story. The 'Sicko Mode' singer wrote:
"It's a lot of weird s–t going on. An uninvited person was sneaking photos on what was supposed to be a closed set while I was directing a video."
He added:
"I don't know this person. I've never been with this person. So please stop with the continuous cyber games and the fictional story telling."
Moreover, Travis addressed her claims of spending Valentine's Day together by posting a blurry picture of a dinner table with his mobile's timestamp showing Feb. 14 at 8:09 p.m with the caption:
"If u wasn't at this table on V day then u wasn't with me."
The rapper also shared a picture from a woman named Courtney Luxe who has "been working with Travis for 8 years" and said she "was on set all day as he was directing a video for another artist."
She went on to call Kar "delusional."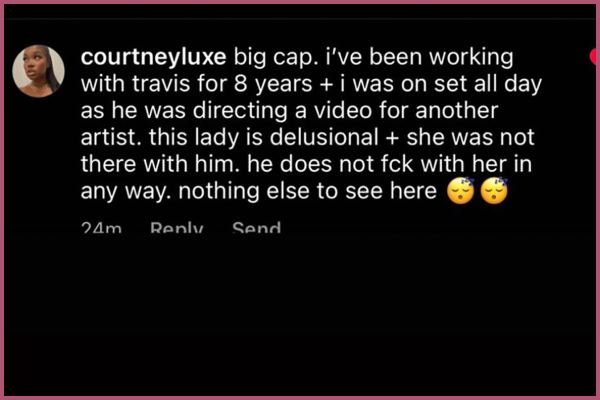 Rojean Kar's latest response on her Instagram story
It seems like the feud is not over yet between Travis and Kar as she recently released a lengthy statement on her Instagram story. The statement read:
"I have never perpetuated any narrative. I never said I'm currently with him or have recently been with him. Like I said, I went home that night. Having someone you've known for almost a decade disrespect you and assume you won't stand up for yourself bc you never do, is hurtful.
She added:
"I have nothing to prove, him deleting all his posts as soon as I posted an inconspicuous screenshot speaks for itself."
She continued:
"I'm not a blogger or reality tv star who lives by the motto 'all publicity is good publicity.' I hope you guys keep that in mind when you're writing fantasy stories about atrocious things you claim I've done."
Kylie is yet to respond to the drama between her beloved Travis and the Instagram model.
Read more: Kylie Jenner's ex-BFF Jordyn Woods Announces Her New Clothing Line on Instagram!