Trevor Noah and Dua Lipa complimented each other on the singer's podcast!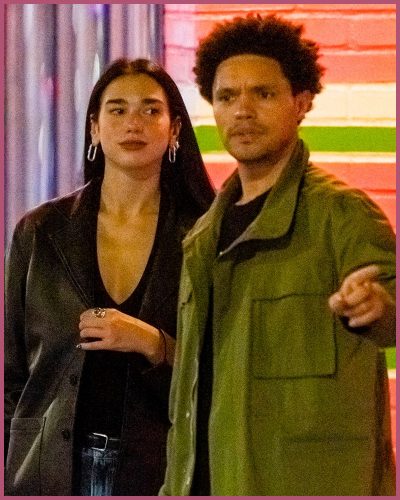 Trevor Noah and Dua Lipa's flirty gestures are convincing their fans that they are dating.
The comedian appeared on the singer's podcast on Friday.
The podcast was recorded the same week as their first date in September.
---
Trevor Noah and Dua Lipa can't stop gushing over each other
Trevor Noah and Dua Lipa are not afraid to show affection in public.
The South African comedian made an appearance on the British singer's At Your Service podcast for an episode that came out on Friday. Interestingly, the podcast was recorded the same week in September when the couple stepped out on their first date.
The pair's conversations were full of compliments as the 38-year-old singer gushed over how wonderful and gracious Dua was. Dua, on her part, had equally nice things to say about her amazing and very special guest.
The Levitating singer began their chat by saying that she had recently read The Daily Show's host's 2016 memoir Born a Crime: Stories from a South African Childhood. Dua added that she absolutely loved it.
The London-born singer said:
"I found it to be totally moving and occasionally quite funny. It was also the reason I wanted to speak to him for this week's episode,"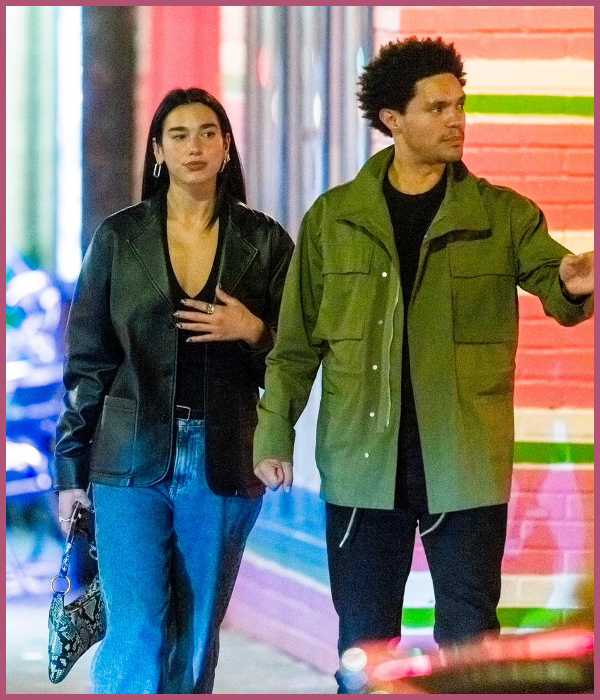 She also told her listeners that she had a great time learning about Noah's many dimensions.
Dua who admitted that she had only exchanged short hellos with the soon-to-be former Daily Show host, said:
"I see your monologues on TikTok all the time,"
Noah, who was listening to the singer lovingly agreed:
"It really feels like that,"
The 38-year-old comedian added:
"One of the greatest gifts and curses of being successful in the entertainment industry is that you get to meet some of the most interesting people in the world, but then if you're successful enough, you never get to see each other. … So it's nice to see you like this, I guess, for a change."
Also, Read Break up again! Trevor Noah finally close chapter with Minka Kelly
The couple is excited to see what their future holds for them
The One Kiss singer did not hesitate to say that she was excited to have a good conversation with Noah to really get to know each other.
She continued:
"You are obviously very funny,"

"but your humor is very analytical, and I think that's also a big reason why people gravitate to you."
Apart from that, both artists also discussed what it was like to grow up outside the States. More importantly, the covered issues creating to their respective crafts and the importance of mental health.
While sharing his experience about his own rise to fame, Noah said:
"I remember when you performed … I feel like I saw you … were you in Ukraine maybe?"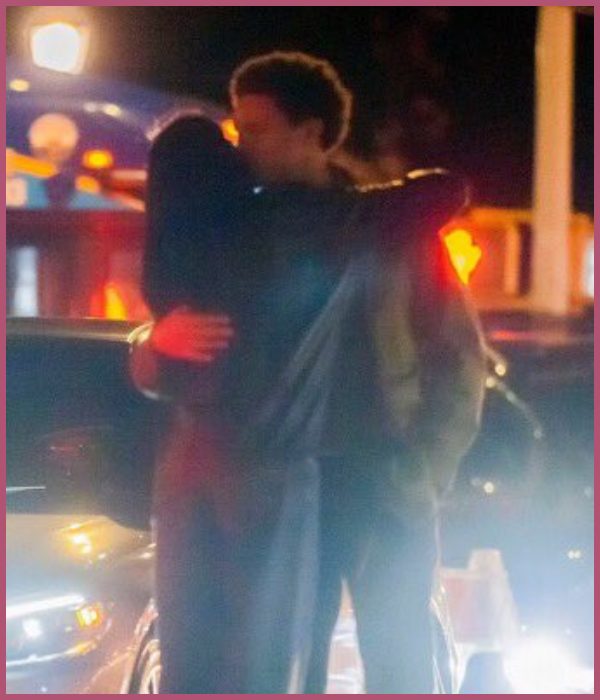 Dua replied:
"Yeah, that's so funny. I was talking about that today."
The couple sparked dating rumors on September 28 after being spotted on a romantic dinner date. Sources also confirmed that they were smitten with each other and were in the "very early" stages of getting to know each other."
After the dinner at Miss Lily's, they took a stroll and hugged and gave each other a possible corner lip kiss.
One informant added:
"There is definitely interest on both ends,"
Also, Read How is Anwar Hadid holding up after break up with girlfriend Dua Lipa?