Spoiler! Everything to know about the most-awaited F.R.I.E.N.D.S reunion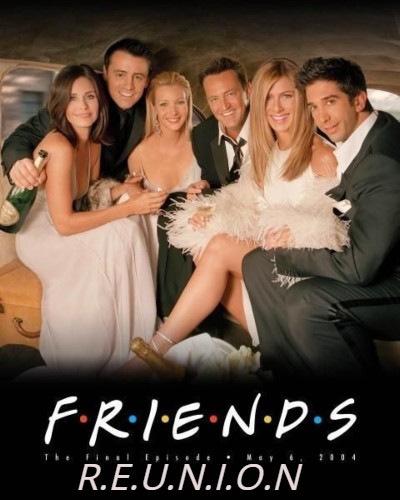 The most popular and loved TV show F.R.I.E.N.D.S is back on HBO for its reunion episode
The episode The One Where They Get Back Together will premiere on 27th May 2021
Many celebrities are going to guest star at the reunion
---
27th May 2021 Save the date!
The most awaited F.R.I.E.N.D.S reunion is happening on 27th May 2021. Fans have been waiting for it for two decades. The reunion The One Where They Get Back Together will be launched on HBO Max.
The One Where They Get Back Together is produced by Kevin S Bright, Marta Kauffman, David Crane, Jennifer Aniston, Courteney Cox, Lisa Kudrow, Matt LeBlanc, Matthew Perry, David Schwimmer, and Ben Winston.
On 13th May 2021, HBO Max uploaded the official teaser of Friends: The Reunion. 
Who are the guest stars of 'F.R.I.E.N.D.S'?
With the major cast members Jennifer Aniston, Matt LeBlanc, Courteney Cox, Lisa Kudrow, David Schwimmer, and Matthew Perry returning to the show the other guest stars are David Beckham, Justin Bieber, BTS, James Corden, Kit Harrington, Mindy Kaling, Thomas Lennon, Cindy Crawford, Cara Delevingne, Christina Pickles, Tom Selleck, James Michael Tyler, Lady Gaga, Elliott Gould, Larry Hankin, Maggie Wheeler, Reese Witherspoon, and Malala Yousafzai.
American critic Daniel Fienberg is also a huge fan of the TV series. He tweeted,
"*If* I am interested in a "Friends" reunion, you know what I'm interested in about the "Friends" reunion? THE FRIENDS REUNION and every guest star who shows up to reveal that "Friends" was important to famous people too takes time away from THE FRIENDS REUNION."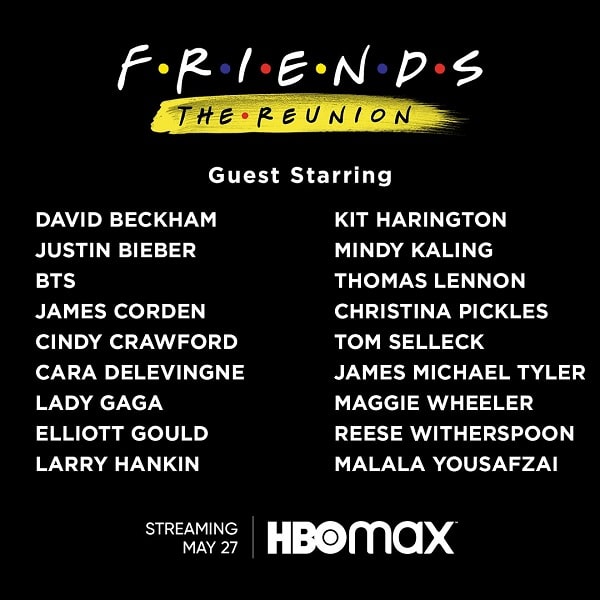 The level of excitement has increased after the guest star list is out.
Also read Remarkable FRIENDS reunion happening! All about the amazing cast and co-stars
What does the castmate have to say about the Reunion?
Lisa Kudrow known as Phoebe Buffay in the show found it really emotional filming the reunion of FRIENDS. She recently reunited with Jennifer Aniston, Matthew Perry, Matt Le Blanc, Courteney Cox, and David Schwimmer on the highly-anticipated get-together show. She was thrilled to get back with her friends with whom she spent a decade filming for the TV series. Kudrow said,
"It was really emotional, and watching it again, watching it, I got emotional all over again. It's also really just so thrilling. We got to be together and [Matt] LeBlanc tells a story like no one else, he is so great. I laugh a lot."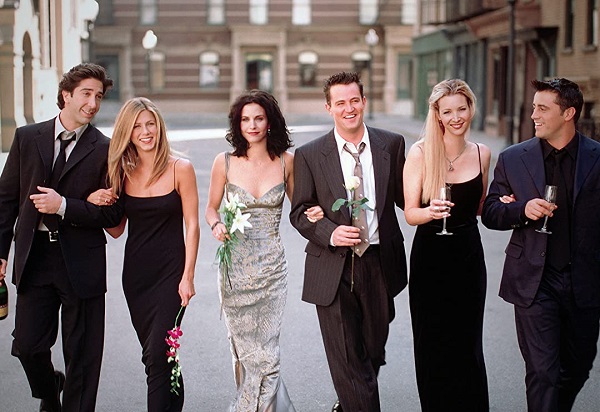 Courteney Cox who plays Monica Geller in the show appeared on The Ellen DeGeneres Show on 6th May 2021 said that it was unbelievable and emotional filming the show. She said,
"It's an unscripted reunion, but we got to be on stage 24 for the first time, all of us, in I forgot how many years. 15 years, 17 years?"
Also readF.R.I.E.N.D.S. Cast To Make A Exclusive Reunion On HBO Max; How Are The Friends Celebrities Reacting About The News?