Tyra Banks talks about "Life Size 2" and the character of Lindsay Lohan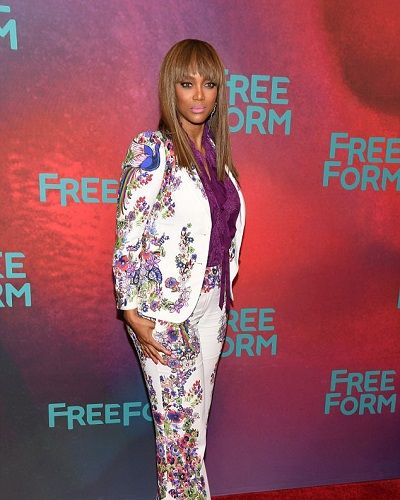 Tyra Banks dolled up for AGT's premiere
On America's Got Talent's Season 13 live show premiere at the Dolby Theatre in LA on Tuesday, 44-year-old former model, Tyra Banks, talked about her upcoming movie Life Size 2.
The first movie of Life Size (2000) displayed a girl with no mother who tries to resurrect her mother and ends up bringing a doll to life. For her initial movie, Lindsay Lohan played the character of the little girl.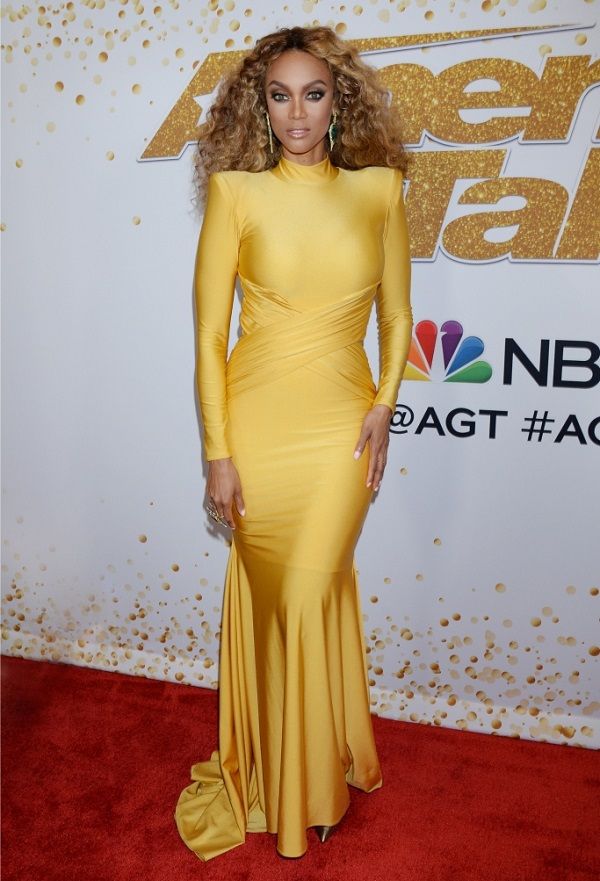 For the red carpet, Tyra wore a golden gown courtesy of Stello, an L.A.-based custom, and a couture golden gown courtesy of Stello, an L.A.-based custom, and couture brand, which she accessorized with pointy gold metallic pumps and green statement jewelry. And didn't she look godly in that attire?
Will the star of LifeSize be back for LifeSize 2
This time, however, the question was if Lindsay Lohan will make a come back in this movie. Lindsay being a star during her childhood hasn't been seen in the shows these days but she may be back now, that only Tyra Banks and her team know.
So, Tyra was asked about Lohan's character in the movie. Although Tyra is known for sharing all the exciting news, she didn't let anything slip her mouth.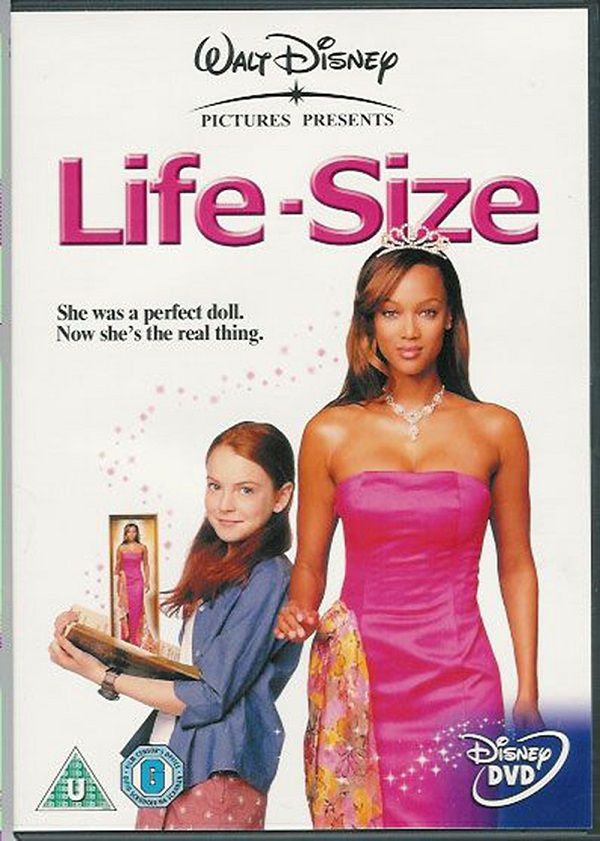 Also Read: Lindsay Lohan opens two beach resorts and bags a reality show on MTV
She did give a few hints instead. Regarding the movie, she said:
"Oh, Eve is Eve 2.0. I am proud of this movie. Like, I really think it's gonna be the biggest holiday movie of the year. Yes, I said it!"
Then, she said this when asked if Lindsay Lohan will be seen on the screen.
"I mean, c'mon. I'm executive producing [the movie]. Come on."
The reporters had to push harder, to get the reply:
"Do you think I'm a fool?"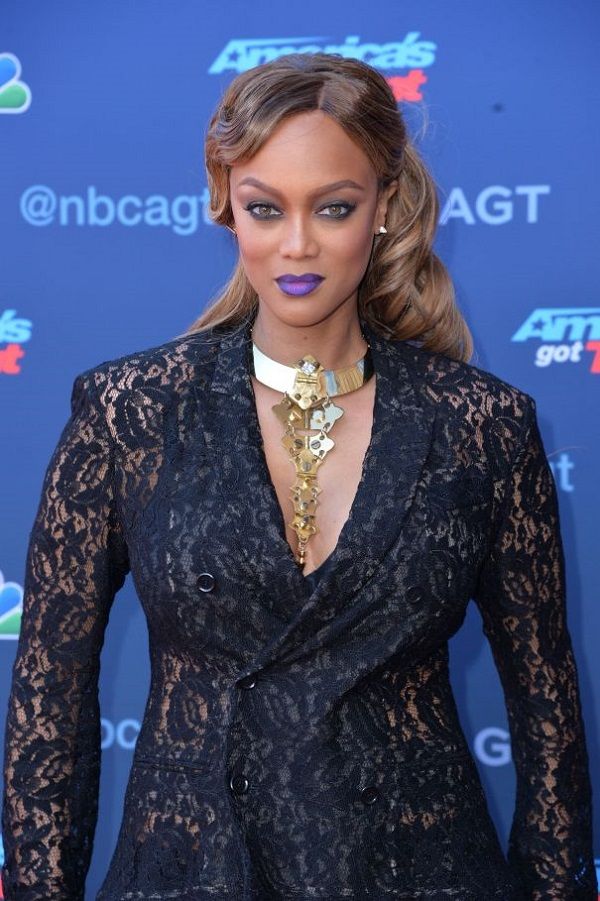 The Director just said "No", when Tyra spoke again,
"Exactly! So what do you think that means? You know. Hello, holla!"
Hello, holla? Is this some sort of confirmation? Could be.
Francia Raisa in the coming film with Tyra Banks
Many things about the movie are still secret and the fans are eager to know as much as they can. The only thing that has been known is that actress Francia Raisa will be accompanying her in the upcoming movie.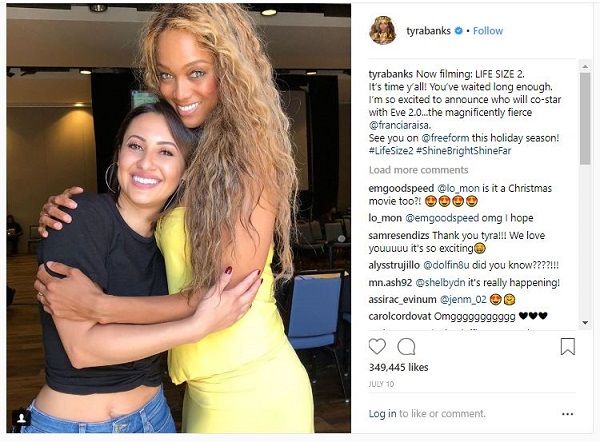 This movie has a bit different story than the previous one. The anticipated movie's summary in IMDb says:
"Grace is a hot mess in the middle of a quarter-life crisis, realizing that she is in over her head as a toy company's CEO. To make it worse, her wild-child ways are causing the company's stock to plummet."
For more details, we will have to wait a bit longer.
Tyra's deal with Universal Television
The multi-talented businesswoman, Tyra Banks has now signed the deal with Universal Television and Universal Television Alternative Studio. Currently, the host for NBC's America's Got Talent, became a part of the studio earlier this month.
About the deal with Tyra, the president of Universal Television, Pearlena Igbokwe said"
"Tyra is one of the most driven producers in television. She has long brought incredible passion to her unscripted projects and I can't wait to start collaborating with her on the scripted side."
The president of Universal Television Alternative Studio, Meredith Ahr also had great things to say about Tyra and her works:
"'America's Next Top Model' has been on the air for 24 seasons, proving Tyra's standing and commitment as one of television's top producers. We are thrilled to infuse her creative vision, expertise and dedication into our studio's development."
Tyra's two Emmy awards for her talk show "The Tyra Banks Show", show how good Tyra is at her works.
More about Tyra Banks
Tyra Banks is an American citizen. She is a television personality, actress, businesswoman, and producer. Additionally, she is also an author, a former model, and an occasional singer. She is well-known for working with Victoria's Secret as their angel and also with Sports Illustrated Swimsuit. More Bio…