Is ultraviolet light the answer to disinfection and elimination of coronavirus?
Coronavirus is a highly contagious organism and is spreading exponentially. All attempts to curtail its human-to-human transmission has found moderate success. Already, it has killed a quarter-million people globally.  But the lockdown cannot continue indefinitely and hence scientists are trying to find out ways that could quickly and effectively sanitize the areas frequented by the public. Could ultraviolet light be the answer?
Coronavirus and disinfection
Authorities have told people to wash their hands periodically for two minutes and use face masks in public places to avoid catching the virus. Social distancing has been enforced. Additionally, governments are getting public places sprayed with disinfectant solutions to kill the viruses on the surface.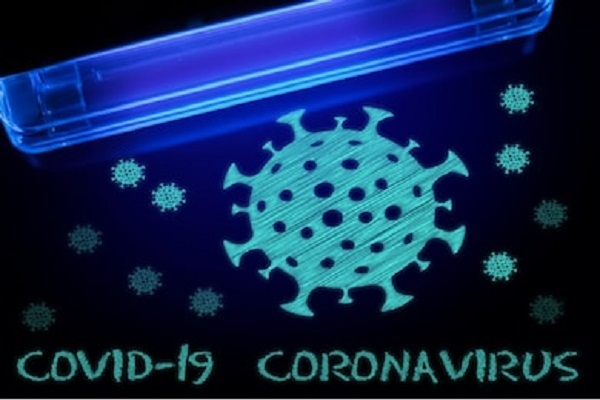 In China, robots and drones are used to spray disinfectant solutions in public spaces. Furthermore, the various airline companies and Amazon are also utilizing disinfectant fogging to sanitize the areas around. And now scientists are working on ultraviolet light. They are trying to find out whether it can effectively kill the virus and if so, how and after how much duration and with what dose!
Ultraviolet light and its likely usefulness  in coronavirus pandemic
Ultraviolet light is an effective tool to kill bacteria and viruses. For many decades, it has been used in hospitals and operating rooms as a mode of disinfection. As a result, Allied Market Research did a reliable survey and found out that the global UV light for disinfection market was $1.1 billion in the year 2018. And the estimate is that it would reach $3.4 billion by 2026.
Xenex Disinfection Services based in Texas tested its LightStrike robot against the coronavirus. Medical equipment maker Terumo sells this product in Japan. The machine emits light which has wavelengths between 200 and 315 nanometres and therefore can be used for decontamination of beds, doorknobs,  and such other surfaces.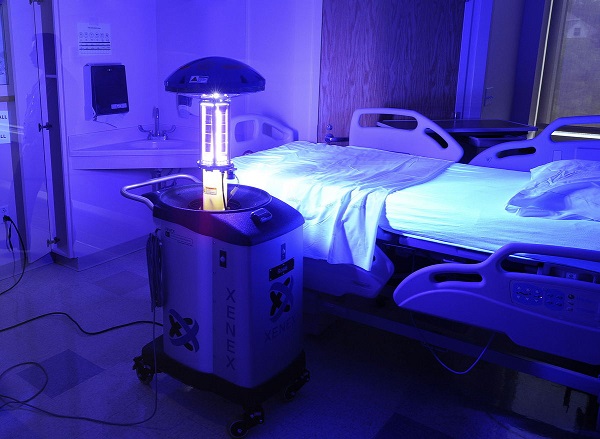 Their study showed that the LightStrike robot could eliminate the coronavirus from N95 face masks in just two minutes. Additionally, it is 99.99% effective in reducing the coronavirus from the surface of the mask. Therefore, due to the acute shortage of masks, one can reuse the masks safely after UV light radiation treatment.
The robot is currently present in 500 institutions worldwide. A Terumo representative said:
"Between March and April, we had inquiries from more than 100 medical institutions,"
Will this be the solution for coronavirus and the future?
The likely problems of UV light
Though UV light is very good as a disinfectant, it has its problems as well. There are three types of UV light: UV – A, UV – B, and UV-C. UV – C is the most effective and harmful one. It can decontaminate the air, surfaces, and water bodies faster and effectively. Hence it would be the best one to use.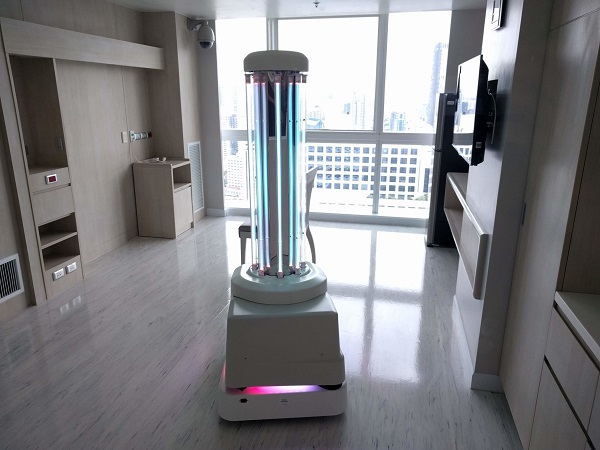 But people cannot see these rays with the naked eyes. Besides, they can irritate the skin and eyes. The UV rays are not totally harmless and can cause skin damage and induce cancer in some individuals. Hence one cannot recommend its widespread use. More studies to establish the right dose, method and duration of exposure to kill coronavirus would be ideal.
Also, read Will mascara overtake lipstick after 2020 due to coronavirus pandemic and face mask use?
Source: CNBC, Financial Times, IT