Val Kilmer praises his ex Angelina Jolie and calls her a serious angel in his new memoir!
The ex of Angelina Jolie, actor Val Kilmer has penned his memoir called I'm your huckleberry. In it, he has talked about his life and relationships. He was briefly involved with Angelina in 2004. Val has described Angelina as a soulful and serious angel.
Val Kilmer talks of his past relationships in his memoir
Actor Val Kilmer has his new memoir ready. In it, the great star has spoken about his life as well his varied relationships including that with actress Angelina Jolie. He had dated her in 2004 when they were filming for a movie together. They continued their relationship for some time after the release of their film.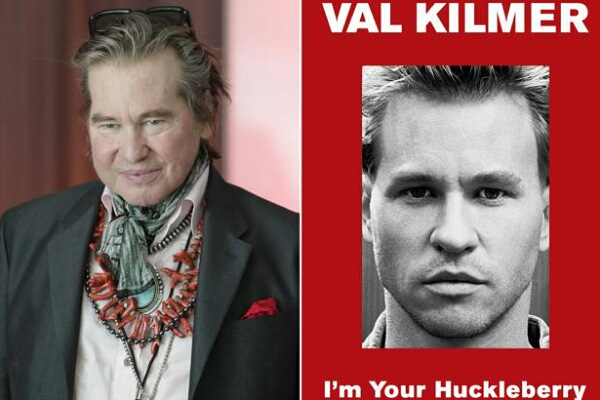 In his memoir called I'm your huckleberry, Val has expressed some extremely strong feelings and likings for his ex, Angelina Jolie, 44. He seems to still have those feelings for her. He writes:
"I was rescued from an icy inferno of solitude by another angel. Perhaps the most soulful and serious of them all. Angelina."
More about Val's opinion about Angelina Jolie
Val feels that besides been like other women, Angelina has something more than that. Val, 60 said:
"When people ask me what Angelina is like, I always say she's like other women and other superstars, but just more," 

"More gorgeous. More wise. And More tragic. More magic. More grounded. Is it worth it? Worth knowing people who require weeks of effort to understand even a little? Yes."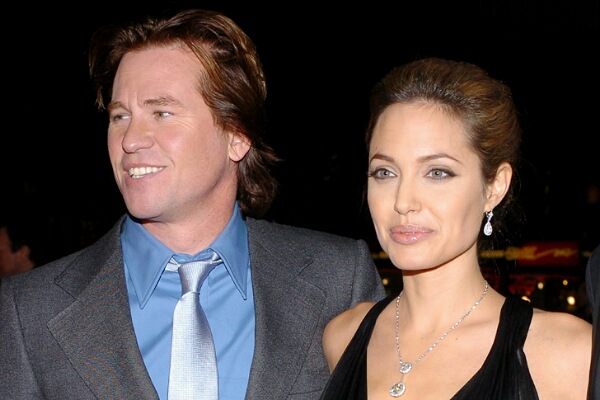 He loved filming with Angelina and was eagerly waiting to rehearse with the lovely lady.
The couple on the set of Alexander movie
In the memoir, Val has also elaborated on how the shooting for the film Alexander went. Angelina was his costar. Val said:
"I told Oliver I'd only do it if the king and queen could have flashbacks to falling hard for each other and storming the castle with passion, before turning against each other. I was only half kidding. He didn't pick up on the humor,"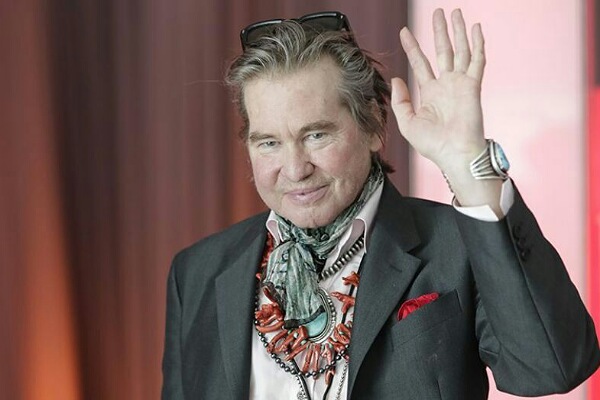 Val could not wait to rehearse with Angelina and kiss her in the act. Additionally, Val was staying at the same hotel as Angelina and her mother when Angelina's mother was suffering from breast cancer and losing the battle against it. This led to a unique soulful relationship between the two.
However, Val recalls that his romance with Angelina could not last long. Angelina met actor Brad Pitt in the summer of 2004 during the filming of their movie Mr and Mrs Smith. And the couple became close to each other. Angelina drifted away from Val and started dating Brad. And this happened even when Brad was still married to Jennifer Aniston.
Angelina spoke in an interview of her excitement on filming with Brad. Brad's then wife Jennifer felt that for Angelina to talk like this about Brad was uncool. She felt it was inappropriate.
Short bio on Val Kilmer
Val Kilmer is an American actor most famous for his involvement in movies including 'Real Genius', 'Top Gun', 'Batman Forever' and 'Red Planet' among others. He has 93 credits as an actor for his appearances in numerous movies and television series. More info… 
Source: IBTimes