Vanessa Morgan has advanced pregnancy and confirms that her baby bump is real!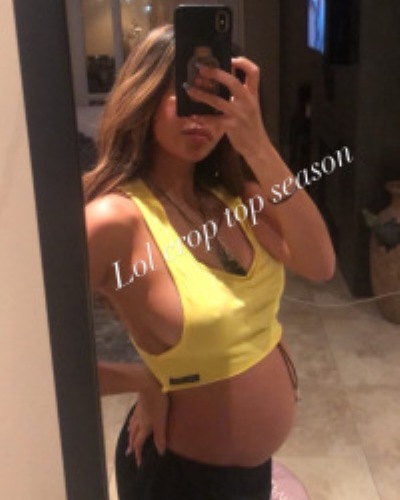 Riverdale star Vanessa Morgan is pregnant. She confirmed the news in July 2020. And now her baby bump is full size. It is so big that her brother could not believe that it is real!
Vanessa Morgan and her advanced baby bump
The star on the show Riverdale is pregnant with her first child. The actress confirmed in July 2020 that she is pregnant. She has an advanced pregnancy now. And her baby bump is huge. It is so big that her brother could not believe that it is genuine!
On Monday 14 December 2020, the mother-to-be showed off her baby bump proudly. She wore a beautiful faux snakeskin dress and panned the camera around her huge belly. She posted the video on her Instagram.
Vanessa is pregnant [Source: J-14]
Later, the actress also informed her fans on social media that her brother thought that she was wearing a fake bump when she was on the show Riverdale. But Vanessa confirmed that it is a real baby bump and she loves it.
Vanessa and her anger and amusement
When people and her brother could not believe that Vanessa was pregnant and that her baby bump was real, Vanessa was both angry as well as amused. She could not believe that people thought that her baby bump was fake. Hence, Vanessa posted on her Instagram:
"My brother literally just sent me an Instagram DM asking if the video I just posted was real. As if I was wearing a bump on set to make my baby bump bigger than my baby bump already is."
Vanessa [Source: J-14]
The actress continued:
"No! I guess I just have a big baby. It is fully real!"
Moreover, Vanessa continued to talk about the size and gender of her baby. She said:
"I've fully popped this week. Let's hope he's not a 9 pounder, guys but it's looking like it!"
Vanessa also hoped that her baby would not arrive before the New Year. She put a baby bump show-off clip and wrote on it:
"Please don't come before 2021,"
Vanessa and Riverdale
The pregnancy of Vanessa has been there for some time now but she continued to film for the show. The show continued despite her pregnancy. She also shared some photos of a scene in the show in which she has some snakes in her hands.
In the scene, only her upper part of the body was shown. But she was happy that she did the scene and also happy that soon she can share the photos with her new baby.
Vanessa with Michael [Source: Chicago Tribune]
She wrote:
"Filming on stage with live snakes yesterday ? haha can't wait to show my lil guy what his mom was doing 8 weeks before he was born ??? #RiverdaleS5,"
Vanessa is also divorced. The news of their separation came out in July 2020. Her ex-husband is the American professional baseball pitcher, Michael Kopech. He plays for Chicago White Sox. It was a short-lived marriage of around five months.
On 19 June 2020, Michael had put his divorce papers in the Morris County court in Texas. The couple had engaged in July 2019 and they wed on 4 January 2020.
Click to read on the complete bio of Vanessa Morgan