Selling Sunset's Vanessa Villela and Nick Hardy Married in a Cinematic San Diego Ceremony!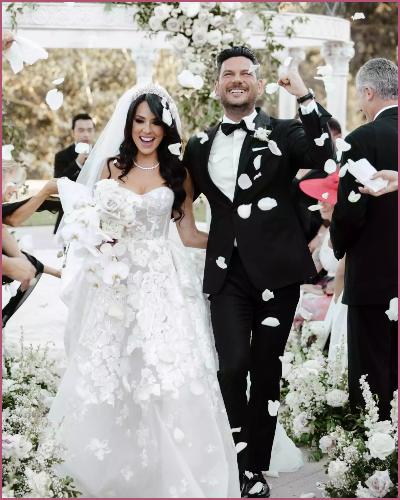 Vanessa Villela had a dreamy music-filled wedding ceremony in San Diego.
The real estate agent married her creative director and photographer husband on September 3, 2022. 
Let's see the glamorous photos shared by Brides from the lavish wedding of the long-time couple Vanessa and Nick Hardy (Tom Fraud).
---
It's Brides time! The wedding photos of the music-filled aesthetic wedding of Vanessa Villela, 44 to photographer Tom Fraud are something you must catch.
When did Vanessa Villela marry Nick Hardy?
Vanessa Villela kissed her groom Nick Hardy officially at the altar on September 3, 2022. She said Yes to her long-time boyfriend in a beautiful isle decorated with pinkish-white flowers in front of 69 friends and close family members.
Magically magical, the couple even released doves marking the beginning of their conjugal life. And the best part was the couple had done homework preparing the vows they exchanged at their nuptials. It was beautifully officiated by Patrick Aroff and Eva Tamargo.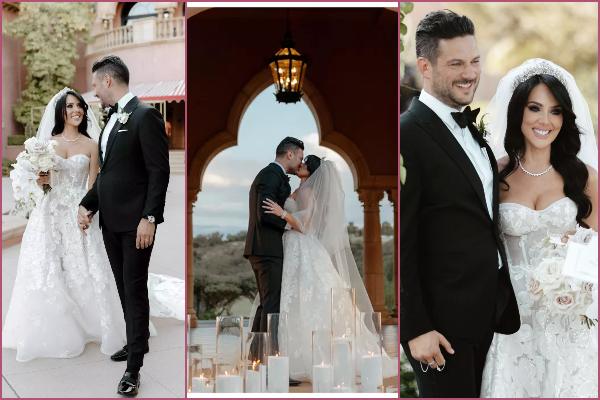 The fairytale of Vanessa has its forever milestone in San Diego, California, the favorite place of her late sister Jackie. Exclusively reporting the wedding she interviewed Brides,
"I have very strong family roots within San Diego and the Fairmont was one of the favorite places for my late sister Jackie to visit. It seemed like the perfect place to bring the family back together."
Also, Read Sports Commentator Jill Martin is Married! She never gave up on Erik Brooks
Selling Sunset's Vanessa from the very beginning wanted a lavish yet intimate wedding
The newlywed bride Vanessa Villela had revealed her intention of making her guests surprised with a grand and intimate wedding. While she also disclosed black was the color of their groomsmen and bridesmaids. As Nick had chosen the theme of classic black suits for his men Vanessa revealed,
"I chose black for my beautiful bridesmaids to match the groomsmen and they looked sensational."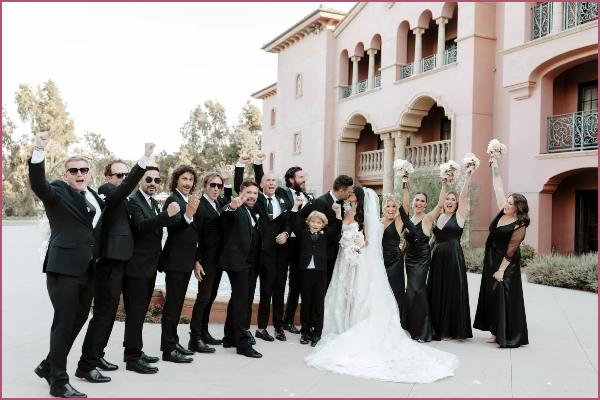 The wedding was just perfect with the three-tiered white wedding cake made up of English fruit cake packed with tres leches flavors. Following the evening they celebrated their grand wedding reception. It was just musical and cinematic as she opened up,
"A giant LED screen presented video and photos of our beautiful love story with private behind-the-scene clips from travels and amazing experiences that we shared together so far."
The compilations of love stories are not only the beautiful thing that happened that night. Nick and Vanessa had a cold firework welcome at their entrance to the lavish reception.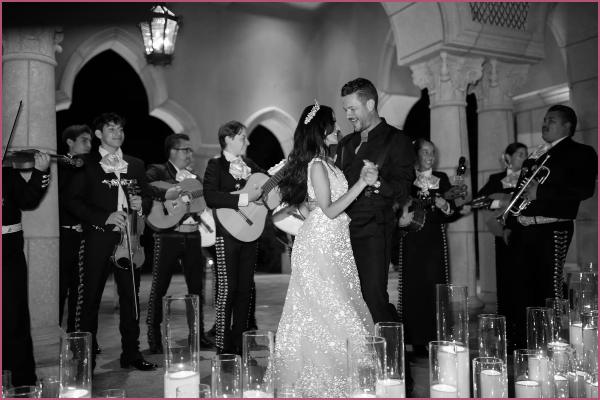 Newlyweds Nick and Vanessa also had their first dance at the reception to the song Because You Loved Me by Celine Dion. While Vanessa was dancing in a Fore Love Bridal gown getting cozy with her husband a mariachi band was playing music for the two.
Also, Read Olly Murs Gives an Insight on His Intimate Wedding Plans with Fiance Amelia Tank!