Veronica Berti-Italian singer Andrea Bocelli's wife! Her personal life, children, and career unveiled!
Andrea Bocelli, 60 is an Italian singer and songwriter. He has made a name for himself internationally. He is the first Italian artist to have his name appear in the top 100 list of Billboard. Who is his wife and what does she do for a career? Her name is Veronica Berti. Let us find out all about her.
Andrea Bocelli's wife-Who is she?
Andrea Bocelli is a married man. His wife is Veronica Berti and she is extremely supportive of his career. Veronica was born in Ancona in Italy in the year 1981. Her exact date of birth is elusive.
Before Veronica became his wife, she was the manager of her husband's work. In 2006, she was given charge to manage the Almud – Bocelli's currency management office and was its CEO. Both she and Andrea had founded and promoted the Andrea Bocelli Foundation (ABF).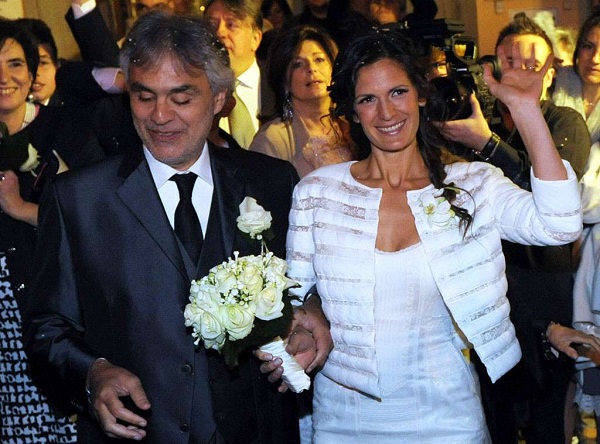 Veronica Berti is the Vice-Chairman of this Foundation. Her main job here is to promote the foundation and also do fundraising for it.
Veronica Berti and her relationship with Andrea Bocelli
Andrea Bocelli and Veronica Berti met in 2002 when Veronica was still young. The couple began dating and married on 21 March 2014. The wedding took place at the Sanctuary of Montenero in Forte Dei Marmi, near Pisa in the coastal town of Livorno in Italy. Before the wedding, the couple had a child on 21 March 2012. In September 2011, the couple made the announcement of Veronica's pregnancy. Their child is daughter Virginia Bocelli and she is Veronica's first child but the third child of Andrea.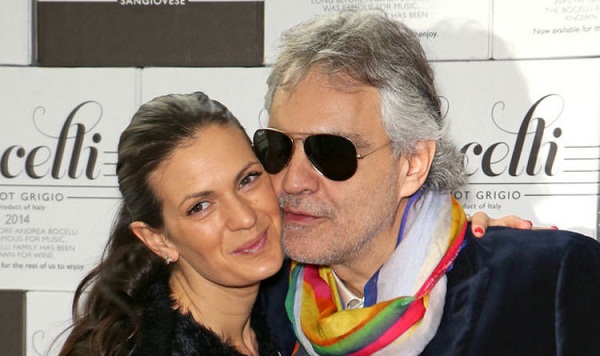 The couple is in marital bliss and resides in a spacious villa in Forte dei Marmi on the Mediterranean.
Andrea Bocelli and his previous relationship
Andrea Bocelli was first married to Enrica Cenzatti. He had met her when he used to sing at piano bars before his career in singing took off. The couple married on 27 June 1992. They have two children together. The elder one is Amos and was born in February 1995. The second child is son Matteo who was born in October 1997. Andrea and Enrica separated in 2002.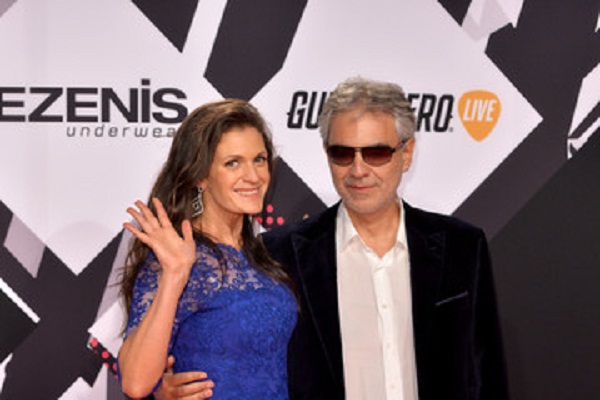 Enrica and her two children reside in their previous residence in the same commune as Andrea and Veronica in Versilia. They had attended the second wedding of Andrea. Matteo has followed the footsteps of his father and is a fledgling opera singer.
In October 2013, Andrea purchased a second home in North Miami Beach.
Andrea Bocelli and his singing career
Andrea is blind but has the most beautiful voice in the world. He tours the USA and other parts of Europe every year. Andrea has around 16 studio albums to his name with 4 compilation albums. He has also released EPs, Live albums, digital albums, and collaborative albums. There are also complete opera recordings of his performances and video albums. He has worked extensively in music. Additionally, Andrea likes horse-riding and is an avid fan of Italian football club Inter Milan.
Short Bio on Veronica Berti
Veronica Berti is an Italian producer. People mostly know her as the wife of Italian singer, songwriter, and record producer, Andrea Bocelli. Additionally, Veronica was appointed CEO of Almud – Bocelli's currency management office in 2006. More Bio…
Source: Wikipedia, Express UK