Vincent Rodriguez reveals about him being gay man and have a husband Gregory Wright! Find out about more information!
It is said that everything is fair in Love and War. Talking about Love, we can even say that love is blind. We don't decide whom to love but it is the work of heart to decide our lover. Vincent Rodriguez, an American actor, dancer and also a singer has revealed about his sexuality on August 21, 2016, and claims that he has a husband who's name is Gregory Wright.
About Vincent Rodriguez III
Vincent Rodriguez III is best known for playing the male lead role of Josh Chan in The CW comedy-drama series Crazy Ex-Girlfriend. In the drama, he is straight in his sexuality. He tends to like a girl instead of a boy in the drama. He has the opposite sexuality comparing his role with the drama he is involved. There is no doubt of his good looks because of which he has been the lead role in the drama.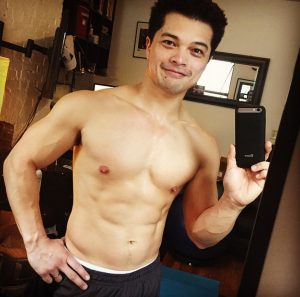 Vincent has a very attractive kind of look. He looks very flaunting in almost all kinds of dress-up. He had been having so many fans through the comedy-drama. The drama is popular almost only because of him. As he was very popular, people always have an eye on their relationship.
You may like to read Manchester City has clinched the Premier League title as Manchester United faced a shock defeat to West Bromwich Albion at home
Relationship status of Vincent and husband, Gregory's 
revealed
On August 11, 2016, Vincent had revealed about his relationship status that he is a gay man has a husband whose name is Gregory Wright. He had taken the help of Instagram as well as Twitter to announce his relationship with Gregory Wright.
He had uploaded a photo with his husband, Gregory Wright in the occasion of one-year wedding anniversary.
"What better way to celebrate your one year wedding anniversary than going to Disneyland for the weekend?! Plus, we had to go back to the exact place I proposed to him, on Disney's California Screamin' ride. Love you, babe!"
He had also kept the photo on Twitter with his husband. In the photo, he kept caption as:
"Back from a fun weekend at Disneyland celebrating (this Tuesday) my first year of marriage to this fella. #LuckyME"
By revealing about Vincent's relationship with Gregory Wright only after one-year wedding anniversary easily indicates that Vincent Rodriguez III had been keeping his love life completely low profile. He had not been talking much about his relationship status on social media before August of 2016. He didn't let people have any clue about his marriage until 11th of August, 2016.
Instagram love
This is the next photo that Vincent Rodriguez III has uploaded to Instagram with her beloved husband, Gregory Wright.
In the photo, he captioned as:
"After an awesome whirlwind of teaching in Knoxville got to hit up."
It seems that the couple has been in deep love with each other and they are very happy to have each other in their life. The couple is never expected to be separated after seeing so much of love and respect towards each other.
Also read Pretty Little Liars actress Ashley Benson and supermodel, Cara Delevingne are having an alleged affair. Seeing each other and has been spotted publicly but not yet confirmed their relationship
Short bio on Vincent Rodriguez iii
Vincent Rodriguez iii is a Filipino American actor, singer, and dancer. Vincent Rodriguez is known for playing the male lead role of Josh Chan in The CW, as comedy-drama series name Crazy Ex-Girlfriend and also Vicent Rodriguez actor is known for Designated Survivor in  2016 and in 2015. He is also played a role in Donny. More Bio…