Wendy Williams Net Worth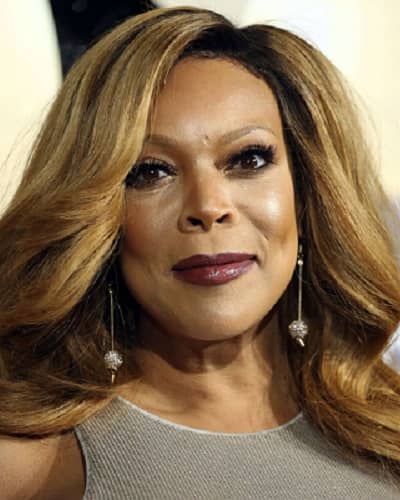 As of 2022, Wendy Williams has a Net Worth of $ 20 Million Dollars. 
Wendy's annual salary for The Wendy Williams Show is $10 million. She films 180 episodes in some years. That breaks down to a salary per episode of $55,000.
---
What is Wendy Williams Net Worth? (Updated 2022)
Wendy Williams is a $20 million Net Worth American television host, businesswoman, media personality, and author. She is best known for hosting "The Wendy Williams Show," a nationally syndicated television talk show, since 2008.
| | |
| --- | --- |
| Net Worth: | $20 Million |
| Salary: | $10 Million Per Year |
| Date of Birth: | Jul 18, 1964 (58 years old) |
| Place of Birth: | Asbury Park |
| Gender: | Female |
| Height: | 5 ft 10 in (1.8 m) |
| Profession: | Journalist, Author, Radio personality, TV Personality, Presenter, Actor, Film Producer |
| Nationality: | United States of America |
Wendy Williams's Hourly Rate
Wendy's annual salary for The Wendy Williams Show is $10 million. She films 180 episodes in some years. That breaks down to a salary per episode of $55,000.
Early Years
Wendy Williams was born in Asbury Park, New Jersey on July 18, 1964. Shirley and Thomas Williams had her as the second of three children. Wendy's family relocated to Ocean Township, New Jersey, when she was five years old. She attended Northeastern University from 1982 to 1986 after graduating from Ocean Township High School. She earned a Bachelor of Science in communications from Northeastern and worked as a DJ for the college radio station WRBB.
Career in Radio
WVIS in the Virgin Islands was her first professional radio job. She then got a job as a substitute DJ at WRKS in New York City. A year later, Williams was hired as an afternoon host at WOL in Washington, DC. Wendy quickly became one of the station's most popular full-time DJs, hosting the most important drive-time shift. Wendy moved to NYC's Hot 97 urban station after a format change, where she stayed from 1994 to 1998. She was fired in 1998 and then hired by WUSL, a station in Philadelphia. Wendy really found her stride at this station. While in Philadelphia, she met her future husband, Kevin Hunter, who also served as her agent.
Her show eventually became nationally syndicated. Her open and honest discussions about her personal struggles with miscarriages, former drug addiction, and breast enhancement surgery helped her popularity grow, and she helped the station rise from 14th to second place in ratings. She returned to New York in 2001 for a full-time syndicated 4-hour time slot on WBLS. Wendy rose to prominence in her radio career thanks to a wild interview with Whitney Houston. Wendy stepped down from the radio show in 2009 to pursue a career in television. She had already been inducted into the National Radio Hall of Fame at the time.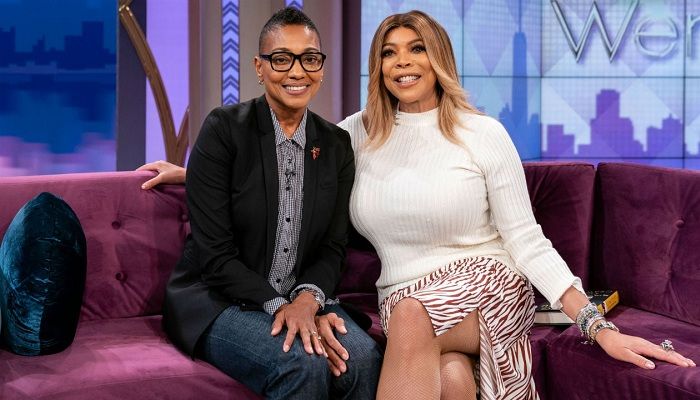 Windy Williams' Show
Wendy is best known today as the host of "The Wendy Williams Show," a popular syndicated television show.
Debmar-Mercury offered Williams a six-week trial of her own television talk show in 2008. "The Wendy Williams Show" debuted in July 2008 and following it's positive feedback Fox signed a deal with Debmar-Mercury to broadcast the show nationally. BET also acquired cable rights to broadcast the show at night, and in 2010, BET International began airing the show in 54 countries. Her show has been a huge success, averaging 2.4 million daily viewers. As of this writing, it had aired over 1,500 episodes over ten seasons. During the November 2015 sweeps, the talk show was ranked first in the U.S. in the demographic of women 25-54.
Williams was forced to take an unprecedented amount of time off in February 2019 due to Graves' disease complications. Wendy was replaced by guest hosts, including Nick Cannon, until she returned on March 4, 2019. As of spring 2020, The Wendy Williams Show is in its 12th season. Wendy: The Wendy Williams Show received Daytime Emmy nominations for Outstanding Entertainment Talk Show Host in 2015 and 2016. She was nominated for a People's Choice Award as Favorite Daytime TV Host in 2016.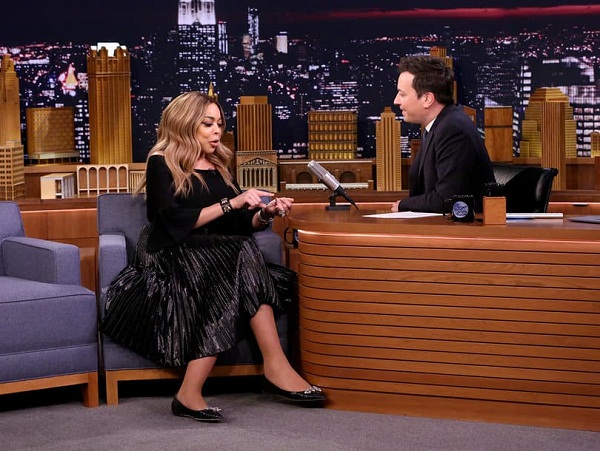 Career in Acting
Williams has appeared in television, films, theater, and even stand-up comedy. She has appeared on television shows such as Martin, One Life to Live, and Dancing with the Stars. Wendy also appeared in Act Like a Lady, Think Like a Man and its two sequels.
Williams went on a comedy tour around the country in 2014, performing standup. In 2015, she launched the 12-city comedy tour The Wendy Williams Sit Down Tour: Too Real for Standup.
Williams and her husband Kevin launched a reality TV production company, Wendy Williams Productions, in 2013.
Moreover, Williams has appeared in a number of other television shows, including "Drop Dead Diva" (2011), in which she played a judge, and "Dancing with the Stars" season 12 as a contestant. She was also cast in the Broadway musical "Chicago," which ran for seven weeks in 2013. Williams has also produced a number of shows, including the Discovery Channel documentary series "Death by Gossip with Wendy Williams" (which she also hosted in 2015), the Lifetime biopic "Aaliyah: The Princess of R&B" (2014), and the GSN game show "Love Triangle" (2011).
Books and Other Business Ventures
Wendy has written Wendy's Got the Heat, The Wendy Williams Experience, Ask Wendy: Straight-Up Advice for All the Drama in Your Life, and Wendy's Got the Heat II. Is the Bitch Dead, Or What?, Is Drama Her Middle Name, Hold Me in Contempt: A Romance and Ritz Harper Goes to Hollywood. Moreover, Wendy is especially known for her famous catch phrase "How you doin?".
On March 28, 2015, Williams collaborated with the Home Shopping Network (HSN) to launch a collection of dresses, pants, sweaters, and skirts. Wendy Williams' line is sold exclusively on HSN, and Williams revealed on her talk show that the launch of her line was the network's most-watched premiere ever. Williams also has a jewelry line called "Adorn by Wendy Williams" that is sold on the home shopping network QVC.
Divorce and Personal Problems
Williams has been candid about her health issues, including hyperthyroidism and Graves' disease. Wendy has been married twice, the first time in a 5 month separation followed by a year and a half of divorce proceedings.
On November 30, 1997, she married Kevin Hunter. Kevin Jr., their son, was born in 2000. He eventually took over as Wendy's manager. Kevin Hunter allegedly cheated on Wendy on several occasions. He was also accused of being overbearing and physically abusive at times.
In 2019, rumors circulated that Kevin had given birth to a child by a mistress. He revealed on her show around this time that she was living in a sober house due to a previous cocaine addiction. Williams filed for divorce from Kevin after 22 years of marriage in April 2019. . adjacent.. Wendy and he primary residence was a 6000-square-foot home in Livingston, New Jersey, which she purchased in 2009 for $2.1 million. Wendy sold this home for $1.475 million in August 2020.
Williams was reported to have moved to remove Kevin from her life, both personally and professionally, on April 24, 2019. She allegedly fired him from the show and hired a team of financial advisers to safeguard her assets. She has severed all ties and hired a new manager.