What's the Easter all about? Why is Easter Called Easter?! Find out what Your Favorite Celebrity Did on Easter!!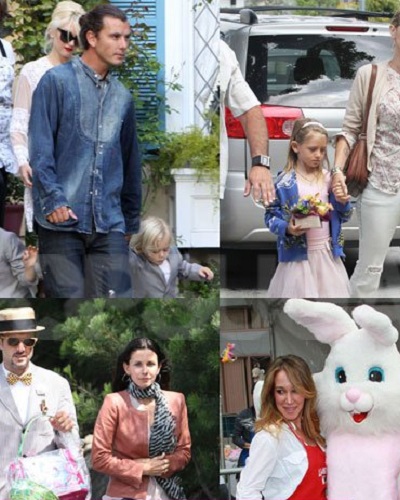 Happy Easter! But Do you really know what Easter is or why the easter is really called easter? Don't worry if you do not know. We are here For all your queries.
All about Easter
Everybody says the Easter is about Jesus but actually, it's not all. Like most major holidays, Easter's roots dig deep into the study of the Earth and the changing of the seasons. In the beginning, "Easter" was simply a celebration of the arrival of spring, falling on the first Sunday after the first full moon following the spring equinox.
Source: india (Easter greetings)
Bringing about a poetic parallel between the Earth's annual rebirth — and the reemergence of plant and animal life — and the story of Jesus' resurrection, the religion of Christianity chose to combine the two celebrations into one. (That's why the date of Easter Sunday changes every year!)
But that's not all. The term "Easter" pre-dates Christianity, too. Around the late 7th to the early 8th century, a British monk named Vernale Bede named the dawn after the winter's darkness Easter after the Germanic goddess Eostre. According to mythology, Eostre ruled as the goddess supreme of fertility! This explains why we all are obsessed with eggs during Easter even though they have absolutely nothing to do with Jesus' resurrection.
Source: india (Easter meaning)
And the Easter Bunny? During the 17th century, the German tradition of the "Easter hare" become popular. Greatly revered for their sexual prowess and fertility, rabbits have long been a symbol of springtime renewal. Later, the Easter Bunny transformed into a Santa Claus-like figure and tried to keep naughty children in line by rewarding them with eggs for their good behavior.
Now you know all about Easter, let's find out what our favorite celebrities have done special this day!
Celebs on Easter
It's Eastertime and celebrities are celebrating all over social media with bunnies and eggs and adorable family gatherings. Check out how the celebrities celebrated Easter and posted their pictures on their Instagram handle.
Also, there were other Celebrities who went out to celebrate!
All in the Family
Source: popsugar (Gwen Stefani and family)
Gwen Stefani and Gavin Rossdale took Zuma and Kingston to her parents' Southern California home.
Family Fun
Source: popsugar (Reese Witherspoon and family)
Reese Witherspoon and Jim Toth had brought Ava and Deacon Phillippe to the church in LA, where they met up with Camila Alves, Vida, and Levi.
Getting It Together
Source: popsugar (Jennifer Garner and daughter)
Jennifer Garner and her daughter, Seraphina Affleck had Easter chocolates Saturday.
Holiday Love
Source: popsugar (Jessica Alba and daughter)
Jessica Alba and Honor purchased a lot of goodies at Whole Foods in LA on Saturday.
Basket Case
Source: popsugar (David Arquette and Courtney Cox)
David Arquette and Courteney Cox visited a friend in LA with an Easter basket.
Check, Check
Source: popsugar (Jaden and Will Smith)
Jaden Smith and Will Smith left the White House after a soundcheck for the Easter Egg Hunt concert.
In Bloom
Source: popsugar (Heidi Klum with family)
Heidi Klum and Leni had their pick of Easter flowers in LA on Saturday.
Live With Kelly and Mark
Source: popsugar (Kelly Ripa and Mark Consuelos)
Kelly Ripa and Mark Consuelos made a private White House tour with their three kids.
Top of the Morning
Source: popsugar (Queen Elizabeth and husband)
With four days to go until the royal wedding, Queen Elizabeth and her husband, Prince Phillip, made attendance at the Easter mass at St. George's Chapel in Windsor, England.
Hop to It
Source: popsugar (Haylie and Hilary Duff)
Haylie and Hilary Duff took a snap with an Easter bunny while volunteering in LA on Friday.
I Do Day
Source: popsugar (Keira Knightley)
Keira Knightley was all dressed up for her brother's wedding in England yesterday.
Good Friday
Source: popsugar (Zoe Saldana)
Zoe Saldana was seen serving food at the LA Mission on Friday.
Outward Bound
Source: popsugar (Marcia Cross and family)
Marcia Cross and her husband, Tom Mahoney, enjoyed a picnic with girls Savannah and Eden in LA.
Hat's Off
Source: popsugar (Matthew Settle and daughter)
Gossip Girl's Matthew Settle took his daughter, Ava, to the Easter parade in NYC.
Dog Day
Source: popsugar (Hank Baskett and son)
Hank Baskett and his son, Hank Jr., with their dog on an Easter walk in LA.