Who is Emily Kroul? Know about her early life, married with Cody Kroul, daughter, social media, biography
Emily Kroul is a reality TV star and auctioneer. She is known for appearing in the reality series Storage Wars. She started auctioning from an early age.
As per her website,
"I started my life in the auction business at an early age, like many second generation auction kids, doing jobs like carrying out boxes of Tupperware, picking up garbage, helping little old ladies load purchases, running sheets and keeping the lunch wagon in business."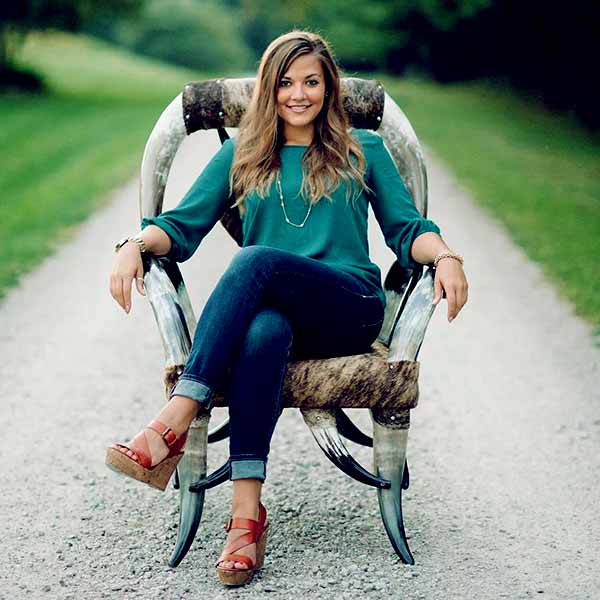 She runs Wears Auctioneering West Inc. which has offices in Cheyenne, Wyoming, and Salmon Idaho. She provides valuable services to Wears Auctioneering as a western states representative and continues to ply her trade at benefit, online and general auctions.
Early life of Emily
Emily Kroul was born as Emily Wears on 26th October 1990 in Iowa. She is 29 years old at present. Emily attended the suction school and graduated at the age of 17. She attended the University of Northern Iowa for a year and packed up and moved to Laramie, Wyoming to attend the University of Wyoming. Likewise, gained a  Business Management degree after 4 years and moved to Buffalo, Wyoming.
Also read Bella Poarch apologized to Koreans after tattoo controversy! Also, know about her early life, mental health, social media, biography
Emily Kroul and Cody Kroul's wedding
Emily Kroul and Cody Kroul's nuptial was held at Emily's house on 6th May 2017. Their reception took place in Libson, Lowa at Regal Crown. Both of them grew up in rural Solon, Iowa, a town of about 2,000. Their families had known each other for years as they were in the same town. Similarly, their families used to ride together long before they started dating.
Emily's parents had also attended the wedding ceremony of Cody's parents. Due to their age difference of 5 years, they weren't close in school but Cody can remember coming to Wears Auctioneering auctions with his dad as a kid. Emily was pursuing her auctioning career in Cheyenne which brought them together. When Emily was overseas in Thailand and India in June 2015 to attended her friend's wedding she met Cody there.
They started talking and caught up on the years they missed. They started dating soon after. One night Cody invited her to a rodeo which he was competing in Loretta, Minnesota, United States. When she arrived at midnight with his parents she saw a puppy waiting for her on her way to his hotel room. The puppy had a red collar with a diamond ring. It had a heart engraved with 'Will You Marry Me'.
Likewise, Emily and Cody have a daughter named Millie Rose. In September 2020, they celebrated Millie's first birthday and she posted pictures from the birthday party and captioned it,
"A little late the the party, but I finally got through all of Millies birthday party photos. What a fun and special day for our beautiful girl."
Also read Seventh Wedding Anniversary Of Cody And Brandi Rhodes; Everything Inside Their Relationship Throughout The Years!
Emily Kroul on social media
Emily Kroul has around 15.9k followers on her Instagram account. She has made 2.6k posts on her account. She shares pictures of her family especially her daughter on her account. Likewise, she uploads pictures of her daughter on their farm. Kroul is an animal lover and has a dog named Loretta. They have chickens and horses on their farm. The Kroul family is very close to nature.
On Twitter, Emily has 2.1k followers on Twitter. She joined Twitter in January 2011. She is not as active on Twitter as Instagram. Similarly, she has made any new Tweet since February 2019. Kroul has a Facebook account. She has almost 5k friends on her account.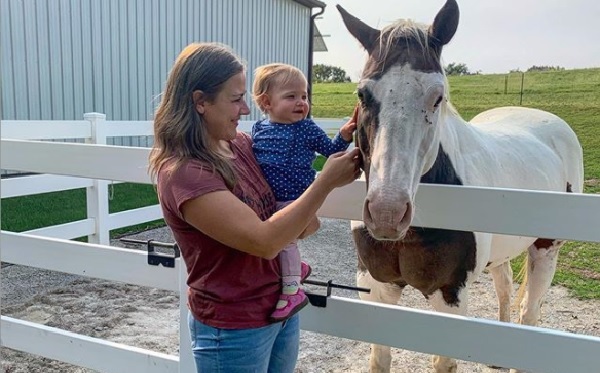 On 22nd September 2020, she shared multiple pictures on her Facebook and captioned it,
"What a week!!!! We've been home in Iowa for 8 days and we did LOTS of family visiting. Grandmas, grandpas, great grandparents, aunts, uncles, cousins and more! We had a wedding, 2 birthday parties, and multiple dinner parties. Millie got a new molar while we were here and she learned new words and signs. She went potty on the potty for the first time too! What a fun week."
Her YouTube channel has 161 subscribers. She has not made a new video since 20th September 2018.