Will "The Bold and the Beautiful" actress Jacqueline MacInnes get married soon? Will her love life with her boyfriend turn to a married one?
Canadian celebrity, Jacqueline MacInnes seems to be lucky regarding her love life. The pictures and videos she has been posting on her Instagram refer to a healthy love life with her lover, Elan Ruspoli.
Jacqueline's Mr. Perfect
If you go through actress MacInnes' Instagram account, you can easily see a flaunting relationship status. Yes, the actress, whom every boy would love to date is no more single. She is currently dating a guy whose pictures she has been posting a lot regularly. She even started her New Year 2017 with an amazing picture of her with her boyfriend, Elan.
In her post, she has wished her followers New Year by saying:
May your 2017 be filled with love ❤️????????
It seems that since she is having a happy relationship, she has wished her well-wishers the same.
That was not the first time she had posted a photo with her boyfriend, she has been regularly posting it since 2016. The diva has not discussed her love with the media but we can see that Love is definitely in the air.
Of course, the steamy couple would not want to miss the Valentines Day. Her lover even surprised her by sending her a bouquet of red rose and champagne. She posted on her Instagram to express the surprise:
My love, you always put the biggest smile on my face. What a wonderful surprise in my hotel room in Sydney. Thank you for always thinking of me even when I'm far away. I love you I love you I love you @elanruspoli#AustralianValentinesDay ❤❤❤
Isn't it a true love to make your lover happy and sending so many surprises? After all, it's the Valentines Day. Every lover deserves a pleasant surprise like she does. Is it the only time the handsome lover gave a happy surprise? You can say no as an answer. It is not hidden that, Jacqueline has another love-of-her-life: Pizza. She was gifted 10 boxes of pizza for her birthday. See how surprised the birthday girl is, in this video from her Instagram:
Her lover-guy, Elan Ruspoli is an Agent of Motion Picture Talent: Creative Artists Agency (CAA). Other information about him is not known.
Jacqueline's previous relationships
Jacqueline is reported to have dated actor, Daren Kagasoff, known for his acting in "The Secret Life of an American Teenager". The history of the couples love-life dates back to 2009. However, their relationship couldn't last longer than it had. Guess they were not meant to be…
A plastic surgery!
If you compare Jacqueline's present picture with the one during her debut, you will see lots of changes. Her eyes are different and so are her lips. Many celebrities are attracted to plastic surgery these days and Jacqueline is one of them. She has had lip job, eye surgery, and rhinoplasty. It's not that the actress was less beautiful before the surgery but maybe she wanted to be much prettier? However, no artificial face can match the natural one. Who do you think is pretty? Jacqueline before surgery or after?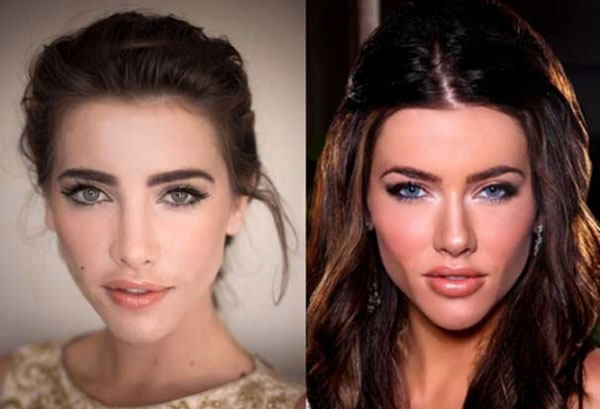 Update on their relationship
The couple got engaged in November 2017 and married in July 2018.
Short bio on Jacqueline MacInnes Wood
Jacqueline MacInnes Wood is a Canadian actress, disc jockey, singer and television host. She is better known for her appearance in the film Final Destination 5 as Olivia Castle. More Bio…