Having a wonderful family is like a god's blessing for Sonequa Martin Green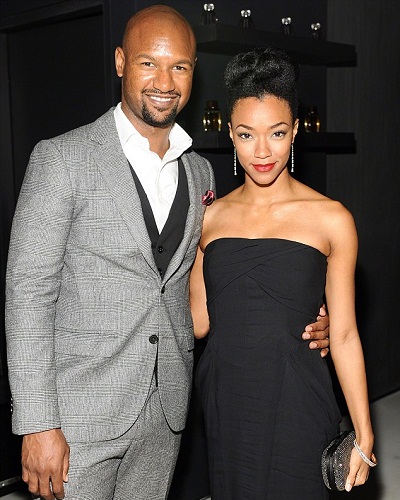 Having a well-running family with a loving husband and a sweet child is not in everyone's fate
It is very difficult to get such a life
---
Sonequa Martin-Green is so much blessed
American actress as well as producer, Sonequa Martin-Green is a very blessed woman. Till now she doesn't have any problems relating to her marital status and her child. '
At a time when relationships are fragile and don't sustain long, the Walking Dead actress Sonequa Martin-Green is giving a major goal for all the people out there.
She successfully manages her career well and is enjoying parenthood with her loving husband, and together they are raising their son.
African-American ethnicity actress, Sonequa Martin-Green is a lucky lady as she is a wife to her loving husband, actor Kenric Green and a mother to an adorable son Kenric Justin Green II.
Her career along with a happy family
Sonequa Martin-Green gave birth to her son Kenric Justin Green II on Jan. 10. That means she was pregnant during filming for The Walking Dead's fifth season, which wrapped in November.
Sonequa met her husband Kenric Green in the play "Fetch Clay, Make Man." Keeping the marriage an intimate affair, Sonequa and Kenric Green exchanged the wedding vowed in 2010.
During the shoot of the fifth season of The Walking Dead, Sonequa was pregnant with her son Kenric Justin Green II.
But Sonequa's onscreen character of Sasha was not pregnant, so the team had to work out ways to hide her baby bump.
And in an interview in February 2015, Sonequa shared the creative ways to hide her baby bump while talking about her pregnancy and said,
"I'm really blessed to have a great pregnancy, I'm not swollen or blown up anywhere else, I'm very grateful for that. It's helped hide the whole thing because it's really just my stomach we have to deal with. For the longest time, just the layers that I'm wearing would hide the whole thing. And my gun is really big, so that helps too. So it's been okay, and now at this point, it's about just doing good right angles and not turning to a full profile. As long as I'm face-on, there's a trick of the camera—you can't quite see it."
Her happily running life
Sonequa also shared a picture of her husband, Kenric Green on April 24, 2017. And Sonequa's love for her husband is evident in the caption of the photo which says hunk along with a kissing face with closed eyes emoji.
The childhood memories of children are a treasure for their parents and Sonequa shared the video of her adorable son, Kenric on March 3, 2017, via Instagram.
Sonequa shares beautiful pictures of her family through Instagram and her ardent fans get an insight into her personal life where she is a wife and a mother.
On April 17, 2017, Sonequa shared a picture of her son Kenric and captioned it with blue love emoji. In the picture, Sonequa's son's hair is in a man bun, and she flaunted her stylish son via Instagram.
Short bio on Sonequa Martin-Green
Alabama-born Sonequa Martin-green was born on March 21, 1985. She possesses an American personality. Sonequa is a popular actress, who has starred in multiple movies and TV series. Additionally, she is also a producer. She is popular for her roles like Tamara in an American fairy tale television series, "Once Upon a Time", and Sasha Williams in "The Walking Dead".
Presently, she is a prominent figure in the media because of her role in the popular TV series, "The Walking Dead". Additionally, she has become popular after her lead role in the sci-fi TV series, "Star Trek: Discovery". It was released in 2017. More Bio…