(Music Industry Entrepreneur, Singer-Dancer)
Quick Facts of Yang Hyun-suk
Age:
51 years 8 months
Birth Date:
January 09, 1970
Horoscope (Sunshine):
Capricorn
Full Name:
Yang Hyun-suk
Birth Place:
Anguk-Deong, Seoul, South Korea
Net Worth:
$159 m US
Salary:
$10.94m US (net income 2017)
Ethnicity:
Asian
Nationality:
Korean
Profession:
Music Industry Entrepreneur, Singer-Dancer
Father's Name:
Yang Jae-hoon
Mother's Name:
Han Choon-ja
Hair Color:
Black
Eye Color:
Black
Lucky Number:
1
Lucky Stone:
Topaz
Lucky Color:
Brown
Best Match for Marriage:
Scorpio, Virgo, Taurus
Last Update:
November, 2020

Social Media

Facebook Profile/Page:
Twitter Profile:
Instagram Profile:
Tiktok Profile:
Youtube Profile:
Wikipedia Profile:
IMDB Profile:
Official Website:
View more / View fewer
Relationship Facts of
Yang Hyun-suk
Yang Hyun-suk is married to Lee Eun-ju.

💑 Anniversary in 1 day 💑

He is father of Two (Yang Yoo-Jin, Yang Seung Hyeon).
Yang Hyun-suk is not having an affair with anyone presently.
His sexual orientation is straight.
More about the relationship

Yang Hyun-suk was in a relationship with a trainee, Lee Eun Ju since 1997. Lee is the younger sibling of Lee Jai-jin, of the Sechs Kies.

In 2010, Yang and Lee married in a private ceremony and together they have two children.

Their first child Yang Yoo-Jin was born in August 2010 and their second child, son Yang Seung Hyeon was born in 2012 April.

On 21st April, Mrs. Yang posted a picture of herself and Seung Hyeon. And this is Mr. Yang with Yoo-Jin. Check it out!
Who is Yang Hyun-suk?
Korean Yang Hyun-suk is the Founder-CEO of one of the most international of all Korean Pop labels, the YG. Yang's partnership includes Asiana Airlines and YG Plus Incorporated.
Yang's nick is Papa YG. As a philanthropist, Yang's YG Entertainment Incorporation has made generous contributions and donations worldwide.
For instance, after the earthquake of  25th April 2015 in Nepal, YG Entertainments donated 100 million Korean ₩ towards earthquake relief.
Yang Hyun-suk- Age, Parents, Ethnicity, Siblings
Yang Hyun-suk was born as Yang Hyeon-Seok on 9 January 1997 in Anguk-Deong, Seoul, South Korea. His ethnicity is Asian. He is the son of Yang Jae-hoon (father) and Han Choon-ja (mother).
Hyun-suk has two brothers, Yang Hong-suk, and Yang Min-suk, the CEO of YG Entertainment.
More about Yang Min-suk
Yang Min-suk was born on July 5, 1973, in Seoul, South Korea. Min-suk entered the music industry in 1997 and helped his brother Yang Hyun-suk establish the YG conglomerate.
Among his many accomplishments, Mr. Min-suk is accredited with the success of the K-pop group, Big Bang. He also secured numerous national and international contracts for movie actors and actresses under their banner.
Min-suk was the associate director of the 2014 movie, The Nut Job. Min-suk was also instrumental in the internationally acclaimed and viral success of Psy's 2015, Gangnam Style music video.
More about Yang Hong-suk
Yang Hong-suk is the eldest and lesser-known of the three brothers- Hyun-suk, Hong-suk, and Min-suk. Hong-suk was born on 2nd December 1969 in Seoul, South Korea.
Hong-suk divulges that as a child, Hyun-suk was obsessed with baseball and that music along with a love for dancing caught up with him much later. However, he also shared his thoughts that as a youngster, Hyun-suk was not quite sure about the choices he may have to make.
K-pop Artist Yang Hyun-suk
Yang Hyun-suk began as a soloist and his songs are of the genre pop and hip-hop. His first solo was a song that was composed by Seo Taiji himself.
His first band, Seo Taiji & Boys was formed in 1991. The other members of the group were Seo Taiji, Juno Lee and Hyeon-Seok Yang.
Yang offered to join the group along with Lee, one of the top dancers in Korea. A few of Seo Taiji & Boys singles are "Nan Arayo" and "Shidaeyugam". The group disbanded in 1996.
Seo Taiji & Boys
Seo Taiji and Boys (Korean: 서태지와 아이들) 1992-1996 experimented with different genres of popular Western music of the times. Their key roles were-
Seo Taiji- lead vocals, bass, guitar, keyboards, main songwriter, bandleader
Yang Hyun-suk- backing vocals, rapper, choreography
Lee Juno- backing vocals, choreography
Golden Disc Awards Seo Taiji & Boys
1992, 1993, 1994- 3 Awards for Best Artists
1995, Popularity Award
Seoul Music Awards
1992, 2 Awards as Grand Prize and New Artist
1993, 2 Awards as Grand Prize and Main Prize
1995, Main Prize
In 2007, all four of Seo Taiji & Boys albums were at Khunghyang Shinmun's Top 100 Pop Albums
Seo Taiji and Boys retired in 1996 with their compilation Goodbye Best Album. Seo Taiji came over to the U.S. for a time. Today, he is referred to as the 'president of South Korean culture'.
While Lee Juno established record labels, Yang Hyun-suk established his record label and also founded YG Entertainment which was the beginning of an epic.
An Empire Built
-In 1996, Yang Hyun-suk founded the YG Entertainment label in Seoul, South Korea.
-In 2012 YG Entertainment acquired Psy with the help of his brother and CEO, Yang Min-Suk.
-Psy's Gangnam Style in 2012 bought YG Entertainment their much-needed break world-wide. Starting August 21, Psy's viral video charted at #1 on the iTunes Music Video Charts. It was the first video to surpass a billion views and undoubtedly helped YG shares with an increase of more than 60 percent.  YG filed its first annual report in 2012 with profits over 50% on the KOSDAQ.
Regrettably, in 2018 Psy parted company with YG Entertainment.
-BigBang is YG's most successful K-pop band and has sold out most of YG's albums from 2014-2017 in Korea. Later Yang Hyun-suk would go on to produce internationally renowned artists under his banner, notably among others.
Jinusean: the duo, Jinusean or Jinu and Sean
1TYM: with members Oh Jinhwan, Park Hong-jun, Song Baekyoung, and Im Taebin.
Big Bang: the group included Seungri, G-Dragon, T.OP, Taeyang, and Daesung. The Big Bang is also cited as "Kings of K-pop".
Psy: also renowned as the 'Gangnam Style' hit singles Park Jae-sang.
Blackpink: all-girl group Jisoo, Jennie,  Rose, Lisa.
Epic High: members Tablo, Mithra Jin, DJ Tukutz
Tablo: also known as Daniel Armand Lee aka Lee Seon-woong
iKon: members Jinhwan, Yunhyeong, Bobby, Donghyuk, Ju-ne, and Chanwoo.
Winner: members Jinwoo, Seunghoon, Mino and Seungyoon.
2NE1: the all-girl group consisting of Bom, CL, Dara, and Minzy.
BTS: also called the Bangtan Boys consisting of Jin, Suga, J-Hope, RM, Jimin, V, and Jungkook.
Yang Hyun-Suk TV Series
Hyun-suk was the Judge for his TV series K-pop Star, Series 1-6, and YG Treasure Box among others.
The Actor Yang Hyun-suk
His TV movie is Mix and Match, in 2014, and in 2016, he produced the movie, Big Bang Made The Movie. And some of his TV documentary series are-
Mission 6. Viewer's Requested Song (2012)
Mission 5. Judge's Designated Song (2012)
Mission 4. Movie·Drama O.S.T (2012)
Mission 3. My Idol's Song (2012)
Mission 2. Million Seller (2012)
Mission 1. My Story (2012)
Other Investments
Then it was announced in 2014 that the French luxury giant LVMH's private equity firm, L Capital Asia will be investing up to US$80 million in YG Entertainment- the second largest investor in YG, after Yang Hyun-suk. The same year YG embraced the cosmetic brand Moonshot.
Thereafter in 2015, YG invested nearly US$100 million in the new Gyeonggi-do industrial complex, along with real estate in Seoul worth Korean ₩ 16 billion, approximately US$14 million.
On Thin Ice
-10th November 2019, Mr. Hyun-suk was questioned by law enforcement on charges of covering up past drug deals involving iKon member B.I.
Furthermore, at the Gyeonggi Southern Provincial Police Agency, Yang was asked by the investigating team if he threatened 'A' with dire consequences if she didn't change her testimony about the drug charges.
-November 2019, Jung Joon-young and Choi Jong-hoon were jailed to six and five years respectively, for assaulting unconscious women along with a host of other online offenses. This included sharing offensive videos with other members and enticing others to do the same in their chat groups.
-On 25th November 2019, sometime after YG Entertainment's financial accounts were seized and investigated, police sources revealed that though found a trail of money transfers, there was not enough evidence to prove charges about flesh-trading. Thereafter prosecutors closed the case of suspicion on Hyun-suk's prostitution mediation.
 -On 11th March 2019, Big Bang Group member Seungri or Lee Seung-Hyun, retired from the Big Bang. He was taken to trial over allegations that he sought the services of prostitutes to lure foreign investors into his business.
Seungri also nicked "Korean Gatsby" was already a suspect in the probe involving flesh-trade in the Gangnam area of Seoul. This result of this scandal promptly led to a dwindling fan base and a free fall in talent agency stocks of YG Entertainment Inc.
This also led to a fall in stocks of the mother-lode YG Entertainment's share that was also Seungri's agency.
-In the midst of this ongoing scandal of drug and sex scandal, Mr. Yang Hyun-suk resigned on 14th June 2019 as the company's Chief Producer.
– Later in the afternoon, his brother and co-founder Mr. Yang Min-suk stepped down from all his responsibilities.
Mr. Hyun-suk was the founder of YG Entertainment and the Chief of  YG who managed Seungri and other K-pop groups and artists.
The Hidden Chink
The missing player in all the above was someone who was always in plain sight- Seungri or Lee Seung Hyun V. I Victory.
Korean Seungri was born on 12th December 1990, in Gwangju, South Korea.  A multi-sided personality, in 2015  Seungri became a celebrity soccer player in FC Men.
Then in 2017, under the name of Richard Lee, Seungri won two medals under the  Japan-Brazilian Jiu-Jitsu Federation. He also is a black belt in taekwondo.
He speaks Korean, English, Japanese, Mandarin, and Cantonese fluently. He is expected to enlist in Nonsan Army Training Center for Mandatory Military service on March 25, 2019. This too has been put on hold following the Burning Sun scandal.
Also known as V.I, he was one of the three in the boy band, Big Bang who was under YG Entertainment. Big Bang would later become one of the best-selling digital groups in Asia and also one of the best-selling boy bands in the world.
In May 2018, is song Ignite with K-391, Alan Walker and Julie Bergan topped Norwegian charts for two weeks.
In 2018, he released his first solo, The Great Seungri which became a chart-topper. Thereafter he worked on a few movies and on television too. Then later he diversified his portfolio- Seungri opened a dance academy, bought a nightclub and restaurant franchise, founded a record label along with other investments.
Corporate Blame Game, Scandal
The early news began with a report by MBC Newsdesk about an incident that went unnoticed earlier in November 2018. The staff of a prominent nightclub-The Burning Sun was seen assaulting someone on the premises.
In fact, Kim Sang-kyo, a member at the Burning Sun Club was assaulted for not being one of the propagators of flesh-trade in the club and whose first report was initially considered null and void.
As the day unfolded, so did the club's alleged involvement in the worst of prostitution, drug trafficking and corruption in law -enforcement.
On January 31, 2019, the Seoul Metropolitan Police Agency, the SMPA took over the investigation after some soul-searching. The BigBang member Seungri's ownership and involvement smarted the law into expanding drug-related Gangnam 'MDs' or merchandisers.
Mr. Yang Hyun-suk, Chief of YG Entertainment released a statement on the same day. He confirmed that Seungri had definitely been at the club on the 28th of November, 2018. However, Seungri may have left before Kim Sang-kyo was assaulted by the staff of Burning Sun Club for trying to rescue an unconscious woman from her abuser.
The scandal blew into allegations of molka, rape and spy cameras, of secret videos and chats among celebrities. In one fell swoop, the participants rolled down like nine pins.
On 8th March 2019, International Women's Day, a street protest took place in Gangnam city against Club Burning Sun and other nightclubs against what Koreans called 'a culture that objectifies women'. More than that, it was the unwholesome behavior of the pop idols that totally shook their roots.
So much so, that on 18th March 2019 the President Moon Jae-in was compelled to take a stand.
This 2019, the Korean Music Industry, Korean idols, K-pop groups, celebrities, and government officials were the center of a scandal of epic proportions and Mr. Yang was involved as per allegations.
Named the Burning Sun Gate, rumors were rife with allegations of molka,  a Korean word for the distribution of videos of women being abused. The investigation was conducted behind closed doors at the Burning Sun Nightclub in Hote Le Méridien, Gangnam-gu, Seoul, South Korea.
As of 2019, December 5, Mr. Yang has been cleared of all allegations against him.
Aftermath
Mr. Yang previously on June 14th, 2019 announced his intentions to step down from all his responsibilities at YG Entertainment. His brother Yang Min-suk has decided to resign from his position as CEO.
On 11th March 2019, Seungri, a member of the BigBang, one of the seven directors of the Burning Sun Club, retired from the entertainment industry. This was followed by revelations upon revelations of what had transpired under his ownership in The Burning Sun.
On 12th March 2019, Jung Joon-young confessed his involvement in almost all charges and resigned from the entertainment industry.
Video dated from 2015-2016 along with recorded conversations were recovered from the SBS funE, Kakao Talk- all documenting the chat group that Seungri and his acquaintances shared. Consequently, on 14th March 2019, Yong Jun-Hyung of Highlight and Choi Jong-hoon of F.T. Island resigned on the basis of compelling evidence. And on 15th March, Lee Jong-hyun of CNBLUE admitted as much.
It may be said that Seungri wrote his epiphany in advance. In an interview with Baik Su-jin in August 2018, he is claimed to have said that 'he felt overlooked and underappreciated by fans and used the shortest route to outdo other members of the BigBang'.
In fact,  Seungri may have found his protagonist in The Great Gatsby in word and spirit because both sought 'illicit and corrupt activities to gain fame and wealth'.
-courtesy Lee Moon-won, a critic of popular culture, Seoul, South Korea.
Holdings, Net Worth, Earnings
Mr. Yang's net worth is $159m US. YG Entertainment's Net Income for 2017 was $10.95m US.
YG Entertainments performance for 2018 however, fell short of market expectations. Their target stock price fell by 6.8 percent to 30,000 Korean Won, approximately $28.04.
This means that YG's operating profit for the first quarter of 2018 was only $2.1 million US as compared to YOY- this meant a 27.7 percent decrease.
The total sales revenue for YG in the first quarter of 2018 totaled $72.2 million US.
Body Measurements; Height, Weight
Yang has black hair and black eyes. His height and weight are of average size.
Social Media
You may want to check on the latest court decision about the charges filed against Yang Hyun-suk.
He has more than 2.4k followers on Facebook, more than 2.k on Twitter, 591.3k likes on Instagram, and almost over 500k views on YouTube.
You may also read Michael Kutcher, Manny Khoshbin, and Kevon O'Leary
Photos of Yang Hyun-suk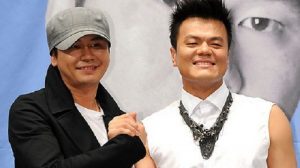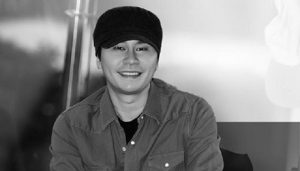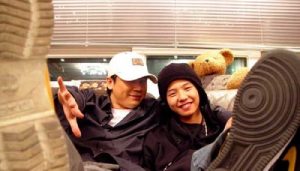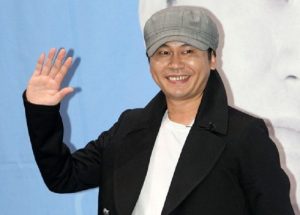 ---