Yasemin Jack, wife of Swedish Boxer Badou Jack. Sweet happy family, has a daughter and just won WBA title!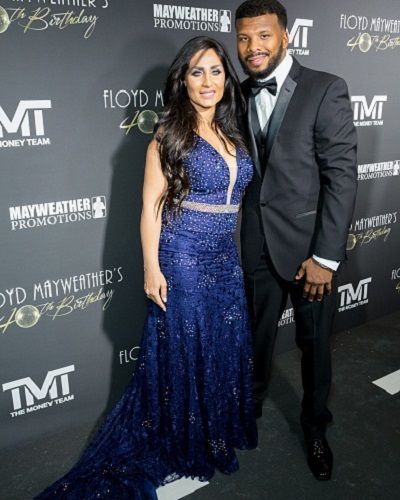 Yasemin Jack is famous as the wife of Badou Jack. Badou is a Swedish professional boxer.
Recently Badou Jack won the WBA title against Nathan Cleverly.
In August 2017, he won the WBA light heavyweight title.
---
Yasemin and Badou Marriage
Yasemin Jack and Badou Jack got married on 3 October 2014. The couple has a cute little daughter together. Yasemin gave birth to her child on 14 April 2016 and they named her Malaniyah.
When asked Badou about her newborn baby on Premiere Boxing Champions in April 2016, he said,
"My daughter, Malaniyah, was born this morning, April 14. That just further inspired me to show up for a quick workout."
WBC's statement on Badou and his wife,
"The WBC is extremely proud of Badou Jack, who is our Ambassador of Good Will and Peace. He has been a role model outside the ring with his exemplary behavior and his beautiful family, his wife Jasmine, and his baby daughter, Malaniyah. The WBC wishes Badou Jack continuous success and the best of luck in his boxing career, hoping that one day he will compete for the light heavyweight championship of the world."
Yasemin's registry on the baby registry site
This site 'registry.thebump.com' is focused on baby care, and giving knowledge on handling the pregnancy and lessons on how to train the kids. Yasemin registered to mention her due date as 18 April 2016.
Her husband's role model
Yasemin's hubby, Badou considers Floyd Mayweather as his role model and inspiration for him. As Badou made his debut through Mayweather Promotion in February 2013, he says Mayweather is one of the best things that has happened in his life.
"Floyd Mayweather is the biggest star in boxing today and also the highest paid athlete in the world. He's my promoter and mentor and he treats me like a little brother"
in 2013, he said on What's On-Gambia.
He has also recently tweeted about Mayweather's win against Conor McGregor,
50-0!!! Congrats on a great career @floydmayweather #TBE! Thanks for always believing in me and having my back since day one ???????? pic.twitter.com/T2mjTvEZJQ

— Badou Jack (@BadouJack) August 27, 2017
Badou's parents
Badou's father is from the Gambia and his mother, Eva Nyberg is from Sweden but he is born and bought up in Sweden. He has represented the Gambia at Summer Olympics, 2008. Jack's parents are very supportive of his decisions, he said during an interview with What's On-Gambia in 2013. In 2011, he shifted to the USA, and currently, he is living there.
In an interview with Fight Saga, he revealed,
"I started with 5 fights in Sweden and Finland then I relocated to the states thanks to former heavyweight champion Shannon Briggs. Then I signed with DiBella Entertainment and Warriors Boxing. But now I'm part of Mayweather Promotions and The Money Team."
Short Bio on Badou Jack
Badou Johannes Gabriel Jack is a professional boxer who hails from Sweden. He was born on 31 October 1983. He has had a total of 25 fights and won 22 fights to date. He also reached to Olympics in 2008, Bejing representing his country Gambia.