Younes Bendjima has allegedly cheated on Kourtney Kardashian. With whom? See her sisters Kim and Khloe's reaction
Kourtney Kardashian is heartbroken again! Her fourteen years younger love interest, Younes Bendjima has allegedly cheated on her with some other girl.
Full details
25-year-old Algerian-American model, Younes Bendjima was called by his mutual friends in Mexico for a birthday party. Similarly, he shared the pictures of his trip on his Instagram story and out of all the pictures, he was seen cozy with a model, Jordan Ozuna. This was the reason for 39 years old, television personality Kourtney to split with her love interest. Sources say,
"Younes was always supposed to be a rebound. Now with the pictures of Younes in Mexico, they are definitely not getting back together."
Also, Kourtney's sisters Kim and Khloe are very upset with Younes and they have slammed him on social media.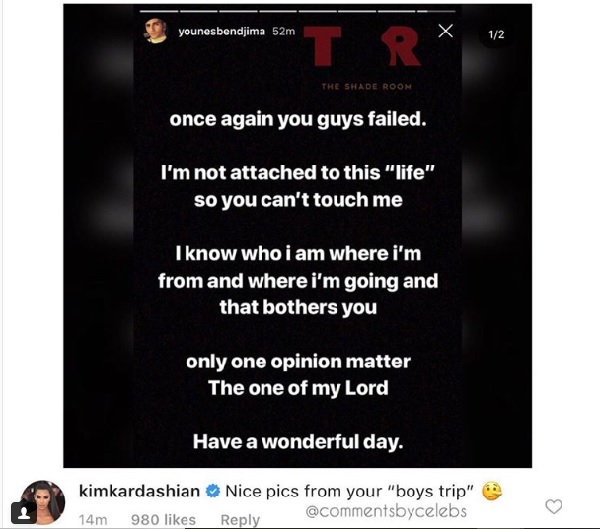 In a very sarcastic way, Kim has commented on his friend's birthday trip. Also, she took a screenshot of the story posted by Younes and said,
"Nice pics from your "boys trip""
And after her comment, she has put an emoticon where she indirectly called him a cheater.
Not only Kim, but Khole also took her social media handle to shame him. She posted,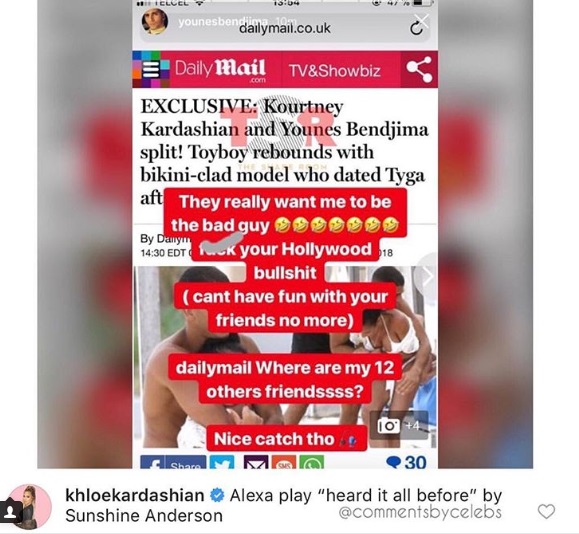 However, when asked about this whole allegation to Jordan Ozuna, 'so-called victim' for the split. Similarly, she said that there is nothing romantic between her and Younes,
"It was nothing more than friends having fun at the beach. No, we aren't romantically involved in any way, shape or form."
But the sources said that an eyewitness witnessed Jordan Ozuna and Bendjima at a club in Cancun kissing whole night.
So, who's telling the truth and false we will be updating you soon!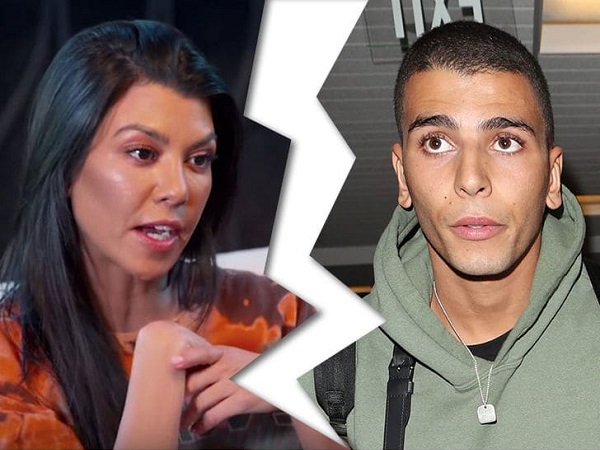 Difference between the couple
Younes and Kourtney met for the first time in Paris when Kim was robbed. Likewise, Kim described,
"I think they robbed me of 5 million dollars. Then they left on the run. They asked for money. I said I don't have any money,"

"They dragged me out on to the hallway on top of the stairs. That's when I saw the gun clear, like clear as day. I was kind of looking at the gun, looking down back at the stairs."

"I was like; 'I have a split second in my mind to make this quick decision,' Am I going to run down the stairs and either be shot in the back? It makes me so upset to think about it. Either they're going to shoot me in the back, or if I make it and they don't, if the elevator does not open in time, or the stairs are locked, then like I'm f—ed. There's no way out."
They met at the Paris Fashion Week in October 2016. Also, it was reported that Younes was the reason why Kourtney wasn't going back to her estranged husband Scott Disick.
Similarly, Bendjima did not like Kourtney sharing her raunchy and sexy pictures on social media. Despite this, she uploaded and did what she wanted without his consent. Sources said,
"He doesn't want his girlfriend to do that. He gets that it's her job, but wants her to post more covered-up pictures. He has always had a problem with this. This is the stuff they argue about and what made them split in the past."
Short Bio on Kourtney Kardashian
Bold and Beautiful Kourtney Kardashian is an American television personality, model, businesswoman, and socialite. She is best known for the reality series 'Keeping up with the Kardashians'. With the success of 'Keeping up with Kardashians' she even appeared in 'Kourtney and Khloe Take Miami' and 'Kourtney and Kim Take New York.' She is also an author who has written 'Kardashian Konfidental'. More Bio…
Short Bio on Younes Bendjima
Younes Bendjima is an Algerian athlete-turned-model. He is best known for hanging out and possibly dating, Kourtney. More Bio…
Reference: (cosmopolitan, people)