The Famous YouTuber Faze Rain Warns His Fans About Use of Drug; Also Revealed He Is Paralyzed Due To The Addiction!
Faze Rain, American YouTube star got candid about his health and drug addiction on his recent post. Rain whose real name is Nordan Shatt is popular with his YouTube name between his millions of fans. The Youtuber took to twitter to warn his audience about the addiction and its aftermath. Rain is a social media personality with above 5 million subscribers on his channel.
Faze Rain claims he is paralyzed
Drug addiction does not bring good result on your health. The famous YouTuber with millions of fans, Faze Rain became another name on the list of people who got severe health issues due to drugs. He got candid about his current health situation and his addiction.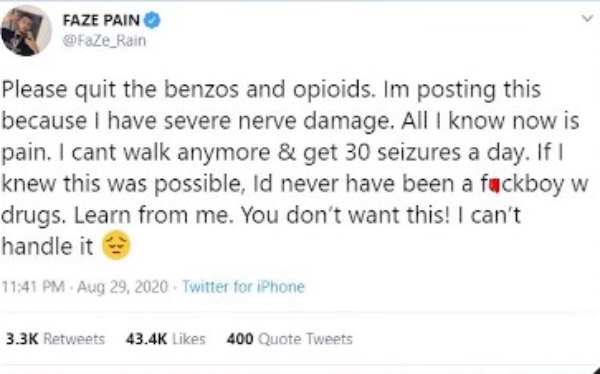 The YouTuber made a series of tweets on his Twitter account getting real about his current situation. On July 1, he announced that he is going clean from the drugs. Recently, the YouTuber revealed on Twitter that he got paralyzed in the process of getting rid of drug use.
He wrote:
"Please quit the benzos and opioids. Im posting this because I have severe nerve damage," he tweeted on Aug. 30. "All I know now is pain. I can't walk anymore & get 30 seizures a day. If I knew this was possible, Id never have been a f–kboy w drugs. Learn from me. You don't want this! I can't handle it."
His fans were concerned about him for a few months on social media as they noticed some worrying behavior. He confirmed that it was all because of his drug use.
You may also read- Update on Linda Tirado's health! What happened to journalist Linda?
Rain warned his fans about the drug use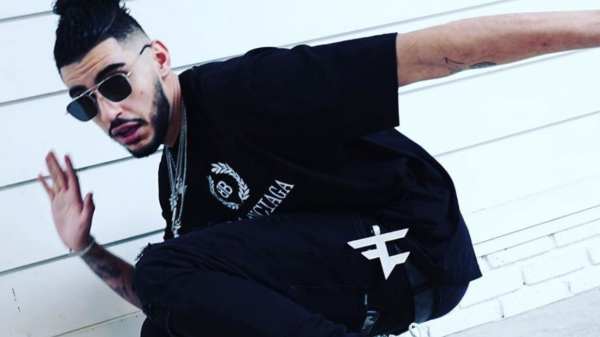 After opening up about his condition, he further went to warn his audience about drug use. He urged his fans to not mess with prescriptions like "benzos and opioids". The YouTuber further went to his own example revealing his condition in the road to quitting it.
Furthermore, he wrote:
"I'm posting this because I have severe nerve damage. All I know now is pain. I can't walk anymore & get 30 seizures a day. If I knew this was possible, I'd never have been a f**kboy w drugs."
Moreover, Rain claimed he is paralyzed due to the nerve damage, which is hopefully the temporary side effect. He further wrote he is only able to move when there is an ambulance to take him. The YouTuber then talks about how hard it is when the basic motors are not working to do your basic works.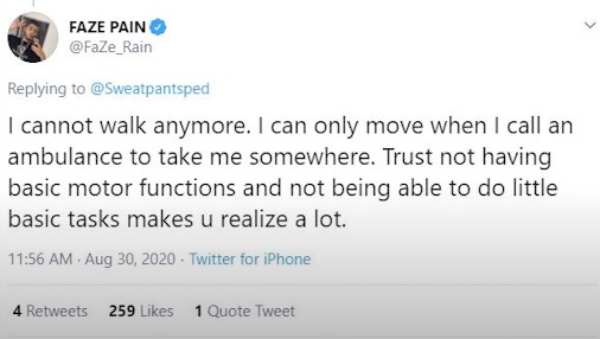 No doubt, he got support and love with a bit of criticism from his fans and well-wishers after brining his condition to the Internet. One of the Twitter users called him out for revealing the news to his young audience. The user also mentioned his condition is not something kids are ready to deal with.
The YouTuber could not hold back after getting criticism while he was warning people. He went to reply to the tweet saying:
"I can't f**king walk. You think I care about Twitter attention???? I have to p**s into bottles and s**t into bowls. Did you go through that? If only you knew what the f**k I been through with your ignorant a**," before following up. "I deserve it tho."
You may also read- Amanda Kloots shared her husband Nick Cordero's improving health!