YouTuber PewDiePie marries his long term girlfriend Marzia Bisognin!
The couple PewDiePie and his girlfriend of 8 years Marzia Bisognin has taken the leap! They have taken the major decision of their life and acted on it! Yes, both are married now to each other. The YouTuber posted on his Instagram after the wedding.
PewDiePie weds Marzia Bisognin
PewDiePie is a happy man. He married the love of his life Marzia Bisognin in Kew Gardens in London. PewDiePie, 29 uploaded a picture of the two close and looking at each other on his Instagram. He captioned this beautiful picture:
"We are married!!!! I 'm the happiest I can be. I'm so lucky to share my life with this amazing woman."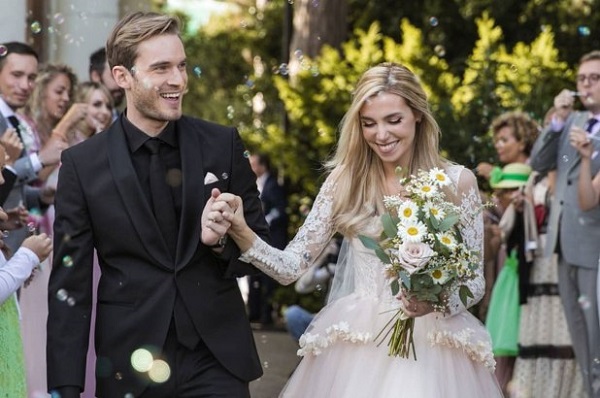 Marzia also shared the happy news of her life with her fans. She wrote:
"Yesterday, the 19th of August -after exactly 8 years since we met-we celebrated our wedding with our closest friends and family. It was the most beautiful day, which I will treasure forever. I am so thankful for all the people that made time to attend the event and helped us celebrate our marriage. I feel like I'm the luckiest person and I'm so full of love. Incredibly ecstatic to be able to call Felix my husband for the rest of our lives."
PewDiePie and Marzia Bisognin-their love story
One of Marzia's best friends watched the videos of PewDiePie and felt that they were very funny. In 2011, Marzia and PewDiePie met. They first chatted on Facebook for a while. Later, PewDiePie went to meet Marzia in Italy. The whole of 2012 the couple was in Sweden and Italy and later traveled together to Los Angeles. In 2013, they settled in Brighton. They purchased three dogs-Edgar, Maya, and Ynk.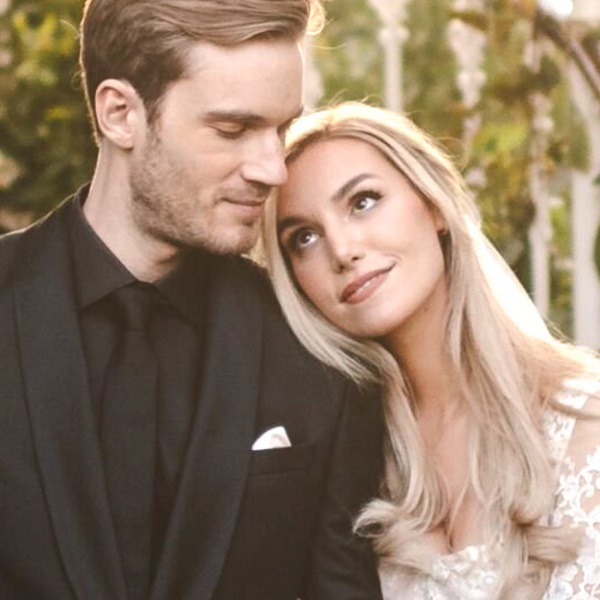 Marzia used to appear on PewDiePie's YouTube videos often. Their courtship was a smooth one. They engaged in a romantic getaway in Japan in April 2018. At that time, Marzia posted:
'Felix proposed!'
And PewDiePie wrote:
'She said she'd think about it.'
And now the marriage which they kept as an intimate affair held in Kew Gardens in London.
The careers of the couple
Both of them are YouTube stars. PewDiePie is from Sweden and was once the highest-earning YouTuber. His real name is Felix Kjellberg. He grew famous with video game commentaries and has now more than 99 million subscribers to his channel.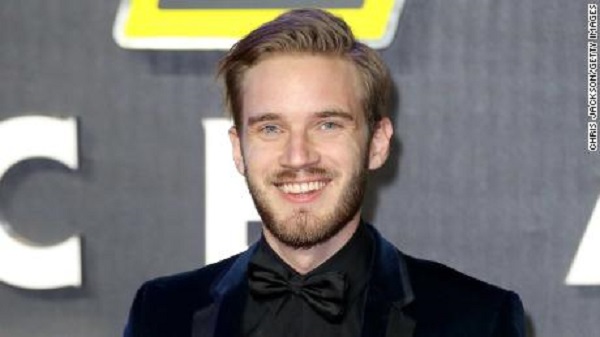 Marzia hails from Italy. She is aged 26 and is also an internet personality. She posts videos on fashion and design. Her nickname is CutiePie and has a good fan following on it. But in October 2018, Marzia had posted that she is quitting YouTube channel to concentrate on her mental health. She said:
"All I have is this feeling that it is time for me to try something new in my life,' she said at the time. 'This may seem so sudden to most of you, probably, but it is something that I knew for a long time. Especially this year I've struggled with finding a reason to keep going.'
She added:
'I was thrilled for Felix, but I felt like I was a fraud. I definitely didn't deserve all the attention. I just happened to know someone who did.'
Short Bio on PewDiePie
PewDiePie is a Swedish gamer and YouTube sensation who is immensely eminent for his work as a YouTuber with the channel named 'PewDiePie' which produces videos relevant to the hit game 'Grand Theft Auto' and some comedy videos as well. More Bio…
Source: BBC, Metro UK