Zac Efron on 'Baywatch' Swallows a Dead Man's Fat And Wears a Dress and it's Beautiful!! All the shirtless scene and sexiness in movie with the Splash of Bromance!!!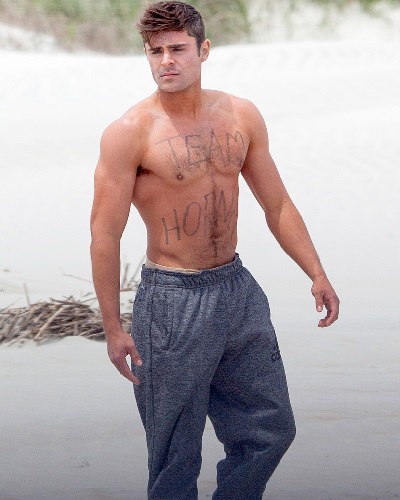 The latest Baywatch trailer is out. The movie is also ready.
The trailer reveals an undercover woman, Jason Bourne wannabe, shirtless lifesaver, and hot doc.
It delightfully showcases the many looks of Zac Efron, all of them as sexy as the next!
---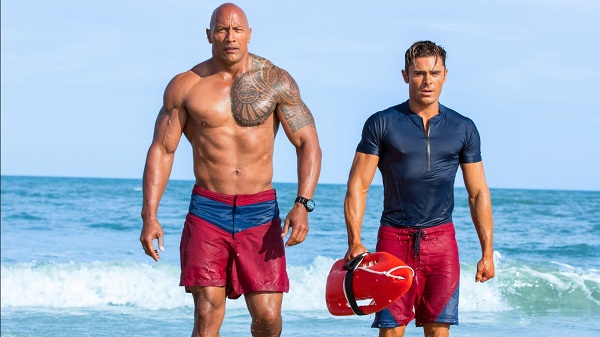 With just over two months to go until the Dwayne Johnson-starred film hits theaters, fans have already started counting down to see Zac Efron's character, Matt Brody, in his full glory.
About Baywatch
Baywatch has the awesome cast of all time-Zac Efron, 31, Dwayne "The Rock" Johnson, 47, Kelly Rohrbach, 29, Alexandra Daddario, 33, and Priyanka Chopra, 36, all in one movie? Incredible.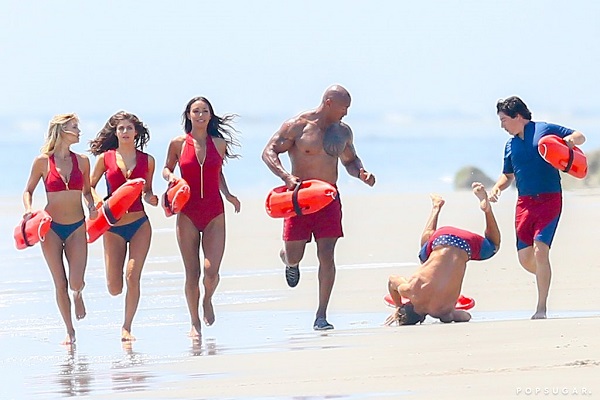 We know that The Rock's character is not so into Zac's since he plays an arrogant Olympic athlete who's brought into the lifeguards on duty to help get good publicity.
We also know whatever role Priyanka plays is well, insane, and everyone's afraid of her. At this time, we don't know why Zac is dressed as a woman, but uh, we're fine with it.
The movie is going to be hot in all kinds of ways. First and foremost, it's rated R. Dwayne revealed a new poster on March 20 this year and it proved this movie's got some balls.
"Because the climate is right for a good ol' RATED R rescue can and beach balls shaped in the form of a penis and testicles joke,"
Dwayne hilariously captioned the photo on Instagram.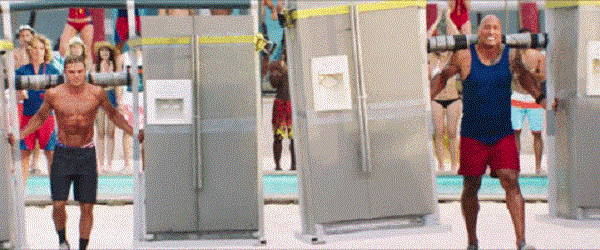 The movie is based on the hit '90s TV series which had David Hasselhoff, 66, and Pamela Anderson, 51, as the main lead. It earned an R-rating for "language throughout, crude sexual content, and graphic nudity." It does sound like some of these lifeguards might be stripping all the way down! Zac, perhaps?
The Rock and Zac are already showing off their stuff in a patriotic speedo in the movie. Plus, Baywatch is all about lifeguards, which means TONS OF SHIRTLESS SCENES!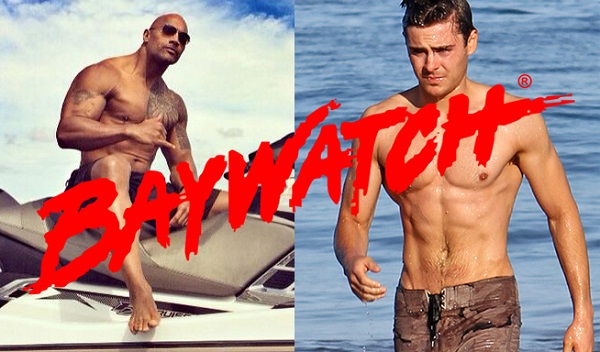 The Plot Of the Story
"Our team's the elite of the elite,"
the group's leader, Mitch (Dwayne Johnson), had said in the video.
"We're the heart and soul of this very beach."
Hence when Matt Brody (Efron) — who Mitch jokingly calls "One Direction" — emphasizes that he doesn't have to try out, the head lifeguard sees to it that the newbie gets put through the ringer.
And when the Baywatch crew gets a clue that the villainous Victoria Leeds (Priyanka Chopra) may be dealing in drugs and has a dead body washed up on their sunny shores, the physical tasks get elevated to undercover missions (Efron is seen rocking a dress, wig, and makeup!) and hiding in a morgue, where Matt accidentally ingests a dead man's liquefied fat.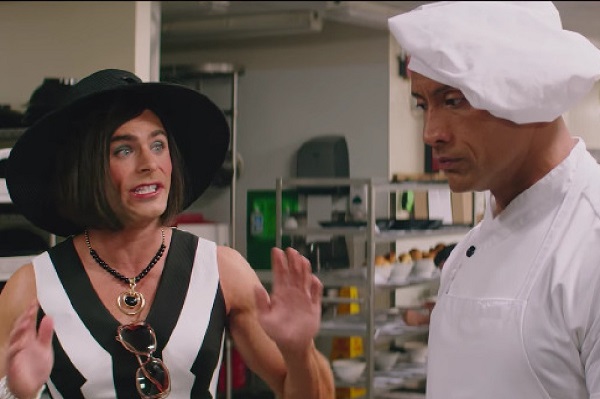 The athlete is seen in the trailer entering by rolling up on a motorbike looking fierce in a leather jacket as Johnson's character, Mitch Buchanan, greets him with,
"Hey, One Direction."
The hunk shows off his seriously ripped gold medal-winning bodybuilding form (complete with a dog on either side), and is seen carrying two fridges on his back while shirtless on the beach. He also sports his best Hawaiian shirt with slicked back hair look.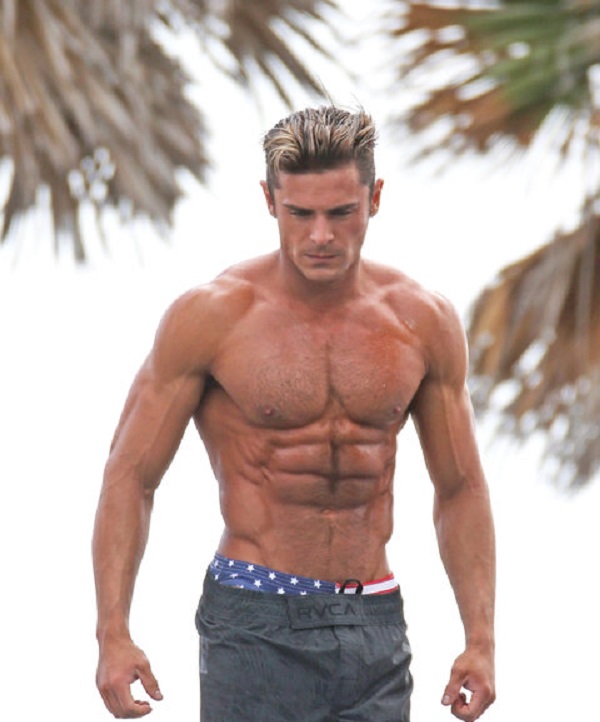 But the best Efron moment is when the former High School Musical star dresses up as a woman, wearing a low-cut, black-and-white dress, with yellow heels and a hat. And yes, he still manages to look hot!
He explains:
"I'm undercover,"
Mitch responds:
"Yeah, a little too undercover,"
You may like to read Jessica Burciaga's relationships, love affairs, breakups, boyfriends and everything you need to know.
The Bromance in the story
As their bromance makes progress, the pair gets cozy for an action-packed ride on a pink scooter. Matt is wearing a matching pink top and Mitch is perfectly in the theme with a pink helmet.
Next, Matt then changes to a suave black shirt to declare,
"Jason Bourne ain't got sh*t on me!"
And, there is more! Efron then puts forth his best McDreamy look as he scrubs up for a scene in the morgue, closely resembling a guest appearance on Grey's Anatomy.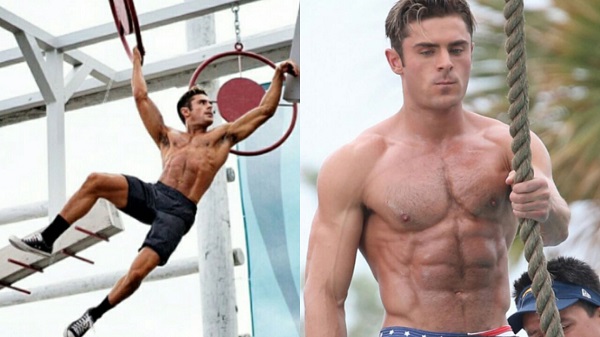 The main villain in the movie is Victoria Leeds, played by Quantico's Priyanka Chopra. Zac and Dwayne better watch out. Priyanka described her character to Interview magazine as
"extremely feminine, very evil, extremely delectable, manipulative, patronizing" and "doesn't have any morality. Our movie will be big, fun and RATED R.. Like me when I drink,"
Johnson teased on Twitter in 2015. Indeed, Baywatch having received an R rating will seemingly have a lot of adult humor and antics. Pamela Anderson and David Hasselhoff are set to make a guest appearance in the comedy.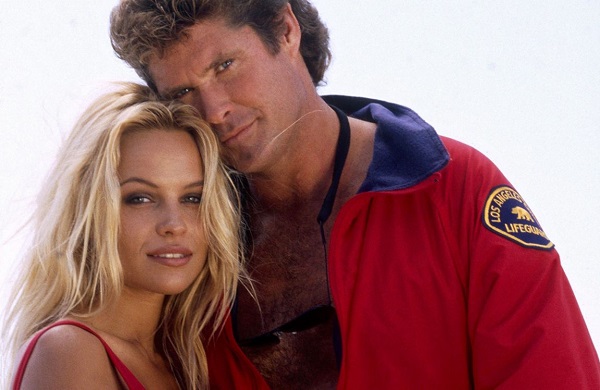 With all this hotness and sexiness movie is going to be the best and indeed it became the talk of the show. Well, we were happy with all the scenes…So who did you find hotter Zac or The Rock?
Also read Click here to know more about Zac Efron's juicy relationships
Short Bio on Zac Efron:
Zac Efron is a famous American actor and singer who rose to fame for playing the lead role as Troy Bolton in High School Musical. He is also recognized for the movies Hairspray, Me and Orson Welles, Neighbors, Mike, and Dave Need Wedding Dates, and The Lucky One. He voiced the lead character Ted in the 2012 animated film The Lorax. – See more bio at…