Zach Roloff's wife Tori Roloff shares the first snap of baby bump and eagerly waiting for the baby boy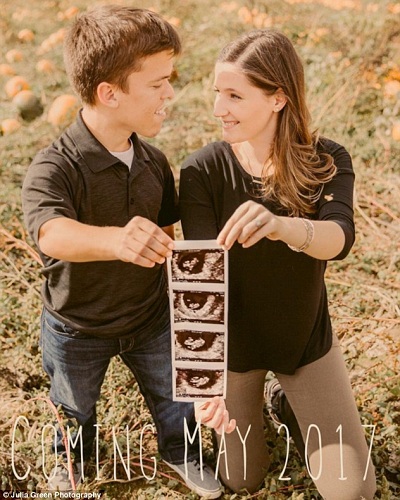 Update: Tori had a son named Jackson in May 2017 and they celebrated his first birthday this year.
Tori said no more days now
No more time now. There is soon the arrival of a new family member which is going to spray full of happiness to Roloff's family. She is eagerly waiting for the baby boy. Tori Roloff shared a new pic of her baby bump and revealed that she has started maternity leave.
The schoolteacher, who is expecting her first child — a boy — with husband Zach Roloff, 26, rested her hand on her baby bump in the mirror selfie she posted on Instagram on Monday, April 24. On Friday, April 28, Roloff shared a photo with her kindergarten class as she begins maternity leave.
 

The baby's size is now a watermelon
"Yup… still pregnant,"
The 25-year-old captioned the photo that showed that she is 36 weeks along, has felt her first contraction and is already dilated by one centimeter. The couple's little one is now the size of a watermelon.
She's gonna badly miss the Kindergarten class
"Bitter sweet day!!! It was my last day with my kinders and to say I'll miss them is an understatement. I am so thankful to have had a group that was so easy and respectful. Saying goodbye to them was so hard, but I know we have such An amazing adventure ahead of us. Can't wait to take baby roloff back to school to introduce him to the kids he's listened to the last 9 months!"
She is grateful to get a husband like Zach
On Sunday, the mom-to-be put up a loving tribute to her Little People, Big World spouse, writing,
"It's been 7 years since this guy made me his and I have loved him ever since. I love him more every single day and thank God he is mine." 

"Zachary you make me smile every day and I love our conversations about life and our dreams together," she continued. "You are definitely my better half and I pray every day that I can be a better wife to you. Love you babe uh."
Short Bio on Zach Roloff
Zachary Roloff is an American TV personality. He was born on May 10, 1990, in Helvetia, Oregon, United States. He is married and his wife's name is Tori Patton. Zachary rose to fame playing his everyday life on screen. More Bio…