FBI star Zeeko Zaki announced his engagement to girlfriend Rennee Monaco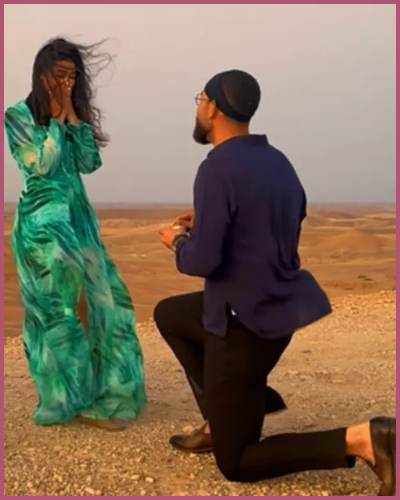 Zeeko Zaki and his girlfriend Renee Monaco took the next step in their relationship
The FBI star, 33, popped the question to his girlfriend when they were on a camel ride date in Morocco's Agafay Desert
The newly engaged couple have been dating for almost two years
---
Zeeko Zaki and Rennee Monaco are engaged to each other
On Tuesday, May 23, Zeeko Zaki took to Instagram to share the happy news that he and his girlfriend Rennee are engaged. He shared a glimpse of their romantic dessert proposal.
The first photo in the series from the post showed the actor proposing to his girlfriend while on one knee, sparkling ring in hand. The two camels were also spotted resting next to the pair, which added to the appealing appearance of their picture.
The following series featured a video clip from their proposal moment which began with Monaco seemingly posing for a photo next to a camel.
"You can do a video?" Zaki questioned someone off-camera. He then walked Monaco to the side and kissed his now-fiancee before kneeling.
As soon as the actor got done on one knee with an engagement ring, Monaco was stunned and began gasping while covering her mouth. Shortly after, she kissed Zaki while nodding her head, signifying yes to the proposal.
Also read Lauren Sanchez Shows Off Her $2.5 Million Engagement Ring During a Dinner Date in Cannes!
She then said,
"I'm crying. I can't breath. It's so pretty, it's so big," referring to the ring given by her soon-to-be husband.
Zeeko, on the other hand, simply captioned the post,
"Habibi it's all for you now…"
Renee, for her part, shared similar posts alike her fiance, adding a video of Zaki making fun of her when the two were riding camels while hiding an engagement ring behind her back.
Renee Monaco received a surprising proposal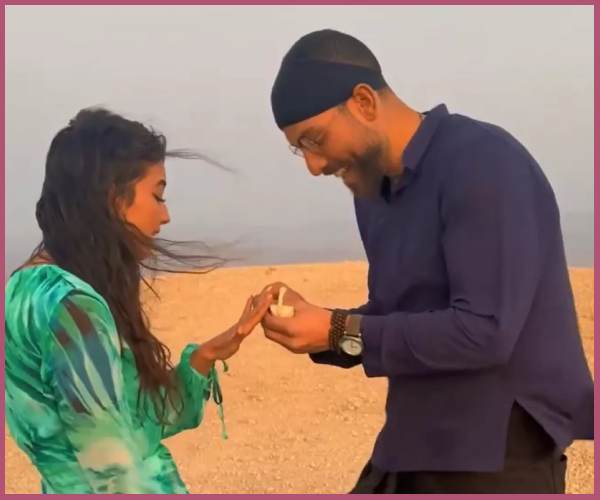 Zaki recently made an appearance in an interview with ET where he gets candid about his surprise proposal. He exclusively told the host Rachel Smith,
"I don't think she had any idea that it was gonna happen there, but I was not gonna waste a camel ride into the desert, so it was definitely the moment, and it was a dream come true,"
He reveals that when he proposed, the first thing he recalls saying to his new fiancee was, "This is the moment." Similarly, he went on to acknowledge that when he got down on one knee to propose to Monaco, he went blank and couldn't remember what he said.
He shared,
"It's so funny that's the one thing that I didn't prepare because I was like, 'It will come to me in the moment. I don't know why I didn't prepare something because every line I've spoken in the past five years has been written for me, so I feel like I should have at least put in a little more there, but it was so magical. It was unbelievable."
Adding to that Monaco said,
"I had no idea. I was so happy."
Also read She's Still Engaged! Sydney Sweeney Wears Her Engagement Ring During a Night Out with Fiance Jonathan Davino!
Engagement Ring, Day outfits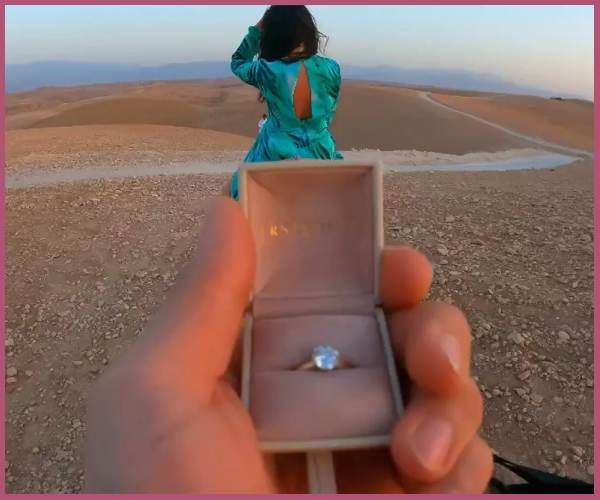 Zeeko proposed to Renee with a sparkling circle-cut diamond on a simple gold band. Similarly, the ring was held in a tan box.
On the proposal day, Renee looked stunning in a green maxi dress. Zeeko, on the other hand, wore a blue shirt, black pants, and matching formal brown shoes. Similarly, he held a black headband with an eyeglass.
How long have Zeeko Zaki and Renee Monaco been together?
Zeeko and Monaco took a milestone in their relationship after two years of dating. In 2021, the two began dating.
Throughout their courting era, the couple often documented their romance on social media, posting lovely images and tributes to one another.
On Valentine's Day, Zaki posted several images of Monaco grinning and posing in the ocean. In the captions, he gushed about her,
"Miss Renée you have brought me closer to my family, my work, and too myself. You helped me carve out a safe space in this crazy little world and I couldn't wake up more excited to share it with you every single day… Thank you baby! Happy Valentine's Day,"
Also read A Look Inside Eminem's Daughter Hailie Jade Mathers and Evan McClintock's Engagement Party!
Short bio on Zeeko Zaki
Zeeko Zaki is a famous Egyptian-born American actor and model.
He rose to the limelight after playing the main role of Omar Adom in the Famous, American crime drama television series FBI.
Likewise, he has appeared in some famous drama and television series. See more…