Zoe Saldana shares her memories with her Husband during Pregnancy; Says that still makes her mad: 'I was so hurt'
Parenthood and Pregnancy are the most memorable time in the couple's life. The parents always have many memories with their children. Likewise, the mom of three Zoe Saldana also has something to share about her pregnancy. She shared her memorable moment of her during her pregnancy with her husband  Marco Perego. She talks about her pregnancy period with her husband. Scroll to find out more about their relationship.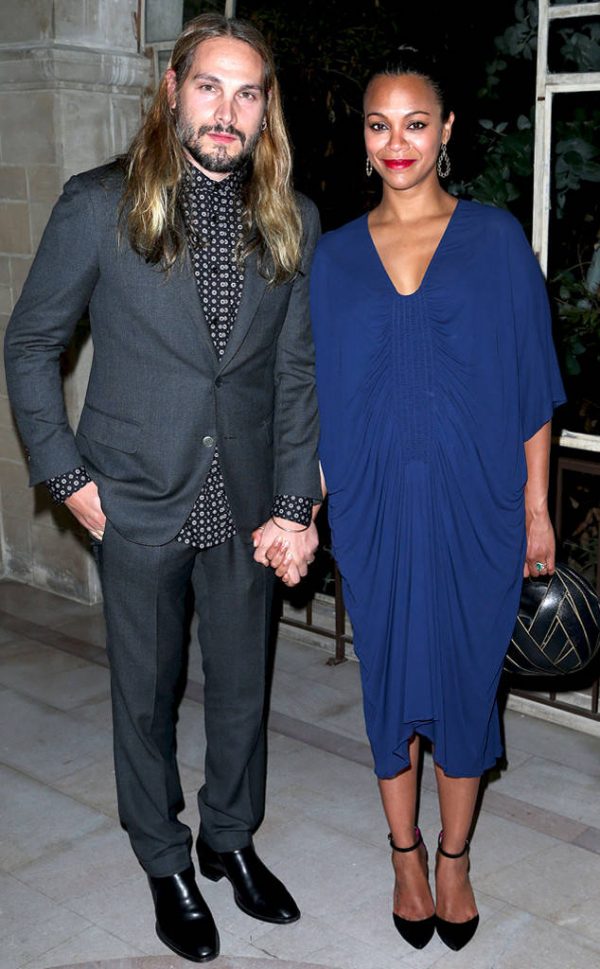 Memories of Zoe Saldana with her husband Marco Perego during the pregnancy 
When she was asked about the pregnancy time, the mom of three shared the moment when her husband took more than his share of her ice cream. She explained the moment saying:
"He eats his ice cream — because he's a dude — in two bites. And I feel generous, I hand him over my ice cream so he can just take a lick, and he ate it in two bites!"
In addition, the actress jokingly said that she was hurt by this turn of events, but didn't say which flavor revved her up. Moreover, she said:
"I was so hurt. never wanted to hit somebody so bad and was just like, 'Don't you ever do that!' "
The ice-cream-loving couple together is a proud parent of a baby boy Zen,  whose birth they announced in February. The duo also has 2-years old twin boy Cy Aridio and Bowie Ezio. No doubt, being a mom, Zoe does have plans for the future of her children. And their mom has some pretty amazing hopes for their future. Additionally, she said: 
"My greatest wish for my kids is that they never grow up feeling conscious of the color of their skin, or where their parents come from or that they can achieve anything in life," 
Recalling her mother's lesson, she said:
"She would always tell me, 'Zoë I hope you like them,' "
Moreover, she added:
"And for some reason, it was always to remind me what I have to feel and think about others matters just as much as what they have to feel and think of me."
Zoe Saldana is a set to balance her motherhood and her career together
The beauty Zoe photographed in the summer shoot among the desert flora. She was photographed by the celebrity photographer Kurt Markus. In the picture, she flaunts her athletic stems in glittering two-tone Tom Ford. In addition to her beauty, she is seen in a fresh looking flower crown. For the photography, she was styled by  Alison Edmond. With the red lips and polished tresses, she added a degree of vintage glamor to the set.
The gorgeous actress looked stunning on her rest of the photos. The glittering Chanel with a crown headpiece by Rinaldy A Yunardi embraced her beauty even more. During the interview with Christine Lennon, she explained how chance left her juggling a skyrocketing career and growing family at the very same time. Moreover, she added:
"My career and the kids really all happened together at the same time."
Did Zoe share Twins with her husband Macro?
Zoe is married to her husband and Italian artist Marco Perego. Zoe and Marco began dating in March 2013 and tied the knot secretly in London on June the same year. In February 2017, they proclaimed the birth of their third son Zen Perego-Saldana. The resources have not yet described briefly about her twin babies and the father of them but eventually, Zoe and Marco are in relation since long years. So it is like a clue that they actually share the twin babies. Find out the full story here…
Short Bio on Zoe Saldana
Zoe Saldana is an American actress and dancer. She played Anamaria in Pirates of the Caribbean: The Curse of the Black Pearl. She is known for the role of Nyota Uhura in Star Trek (2009), Star Trek Into Darkness (2013), and Star Trek Beyond (2016) and also Neytiri in James Cameron's Avatar. More Bio…