Chris Lane and Wife Lauren Bushnell Lane Has a Baseball Themed Gender Reveal!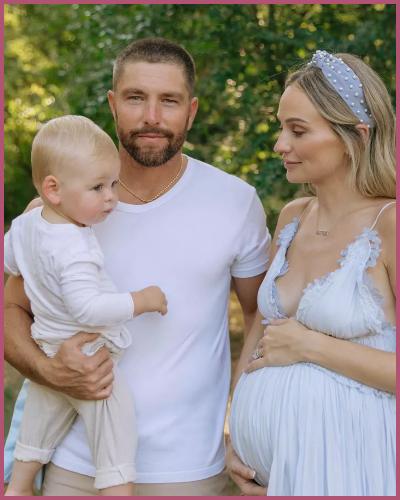 Chris Lane and Lauren Bushnell Lane shared the baby's sex with a baseball-themed reveal.
The couple who announced their pregnancy in June is welcoming their second child, a son anytime soon.
Let's learn about kids and the relationship timeline of country music star, Chris Lane, and Bachelor alum, Lauren Bushnell.
---
Pregnant Bachelor alum Lauren Bushnell Lane, 32 has another baby boy on the board!
It's a boy! Chris Lane and Lauren have a baseball-themed reveal
Take Back Home Girl singer, Chris Lane, 37 is sharing sweet family snaps on Instagram with his pregnant wife dressed in blue. It's clear, it's a boy. Bachelor alum Lauren Bushnell cradled her baby bump in a blue ruffled dress and wore blue polka-dotted headbands.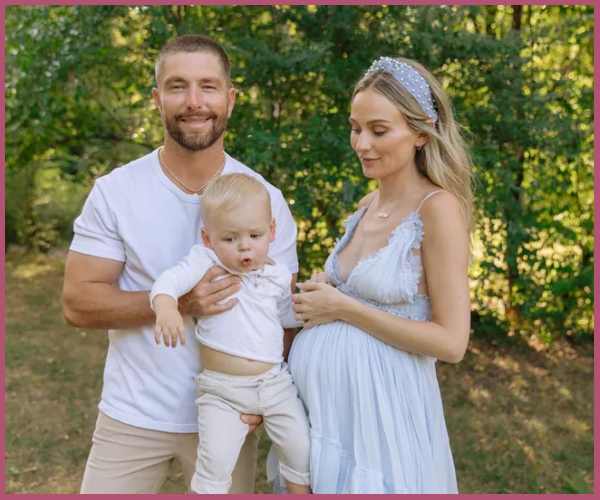 As the couple snapped in family photographs, the elder son, 15-month, Dutton Walker wore white t-shirts and khaki pants. They had a baseball-themed reveal before the photo shoot which Lauren captioned,
"We can't wait to meet you baby BOY."
Chris Lane excited to be a dad for the second time also posted videos of him dressed in an Atlanta Braves jersey as he hit a baseball that exploded into blue powder. Dancin' In the Moonlight singer captioned the reel from the gender reveal party,
"Dutty's gonna have a little brother."
Also, Read Keyshia Ka'oir and Gucci Mane Are Expecting Baby no. 2 together
Chris Lane not disappointed though the family wanted a girl
Chris Lane previously in an exclusive interview had guessed it might be a baby boy recalling his family history. Meanwhile, he cited that his parents are dying for a little girl in the family mentioning,
"My family as a whole, all the guys in our family, we make a lot of boys. No one in the family — minus one person — has even had a girl."
Girls Problems artist Chris
Lane continued about his explanation and made a damn guess saying,
"So if I had to guess, I'm going to carry on that tradition and it's probably going to be a boy."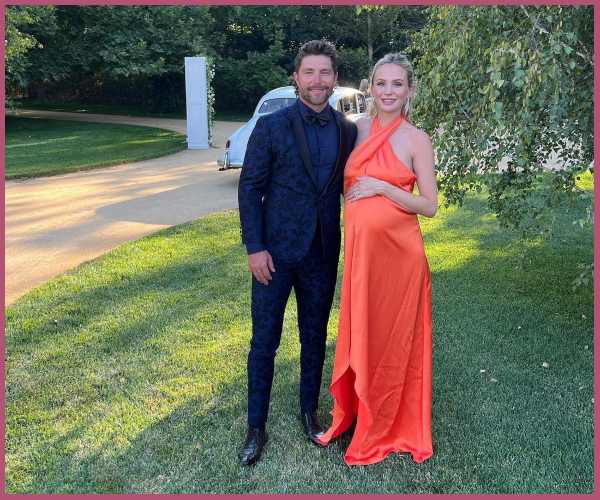 On the other hand, Pregnant wife Lauren Bushnell disclosed that it was a surprise pregnancy when she mentioned,
"To be quite honest, I've never been more shocked in my entire life, because this was very much an unexpected surprise."
Also, read X Factor star Ray Quinn and fiancée Emily Ashleigh Welcomed a Baby Girl!
How many kids Lauren Bushnell had planned with her husband? Pregnancy complications
Lauren, the former flight attendant and reality Tv condition has issues inside her uterus. She had been diagnosed with marginal cord insertion. It's a condition when the umbilical cord has abnormal attachment to the placenta.
No fear, things are fine and no abnormal pregnancy complications if regularly monitored. In between, the former partner of Ben Higgins confessed she wanted at least two kids with her husband saying,
"We had planned on having at least two kids, so we're very thankful that it was able to happen for us, even if it wasn't necessarily on our exact timing. We're both just incredibly excited."
Also, Read Broadway's Derek Klena and Wife Elycia Welcome 1st Baby Together "Beyond in Love"