Genderqueer and a Lesbian – Mikaela Straus a.k.a King Princess, an amazing American singer-songwriter, multi-instrumentalist influenced by her parents!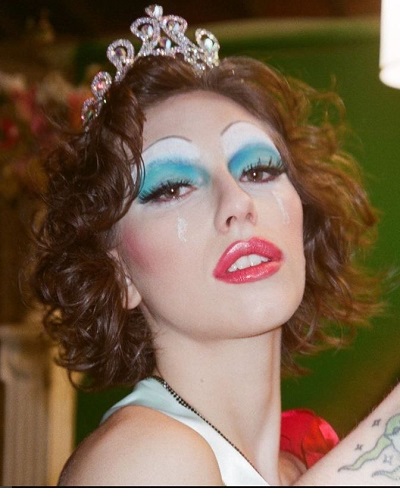 Mikaela Straus a.k.a King Princess: an American singer-songwriter, multi-instrumentalist, and producer. Let's know more about her!
Parents: Always been supportive
Born and raised in Williamsburg, Brooklyn, New York, on December 19, 1998. This 20 years young artist is born to parents Oliver Straus (father) and Aggie Mullaney (mother). Talking about her parents, her father is recording engineer Oliver Straus. On the other hand, her mother is a civil rights activist.
Straus's great-great-grandparents were Isidor Straus and Ida Straus. Both of them passed with the sinking of the passenger ship RMS Titanic. While growing up, her parents got divorced. King Princess along with her sister and brother grew up part-time at both of their houses in Brooklyn.
Talking about her parents, King Princess shared as:
"My mum and my dad, they were really supportive of me — they were in bands together when they were young, my dad works in music. I have a really great, creative family. They never urged me to do anything that wasn't creative. They were never trying to get me to be a banker or some shit. It was a great upbringing, with overly caring parents."
Developed passion for the Music Industry
Spending much of her childhood with her father, she used to be in his Mission Sound studio. She developed love and passion for musical instruments like bass, guitar, piano, and drums. Not only that, she grew to understand music production techniques.
 This is how her understanding of the music industry evolved. After high school, Straus moved to Los Angeles. There she studied at the USC Thornton School of Music. Eventually, after a year she dropped out in order to enhance her music career.
During her time in the studio, she met many artists like Missy Elliott, etc. Straus said:
Music career: Finding label
By the time she reached 13, she had already begun writing songs. She was clear about wanting a label that would let her work on her own without pressure. Growing up in a studio helped her a lot as a beginning artist.
"[…] Finding a management team and a label that […] gives me the space to do whatever I want and there isn't any pressure from any[one] […] I grew up in a studio and what would happen was band would come through and they would write music and I'd be like 'This fucking music is amazing' and then the label would get involved or whatever […] and my dad and I would listen to the final product and we're like 'What the fuck is this?' […] I watched so many talented people just fucking go down the drain and I think that that was the best training."
She debuted with her solo album '1950'. The song was the tribute to the novel of 1952. The British singer Harry Styles tweeted about the lyrics of the song. The song was able to get a good response from the viewers.
Came up with amazing singles like Talia, Pussy is God, Cheap Queen, Prophet, Ain't Together, etc. She debuted her extended play 'Make My Bed' on June 15, 2018. All the best for her future projects!
Genderqueer and a Lesbian
Straus was dating actress Amandla Stenberg. This news came out in June 2018 in an interview with Wonderland. They have also attended the 2018 MTV Video Music Awards together last August 2018. 
Straus' song "Pussy Is God" was co-written by Amandla. It is said the song is also about them. In an interview King Princess shared:
"It was a classic Malibu function; a drunken crowd by a heated pool. We talked shit about the systems that made us feel small and the effort we put in rejecting the institutions that reluctantly raised us. What I didn't tell her was that I distinctly remember walking out of my junior year English class reading: 'Amanda Sternberg comes out as queer.' She unknowingly set a precedent in my life, a gold standard of how to be proud and exist in the inter sectionalist of multiple identities that were once thought of as being conflicting."
Since both of them have removed all the pictures of each other on their Instagram. There are rumors of their break up. But, nothing regarding this matter was confirmed. Later, On May 17, 2019,
TheTalko 
confirmed their break up.
A short bio on King Princess:
King Princess, birth name Mikaela Straus, is an American singer, songwriter, multi-instrumentalist and producer. She is signed to Columbia Records which is a Mark Ronson's label Zelig Records. more bio…
Reference: (kingprincess.fandom.com, allmusic, kingprincessmusic)