Kyle Richards Hospitalized After Bee Attacked Her At Her Home; Health Update!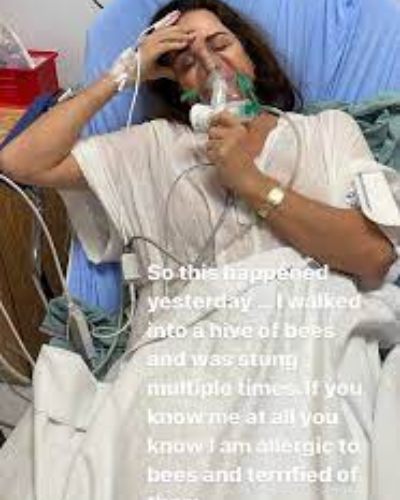 Kyle Richards was hospitalized after a bee attack while she walked in a beehive in her backyard. 
The reality star shared security footage with her followers after she returned home. 
She said she lived her nightmare after she accidentally walked into the beehive. 
---
The RHOB star recently had a scary run-in in her backyard. She to go to the hospital after a bunch of bees stung her in her home. The reality star shared her terrifying part on her Instagram with her followers. She is currently at her residence after recovering from the stung.
A bunch of bees stung Kyle
The RHOB star posted a terrifying video on her Instagram where she is running and later jumped into the pool. It was CCTV footage where a bunch of bees stung her while she was walking through her backyard. The reality star went to ER after a full bee-hive attacked her at her home in Encino. In the video, you can see her running across her backyard after bees chased her. The reality star later revealed they were all over her face and hair while stinging her. She also added she is not only terrified of the bees but also allergic to them. She further explained:
"I can laugh at this video now but what you can't see is that they were in my hair and were literally chasing me. My family wasn't home and for whatever reason the people that work for me couldn't hear me screaming for help. My landline wouldn't dial 911 and my epi pen was defective and wouldn't open," 
Kyle said she can now laugh about the incident just because of the local fire dept. rescued her and took her to the ER. She did not forget to give the major shoutout to them on her IG story after they saved her life. Kyle also shared a picture of the beehive that is on her property adding she will get rid of it asap.
Richards warns her fans and followers!
After opening yo about her horrifying experience, she also warned her fans in the update post. Richards is already home from the hospital after recovering from the bee sting. She is now warning her followers who may suffer from similar allergies to educate themselves. Richards also taught people how to use a potentially life-saving tool known as an EpiPen in the case of emergencies. She added the reason behind sharing this warning is because she sometimes doesn't bother to carry Epipen with her. The RHOB star further explained: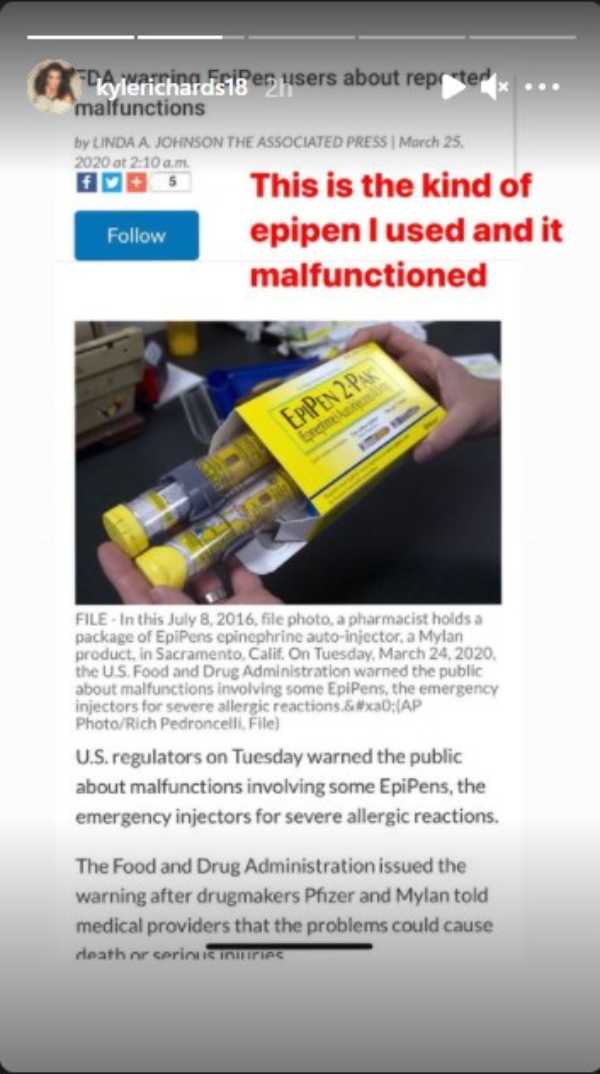 "I also don't know why I couldn't get mine to work. It's important to look on you tube and watch the videos of how to use it. There are different types of epi pens and they each work differently. But also always call 911 even if you are able to use your epi pen as they have to use other medications to help breathing etc." 
She concluded her thoughts on the matter by showing her gratitude to her local fire department. The RHOB star added they also helped her with panic attacks. They also reportedly convinced her there are no more bees on her hair.
More About Kyle Richards
Kyle Richards is an American actress and television star. Currently, she is playing as the main cast member in the hit TV series The Real Housewives of Beverly Hills since 2010. Furthermore, she has also appeared as a contestant in The New Celebrity Apprentice. Her other films and TV series include Halloween, Down to Earth, City Guys, The Hungover Games, and much more. See more bio…