American football and Canadian football quarterback, Graham Harrell never had a problem finding perspective during his road to the NFL as he had his father to inspire him!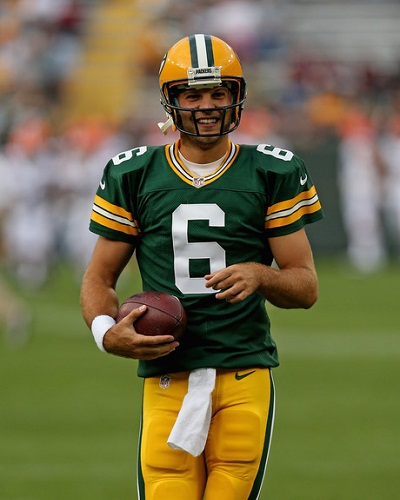 Harrell was born May 22, 1985, and an American Football assistant.
Graham Stanton Harrell is a coach for the Washington State Cougars.
Also a former American football and Canadian Football quarterback.
---
He played college football at Texas Tech University.
There he was an All-American quarterback and set school, conference, and national records for passing yards, attempts, completions, and a touchdown pass.
Kick game-winning FG ✅
Recover game-sealing Fumble ✅@MeanGreenFB kicker Trevor Moore, ladies & gents. pic.twitter.com/5fMoMEcAei

— Conference USA (@ConferenceUSA) September 24, 2017
In 2010, Harrell was signed into the National Football League by the Green Bay Packers. He was also a member of the New York Jets.
Preceding his time in the NFL, he was signed by the Saskatchewan Roughriders in 2009 as an undrafted free agent in the Canadian Football League.
Inspired by father
Graham Harrell never had a problem finding perspective during his often frustrating road to the NFL.
At Texas Tech Harrell set an NCAA record with 134 passing touchdowns.
Harrell was dismissed by scouts and personnel executives as a "system quarterback." He didn't get drafted nor get an invitation to an NFL training camp.
Harrell spent last season in the Canadian Football League, stashed on the Saskatchewan Roughriders' injured list. He got a tryout in Green Bay in May.
And was signed after a 10-minute throwing session in front of head coach Mike McCarthy.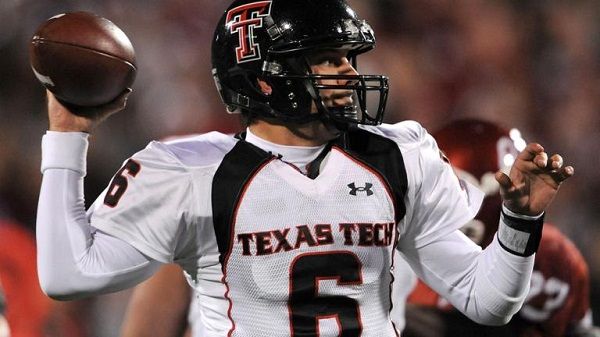 He's now the Packers' scout-team quarterback, spending most of the season on the practice squad before getting promoted to the 53-man roster when Aaron Rodgers suffered a concussion in December.
A night after he made the trip home for dinner with his parents, Harrell said at Super Bowl XLV media day. His dad Sam Harrell was well known around these parts.
As the coach who built Ennis High School into a Class 4A powerhouse, winning three state championships in the past decade.
He recently retired from coaching due to symptoms of multiple sclerosis.
It was a proud father/son moment today for the QB competition as the youngster won it in a blowout!! #LetItFly #Squirt pic.twitter.com/F5i27hZXQo

— Graham Harrell (@CoachHarrellWVU) November 17, 2017
You may also like to read Teetotaler and non-smoker professional football quarterback Jacoby Brissett!
More like a librarian
Sam Harrell looks more like a librarian than the typical football coach. But the former high school quarterback unquestionably possesses the toughness required to have so much success in his old line of work.
Yet his voice goes soft when told what his middle son said about him. Sam said,
"I never knew really he felt that way. We're not a sit-down-and-share type of family. I'm obviously touched by it. That's just the way I was raised by my mom and dad about handling adversity. You don't ever give up and start thinking about, 'Oh, woe is me.' You think about how you've been blessed and how you're going to get through it."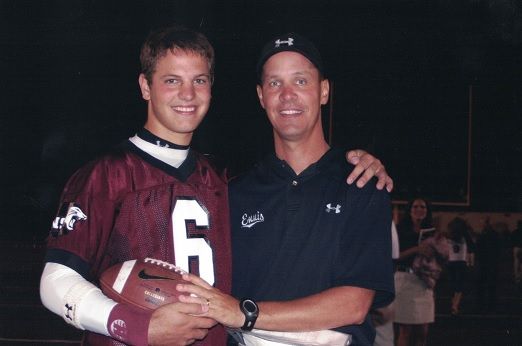 That's how Sam dealt with his health problems. He was diagnosed with multiple sclerosis in 2005. His wife, Kathy told,
"I don't want this disease to take our joy away,"
They decided not to tell their three sons, Zac, Graham, and Clark, until necessary.
Also read Model Breana Tiesi and her secret wedding to American football quarterback Johnny Manziel!
Short bio on Graham Harrell
Graham Harrell is an American Football assistant coach and former American football and Canadian football quarterback. Currently, he serves as the offensive coordinator and quarterbacks coach for the North Texas Mean Green. More bio…