Destined? Identical Twins Became Mother Of The First Babies On Same Day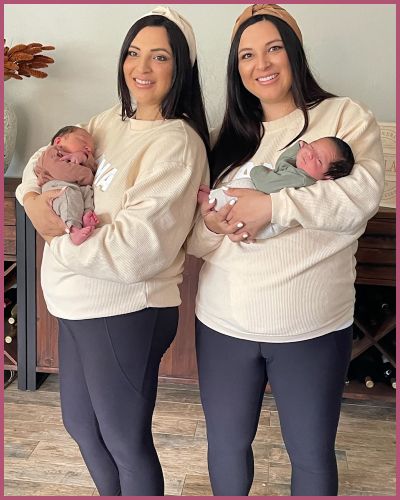 Identical twins, sisters Jill Justiniani and Erin Cheplak both gave birth to sons on May 5, 2022, just 5 hours apart.
Their babies Oliver was born at 6:39 p.m, and Silas followed at 11:31 p.m at Kaiser Permanente Hospital in Anaheim.
Jill's baby Oliver was scheduled for C-section on May 5, due to breech position but coincidently Erin's water broke 10 days before the due date.
---
Identical Twins, Jill Justiniani and Erin Cheplak, 30 became mothers on the same day! Destiny or Coincidence?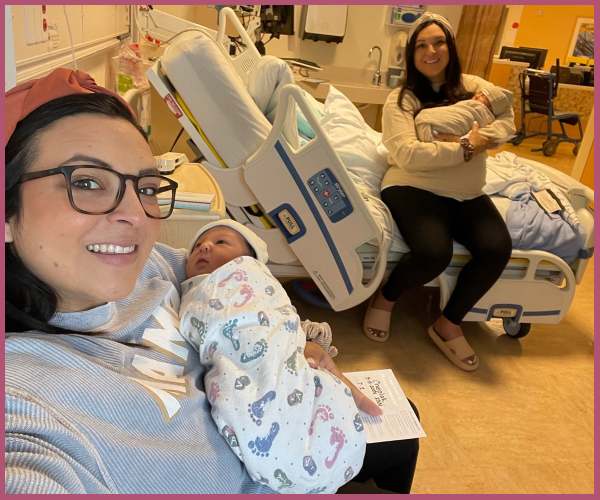 What Just Happened in The Life of The Identical Twins?
The identical twins, Jill and Erin age 30, who grew together became mothers on the same day May 5, 2022, just 5 hours apart.
One went through early delivery through Cesarean section due to breech position complication while the other water broke.
Both sisters welcomed sons, Oliver and Silas weighing 7 pounds, 3 ounces, and measuring 20 inches at Kaiser Permanente Hospital in Anaheim. The birth timings are 11.31 am in the morning and 6.39 pm in the evening.
Though Erin and Zach moved to Yorba so that the babies could grow together with Jill's upcoming baby. The couple had no idea they will be sharing the same birthdays.
Jill's baby was scheduled but Erin was coming into labor any time soon so. she called her husband as she reports,
"Okay, this isn't a joke. My water just broke. I'm going to need you to come home from work and take me to labor and delivery."
While she also called Jill about whats going on saying,
"Okay, this isn't a joke, but I'm pretty sure my water just broke"
During the whole scenario Jill was like come on we will see you there in the hospital and it's alright.
Jill Justianani – views on the Coincidence
Jill Justianani reported their childhood as identical twins  saying,
"We played together, slept together, ate together. My parents would talk about how we had our own language together. We'd be in our cribs side to side and make these cooing sounds. I'd make a sound and Erin would respond."
To the amazing surprise, Jill was like,
Erin Cheplak- views on the Coincidence
Journey as an identical twin sister Erin added,
"Being identical twins, Jill and I know no difference, other than spending all of life's journeys together. It's an experience that has been amazing and it's something that Jill and I cherish so much." 
Meanwhile, she continued expressing such a surprising blessing exclaiming,
"We're each other's best friends and to know that our sons are going to grow up with the opportunity for a similar experience is a huge blessing. We're so grateful for that."
Also, Read Chasten Buttigieg and Pete Buttigieg first Christmas with twin children!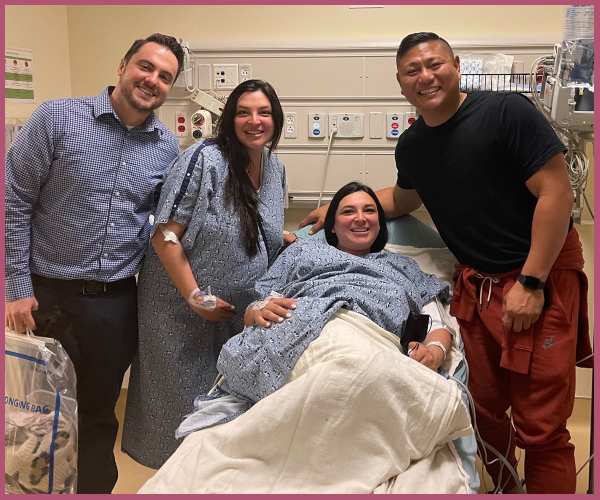 More Case Like this on Identical Twins
Back in July 2016 The identical twins, Sarah Mariuz and Leah Rodgers each gave birth to their first child early Thursday.
Firstborn of the both were born at the same exact time but in their respective time zone. Rodgers gave birth first, to a  baby boy at 1:18 a.m., in Denver, Colorado, while Mariuzwelcomed a daughter at 1:18 a.m., in La Jolla, California.
Is it some kind of karma or destiny of the identical twins? Well, if not also it's a thrilling coincidence.