Brother's love: Derek Hough post a post on Instagram with moving caption on his sister's marriage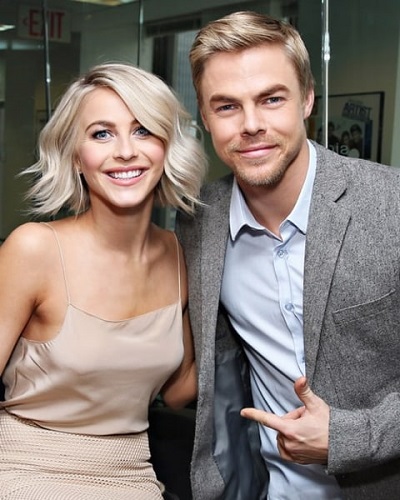 America's multi-talented Julianne Alexandra Hough (actress, dancer, and singer) recently got married to famous Canadian ice hockey player on 8th July 2017. They got married in Lake Coeur d'Alene (lake in Idaho). It is also the place where Julianne visited most of the time during her childhood summer.
Since they are famous it's obvious to earn publicity even after the minor matter. Recently Julianne's brother Derek Hough (who is also American Latin and ballroom dancer, choreographer actor and singer) posted a post on Instagram which went extremely viral.
It was a video of her sister's wedding with the moving caption. In joyful mood, he admitted he can write a novel on this marriage.
Before and during Marriage
The rumor about Julianne and Brooks' dating first started in the month of December 2013. But, they officially announced their dating news only in February 2014.
They dated for a year and a half and got engaged on 18th August 2016. They officially announced their marriage date on the same day.
When Julianne first introduced the lake (the were place where they married) to her fiance he felt in love with the place and planned for their future linking the place.
They married on 8th July 2017 in presence of 200 guests. The guests were gifted with gift hampers presented by Gifts for Good life in their marriage ceremony. Dinner was served from Le Catering and obviously, guests enjoyed their dine.
The bride was dolled up with strapless Marchesa Gown, double layered Veil and set jewelry of Lorraine Schwartz.
Groom almost fell on his knees when he saw his fiance in the bridal dress for the first time. Not only the bride, groom looked stunning in his black suit with white shirt and bow neck tie.
You may like to read Julianne Hough comes out as bisexual after her marriage to NHL player Brooks Laich!
Honeymoon Tales
Recently the couple is in Honeymoon. Julianne posted the first post after her marriage on 16th July 2017, on Instagram stating that they started their honeymoon journey.
She captioned it as,
"we gone (emojis) #Honeymoon (emojis)"
They took photo in the aiport as we can see them holding passport and their bagpacks kept aside.
Both of them are wearing their marriage ring and same branded watches. Lately they have many post related to their marriage and honeymoon.
Also read Who is Derek Hough's girlfriend, Hayley Erbert? Know about their relationship and quarantine fun
More bio on Derek Hough
Derek Hough is well known American dancer, choreographer, singer, and actor. He was born on 17th May 1985 in Salt Lake City, Utah. He is the only son of his parents Mari Anne Hough and Bruce Robert Hough. According to the news, his parents have parted their ways long ago. He has four siblings, Julianne Hough, Katherine Hough, Sharee Hough and Marabeth Hough. He officially started his career since 2007. 
He is popular and has won many titles and awards. Some of his notable awards are Emmy Awards, Industry Dance Awards, World Choreography Awards and much more. He once was honored by The Dizzy Feet Foundation's Celebration of Dance Gala in Inspiration Award 2016. He mostly performs leading the group along with her sister Julianne Hough. More Bio…