Where is Nancy Putkoski now? Was not having children the reason of Nancy and Anthony Bourdain's divorce after 20 years of marriage?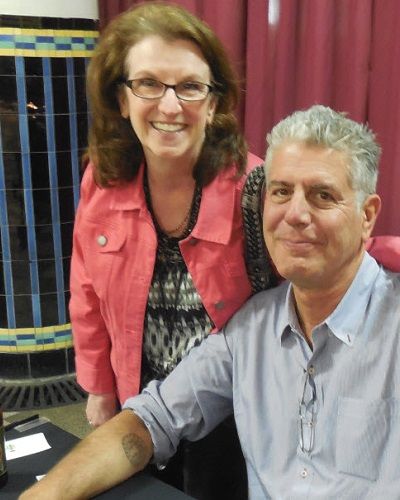 Nancy Putkoski is the ex-wife of late American chef Anthony Bourdain.
Her ex-husband Anthony was found dead in his room on 8th June 2018.
He was found hanging in his room at Le Chambard hotel in Kaysersberh near Colmar.
---
Nancy has always been private about her life. She rarely made any public appearance even when she was married to Anthony. Also, it is known that Nancy attended Dwight-Englewood School.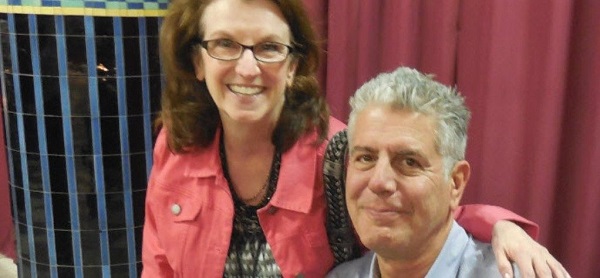 Where is Nancy Putkoski now?
As Nancy hated being on TV she was not visible in Anthony's life as well. But after being divorced from her husband Anthony Bourdain, she is completely away from the media.
When they were together, Bourdain revealed that she had a passion for arts and music. She might have done something in the field.
She is enjoying her time away from the media's eyes.
Also read Randy Clohessy, the third ex-wife of musician Frankie Valli! Where is she now?
How did Nancy Putkoski and Anthony Bourdain meet?
Nancy Putkoski met Anthony Bourdain when they both attended Dwight-Englewood School. She was his high school sweetheart. It is not known when they met exactly but they fell into a serious relationship eventually.
As per sources, they attended Vassar College after high school. But Anthony dropped out to attend the Culinary Institute of America. Nancy was quite a troublemaker. Similarly, Nancy was raised in an abusive household and had trouble with the law. She was friends with a group of drug addicts.
All those changed when they met each other. Anthony had revealed that he liked that she was outspoken and had a fearless attitude. Further, their love started growing more.
Nancy and Anthony's married life
Nancy Putkoski dated Anthony Bourdain for a long time and they decided to take their relationship a step further. They walked down the aisle in 1985. They were in a perfect relationship at the time. Anthony considered her his partner in crime. They loved taking risks together.
During their married life Nancy was not much visible in the media. People found out about her after A Cook's Tour. She was caught in the camera coincidentally.
As per Catsworking,
"A reader named Barb gave me the lead. (Thanks!) I'd be 100% sure it's Nancy if I only had the Portugal episode (she's supposed to be in that one, too), but that will have to wait until the Food Network cooperates and shows it again."
In his companion book, Anthony wrote,
"I'd compounded the danger factor by bringing along my wife, Nancy, a woman with her own limitless potential for causing mayhem…. I was keeping a sharp, worried eye on Nancy, who hated the idea of making a television show, hated being near a camera,"
Divorce
Nancy disliked the producer as Anthony would be busy shooting. Their happy marriage started crumbling when Anthony was always busy.
She argued that her husband was always on the go and rarely made time for the family. Putkoski claimed that he would stay out for a long time and would not return home. Anthony had to travel for a long time due to his work.
Not getting enough time for each other started affecting their relationship. They decided to get divorced after separating in 2004. They divorced in the year 2005 after 20 years of marriage.
In the novel Medium Raw, he revealed that his dark monster was born from his inside. Likewise, he was in a dilemma if he should give a second chance for marriage or continue with his career. He was afraid to lose his lover again.
Anthony said,
"To cope, I went to the Caribbean where I behaved in a completely irresponsible and suicidal way,"
Also, he added,
"I had put myself in a very dark place and behaved recklessly in the not-too-subconscious hope that something terrible would happen. I was doing everything possible – smoking pot, drink-driving – to invite that."
Nancy Putkoski children
After 20 years of marriage with Anthony, Nancy did not have any children. They did not have any children. Some people speculated that the reason behind their divorce was not having any children. He thought that he would not be the best father so they did not have any children.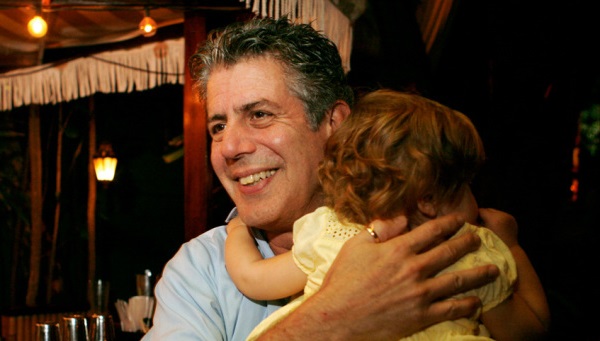 But Bourdain accepted that his work and busy life affected their marriage resulting in divorce. But Anthony had a daughter Ariane born in 2007 after getting married to MMA artist Ottavia Busia whom he married on 20th April 2007.
Also, after having a daughter with his second wife, he changed his view about having children. Similarly, he even praised his daughter for bringing his life back to him.
Also, read Meghan King Edmonds officially dating Christian Schauf! 4 Facts about Christian Schauf
Short bio on Anthony Bourdain
Tall and handsome Anthony Bourdain was an American renowned chef, author, and television personality. He was best known as the host of the Travel Channel's culinary and cultural adventure programs Anthony Bourdain: No Reservations from 2005 to 2012 and The Layover from 2011 to 2013.
After onwards, he hosted Anthony Bourdain: Parts Unknown on CNN. Read more bio…