The show stealers! Princess Charlotte and Prince George attend a family friend's wedding!
Prince George and Princess Charlotte are known to steal the show at every function they attend with their family. And they did it again this week when they attended a family friend's wedding!
Prince George and his sister Princess Charlotte attend a wedding
The occasion was the wedding of Kate Middleton's close friend Sophie Carter. Prince George and Princess Charlotte also attended the marriage ceremony and as usual, they were the show stealers. Their adorable antics charmed one and all. People magazine has some exclusive snaps of the day and in these pictures, Prince George, 5 can be seen marching around the place with a smile on his face.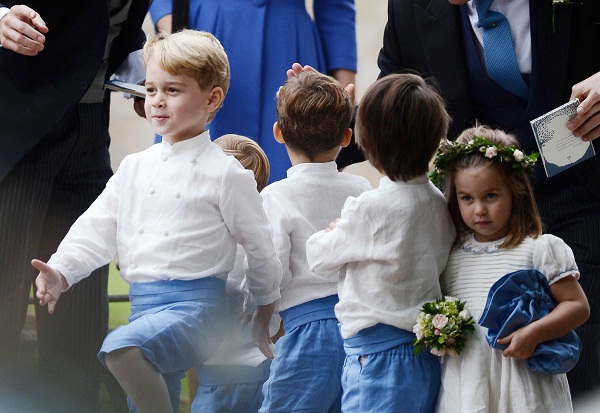 His little sister Princess Charlotte, 3 was with him and she can be seen giving her big brother a rather amused look. An insider gave a scoop of the day to People. The source said:
"George is a real star, quite the little chap,"
The source continued:
"He was having a great time, running around like the leader of the pack."
The mother of the two was proud to watch her kids and their display and she gave a warm and broad smile to all. She was happy to see George running around the place with his fellow page boys.
Prince and the Princess on the stage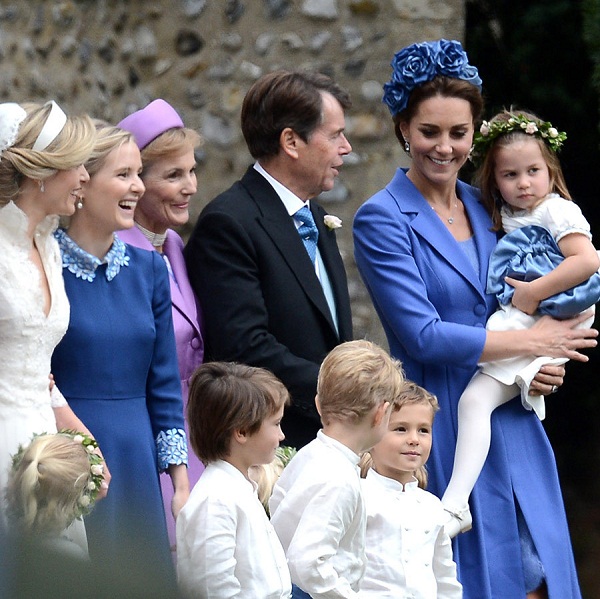 The children then were seen with their best behavior when they were on the stage posing for the wedding pictures with the bride and her groom Robert Snuggs. In these pictures, Kate Middleton is seen holding Charlotte in her arms while looking lovingly at her son who is standing in the center and front and very close to the couple.
The children of the royal couple Kate and Prince Williams had traditional wedding outfits. These dresses were in white and blue and designed by Amaia which are Kate's favorite children's wear designers. Charlotte's in a linen dress which was in ivory and it had royal blue embroidered edging. It was created by the upmarket label and was from a small boutique in London's quaint Chelsea Green district. George, on the other hand, wore matching cropped blue trousers and had an off-white shirt. This was accessorized with a blue cummerbund which was also from Amaia.
Charlotte was one of the three bridesmaids and George was chosen as the page boy along with three others. The bride Sophie is the Godmother of Charlotte.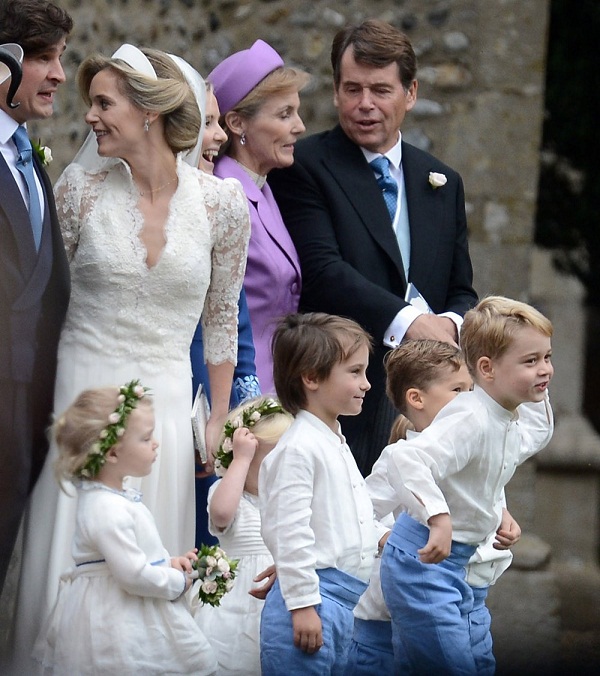 Prince William and his presence on the occasion
Prince William, 36 had also graced the occasion with his presence. He had come there with his friends. He was in his traditional tailcoat and his wife Kate Middleton was wearing a striking blue coatdress which was designed by Catherine Walker and Co.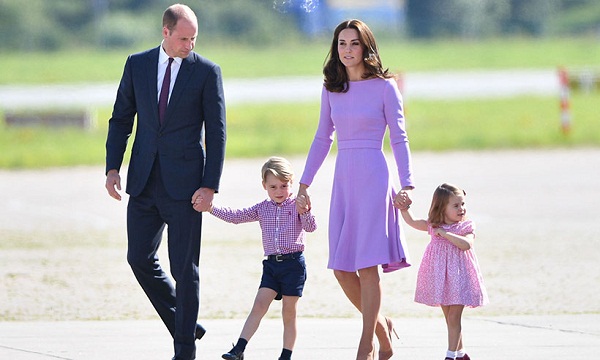 The kids had previously attended Pippa Middleton and James Matthews' wedding of 2017 and Prince Harry and Meghan Markle's wedding of may 2018. In the latter wedding, Charlotte could be seen in a picture sticking out her tongue while in another she was seen waving to people on the steps of the St. George's Chapel. Even at Pippa's wedding, all eyes were on the youngsters and on this occasion they had worn dresses designed by Pepa and Co.
Source: people.com