Duncan Laurence, gay celebrity is engaged to boyfriend Jordan Garfield!
2019 Eurovision winner Duncan Laurence has some good news to share with his fans. He is engaged to his boyfriend Jordan Garfield. Each of them confirmed the happy news on their respective Instagram.
Duncan Laurence and Jordan Garfield-the engagement
The winner of 2019 Eurovision was Duncan Laurence. His win was due to a song on heartbreak. But now he has joined his heart with that of his boyfriend Jordan Garfield. Yes, the two are in love and have taken their relationship further. The couple is also engaged.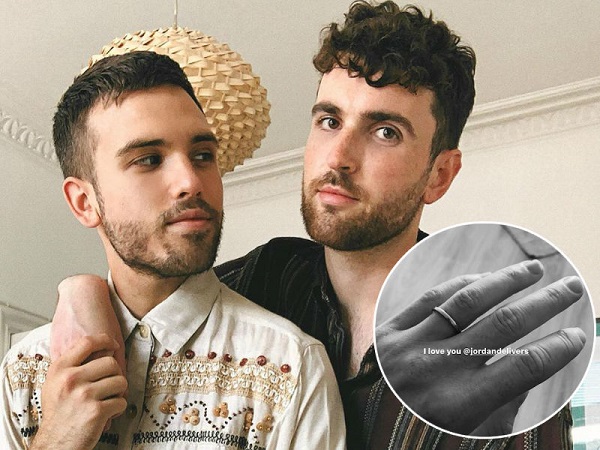 Both Duncan and Jordan shared the happy news on their respective Instagram. Duncan on his Instagram uploaded a simple black and photo of the two. It also showed a hand with the engagement ring. He captioned this post:
"I love you @jordandelivers"
Jordan wrote a lengthy post. He wrote:
"To those of you who I haven't spoken with recently, I am the luckiest man in the world. I asked @itsducanlaurence to marry me and he said yes. I have never been so happy in my life. I'm going to marry a kind, smark, genuine, talented, and handsome man. I'm also marrying my best friend."
Duncan's future husband -Jordan and his life
Duncan's fiance Jordan Garfield is originally from the USA. But he is now residing in Stockholm, Sweden where is working as a songwriter. The two are in the same profession and thereby they have also made a musical composition together. Duncan's new single is called Last Night. And Jordan is the songwriter on this new piece.
The Dutch media has reported that Duncan and Jordan started dating at the start of the year 2020. But they went public with their relationship only in May 2020. Duncan who is now 26 years of age was dating Gerco before he started a romance with Jordan. But in August 2019, Duncan had confirmed that the two have split. Gerco was by his side when Duncan won the Eurovision title in Tel Aviv, Israel.
Read here Empress Schuck, Filipino actress, is engaged to her boyfriend Vino Guingona!
Duncan's upcoming ventures and projects
Duncan was unable to return to Eurovision 2020 this year. But he has been busy this year and has a lot of new projects at hand. Recently, Duncan announced that he will be performing at a live concert in Amsterdam at the Ziggo Dome arena. This event will be on 17 November 2020. As COVID-19 is still round everywhere, the concert will be in full compliance with the current Dutch COVID-19 rules and guidelines.
For the concert, the audience will be seated at tables. While Duncan will be performing live from a revolving stage that will be at the center of the hall. Hence, the event will be an intimate one and the ticket sale for it has already started.
Prior to this event, Duncan's debut album Small Town Boy will be out. The recording of the album will release on 13 November 2020.
Click the link ahead to read more on Demi Lovato Called Off Her Engagement With Max Ehrich; Sources Explained Why Their Relationship Came To End!
The complete bio of Duncan Laurence is here!