Find out which couple looked the best: 6 Best Dressed Couples in Oscar 2017…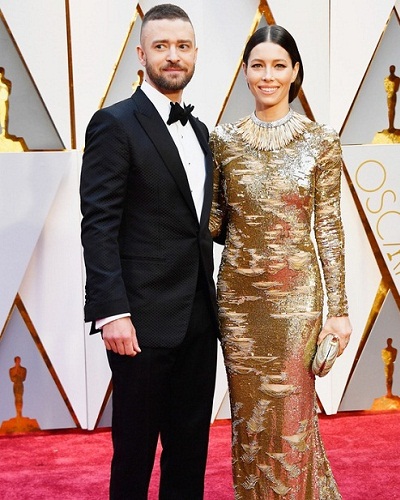 The red carpet has always been famous for glamor, fashion, and much more.
Rep Carpet is full of Hollywood Romance and couple fun.
The celebrity couples appearing on the Red Carpet are always so careful about the fashion and glamor and some couples hit the red carpet with their love, romance, and fashion all over.
---
Some celebrity couples grab all the limelight through their fashion, love, partner, and other aspects of their career.
The recent biggest Award show "The Oscar Award 2017" also had much glamor and fashion the celebrities from all around the world.
Some celebrity or celebrity couple's dress was much talked about due to it being the well-dressed of all! So who are these celebrities whose dress sense was considered the best at this Oscars?
Let us find out.
6. Jessica Biel and Justin Timberlake
The couple Jessica Biel and Justin Timberlake just hit the red carpet with their fantastic dressing sense. Jessica appeared in the golden gown and for opting for the gold she was in the spotlight, while Justin wore a black suit and tie and the combination was just looking fantastic.
5. Leslie Mann and Judd Apatow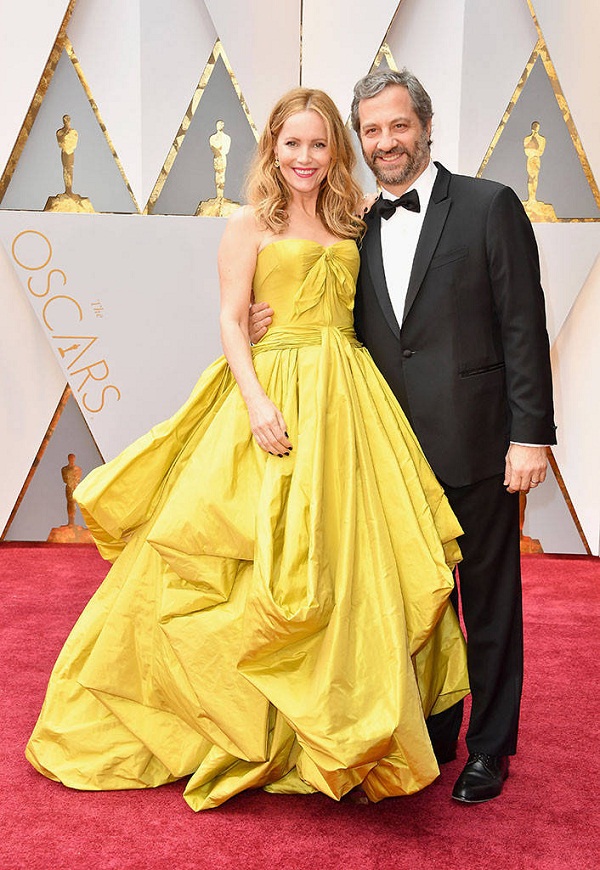 Another couple who was highlighted due to their amazing dressing style was Leslie Mann and Judd Apatow. They came in the category of the best-dressed couple with their hot and sizzling dress which embraced their beauty much more.
Leslie was seen in the strapless yellow dress while Judd appeared in the black suit with a bow tie.
4. Viola Davis and Julius Tennon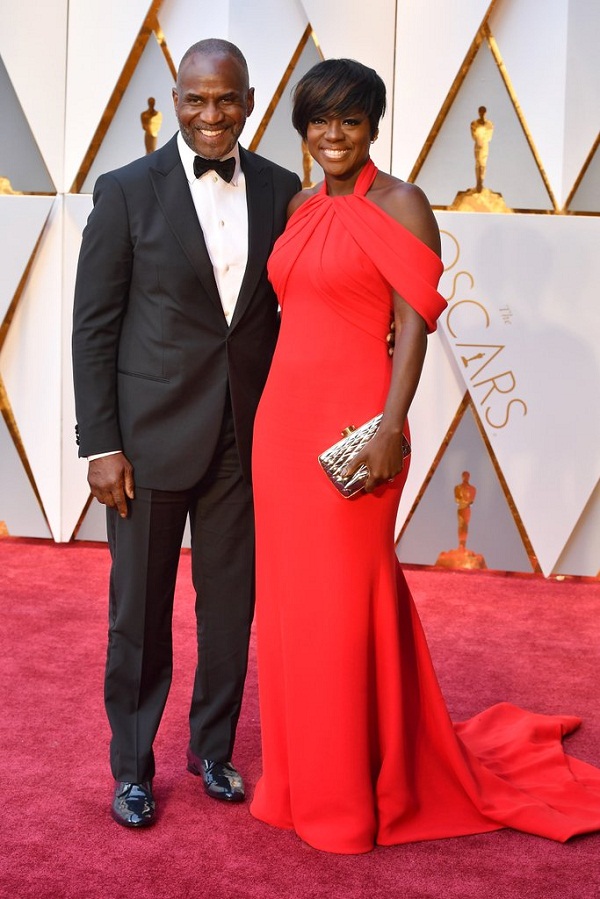 Viola Davis, Best Supporting Actress Winner, increased the beauty of the red carpet with her red-colored off-shoulder-meets-halterneck dress which had a side split, which became a plus point in her beauty.
While her partner Julius Tennon was stunning in the black suit which was perfectly going on with the Viola dress.
3. Matt Damon and Luciana Barroso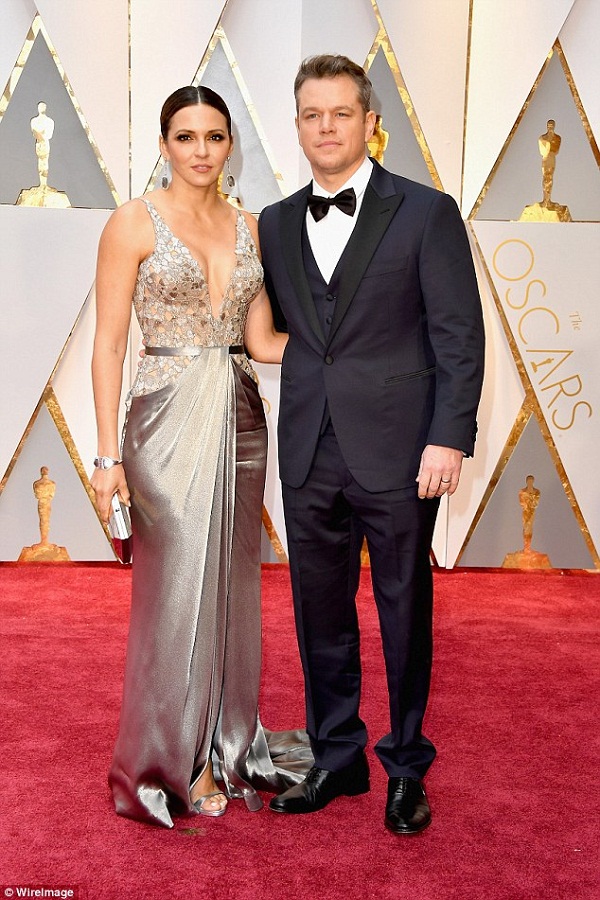 Luciana Barroso grabbed the spotlight with her metallic silver gown with the mosaic effect which completely went with the red carpet.
Matt Damon was seen in the not usual black i.e navy black suit with a black bow-tie. They together completely nailed the red carpet.
2. Chrissy Teigen and John Legend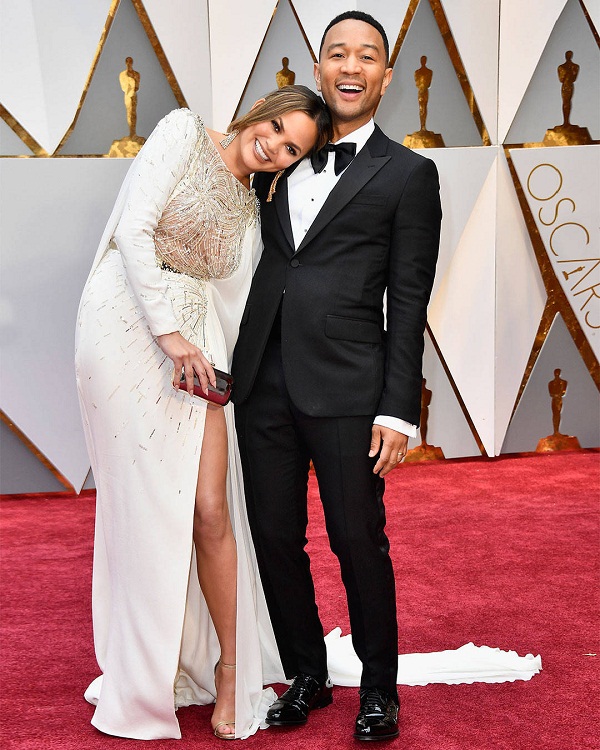 'It's very tight!-Chrissy Teigen said when asked about her Zuhair Murad's white and gold figure-hugging sequined gown by E! on arrival.
'She looks like a goddess,' husband John Legend quickly added. Awww. That's why they're one of Hollywood's favorite couples.
1. Michelle Wiliams and Busy Philips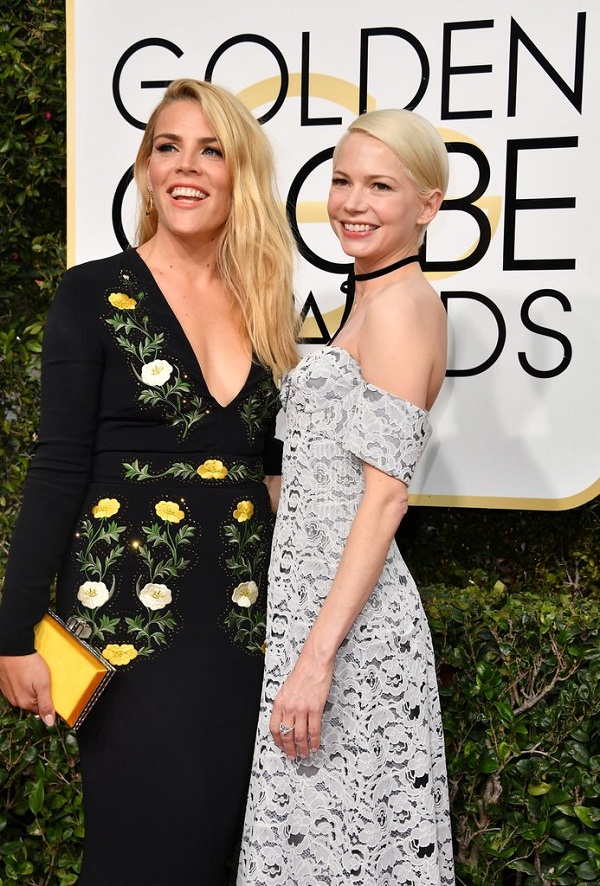 Michelle Williams in Louis Vuitton might be one of our favorite looks this year with Busy Philips.
The monochrome effect of that plunging black neckline leading into the creamy, sparkly full-length skirt led to a show-stopping effect. This BFF couple totally nailed the red carpet with their amazing dress.