Marnie Simpson is engaged! Her boyfriend Casey Johnson proposed to her!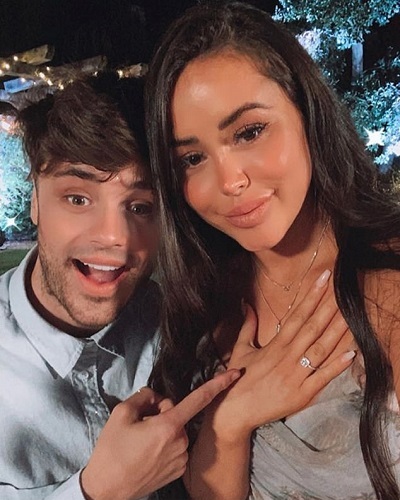 Marnie Simpson shared some good news with her social media fans. She and her boyfriend Casey Johnson had an engagement. Marnie showed her fans her new sparkling diamond ring. She also addressed him as the man of her dreams.
Marnie Simpson and her engagement
TV personality Marnie Simpson, 28 was delighted. Her boyfriend, Casey Johnson, 25 recently proposed to her and she said YES. She shared this great news with her Instagram fans. The Geordie Shore actress uploaded a cute selfie showing off her new sparkler on her finger. She called her singer beau the 'man of her dreams'. Casey was also with her in the photo as he pointed his finger towards the new engagement ring.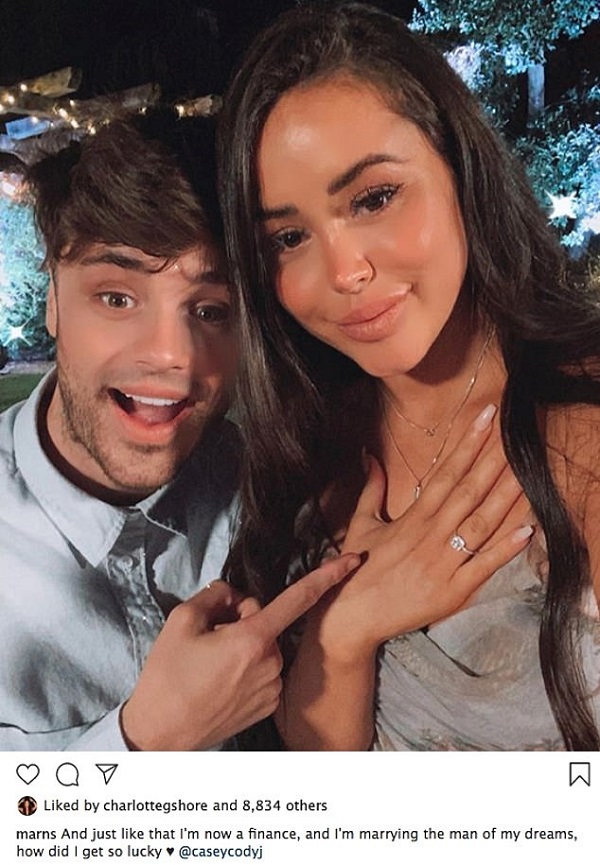 Marnie captioned the snap:
'And just like that I'm now a finance [sic] and I'm marrying the man of my dreams, how did I get so lucky ♥️ @caseycodyj.'
And Casey added:
'OMG SHE SAID YES!!!'
Her fans and friends were thrilled for the couple and did not forget to put in their comments and congratulations for them below the post.
Congratulatory messages from fans and friends
Geordie Shore co-star Charlotte Crosby wrote:
"Ahhhhhhhhhhhhhhhhhhh'
Her response was one of the first to appear under the post. Bianca Gasgoine commented:
'Couldn't be more happier for you such a gorgeous couple/family!! And deserve the world.'
Kim Woodburn wrote:
'Congrats my love xxx.'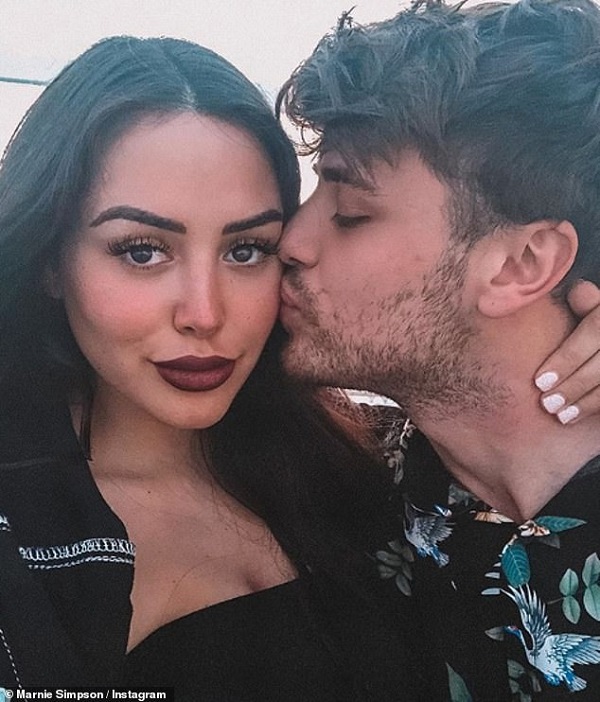 While Frankie Essex remarked:
'Congratulations babe'
Nicole Bass went on to write:
'Congratulations guys, your perfect together.'
Many other celebrities and the couple's fans also posted some good messages and congratulations for the couple. This wonderful engagement post of Marnie has been liked 268k times and 2638 people have put in their comments for the soon-to-wed couple.
The relationship dateline of the couple
Marnie and Casey had met on the celebrity dating show Single AF. This was way back in the end of the 2017 year. After eight months of dating, they were confident of their relationship which was only getting stronger by the day. Hence, they purchased a house together.
But, they also had their share of ups and downs in their relationship. On several occasions, there were rumors that they are calling it quits. But their relationship survived. In September 2018, they were well back on track. And they decided to start a family.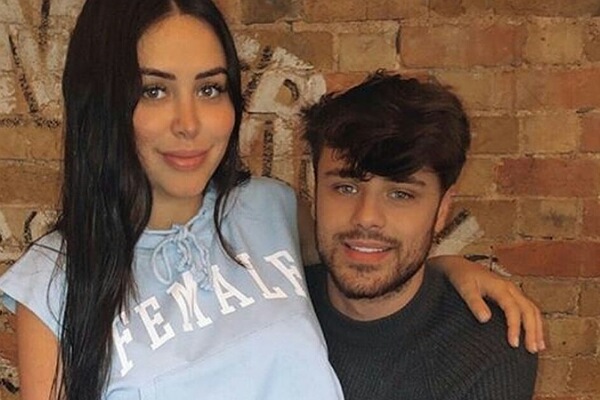 Marnie got pregnant with their first baby. Their journey from pregnancy to delivery of their son was shown on the series Geordie Shore OGs. On 29 October 2019, their son Rox was born.
Earlier, Marnie had spoken about her traumatic labor during birth of Rox. In March, this year she revealed that had lost considerable blood during the labor and had to received two blood transfusions for it. Therefore, she had decided that for the next child she will go for surrogacy.
Further, Marnie added that she had a tough time at that time and was in intense pain due to it. That had affected her relations with Rox and she does not want to repeat it with her second baby.
For the full bio of Marnie Simpson, click here